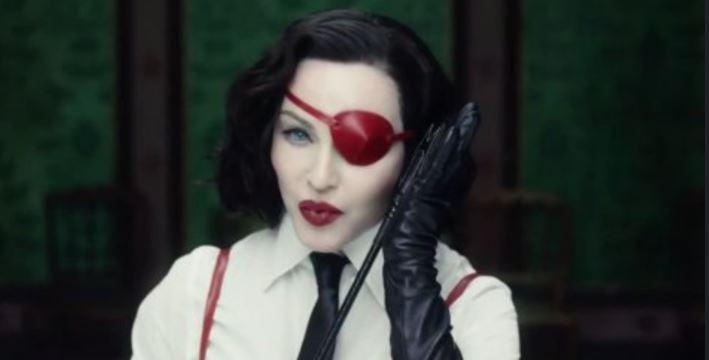 Madonna Just Started a New Eye Patch Fashion Trend, And Twitter Isn't Having It
Madonna's brand has become synonymous with controversial theatrics and music videos. No surprise to her die-hard fans, her latest single has certainly turned a few heads. The 60-year-old recently released a new track alongside Colombian artist Maluma, 25, called "Medellin." This marks the first single off of her 14th studio album, Madame X.
Article continues below advertisement
The two play hedonistic lovers in the video, and Madonna even goes so far as to suck on Maluma's toes while casually sipping champagne. Yes, the Queen of Pop did the damn thing! Not only did fans take notice to her overly sexualized outfits and demeanor, Madonna was also wearing a bedazzled eye patch throughout the whole performance.
But why is Madonna wearing an eyepatch?
During a live televised interview to promote her new song, the artist was once again sporting an eye patch. She told the audience of her newfound look and sound, "I feel like when I started my career as an artist, I was naive. I wanted to be able to go back to that time in my life when I was just starting out in New York and I didn't care what people thought."
While many don't know why Madonna is wearing an eye patch, it's clear that she give "zero you-know-whats." Well, we can't fault you for that!
However, social media could not resist taking shots at the Queen of Pop and expressed their concerns regarding the singer's latest image. Check out their reactions below:
Article continues below advertisement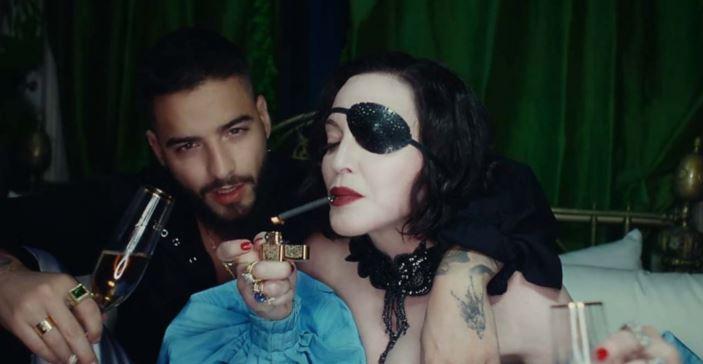 "So @Madonna finally ditched that f'ing grill...only to replace it with an eye patch? #MadameX #Medellín," wrote this fan. Remember back in 2013 when the performer was spotted wearing a flashy gold grill? Well, this fan clearly is not a fan of either fashion choice.
Article continues below advertisement
This fan is actually worried about the Queen of Pop's health, aside from the fashion intervention she thinks she should have. The fan tweeted: "What's with @Madonna and the eye patch. Crazy pirate or something wrong with her eye? I don't know. She could be hurting her other eye doing that. My son had to wear a patch strengthen his eye. Regardless, this is one trend I hope she doesn't start."
Article continues below advertisement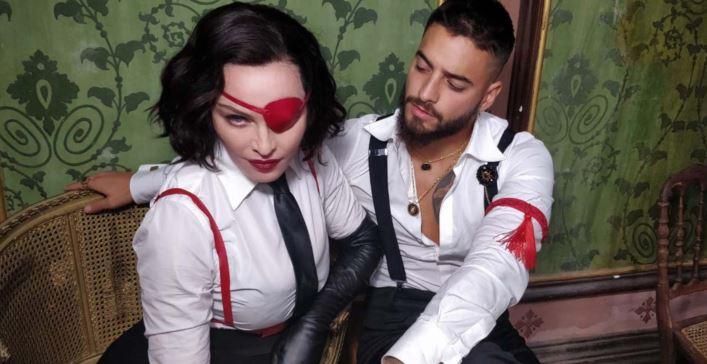 Article continues below advertisement
While some fans were not feeling Madonna's new eye accessory, others were standing behind her creative decision. "When you're feeling a bit s--t after an eye operation 4wks a go and have to wear one of these. THEN Madonna breaks out a new album and we enter the eye patch era. There is a GOD and she's awesome. YESSSSSSSSS!" wrote this fan.
Article continues below advertisement
Seriously, this Twitter user wrote what we were all thinking when we saw that Madonna started an eye patch trend. "I wanna wear an eye patch like Madge... that way I only have to put make up on one eye..and not worry if my brows match #goals," she wrote.
If you're a fan of Madonna's new image, you can purchase your own merchandise now at her online shop. And yes, eye patches are up for sale as well!