People Are Outraged That Google Maps "Removed" Palestine Again
Why has Palestine been completely removed from Google Maps in 2020? Palestinians are saying this is another attempt to erase their nation.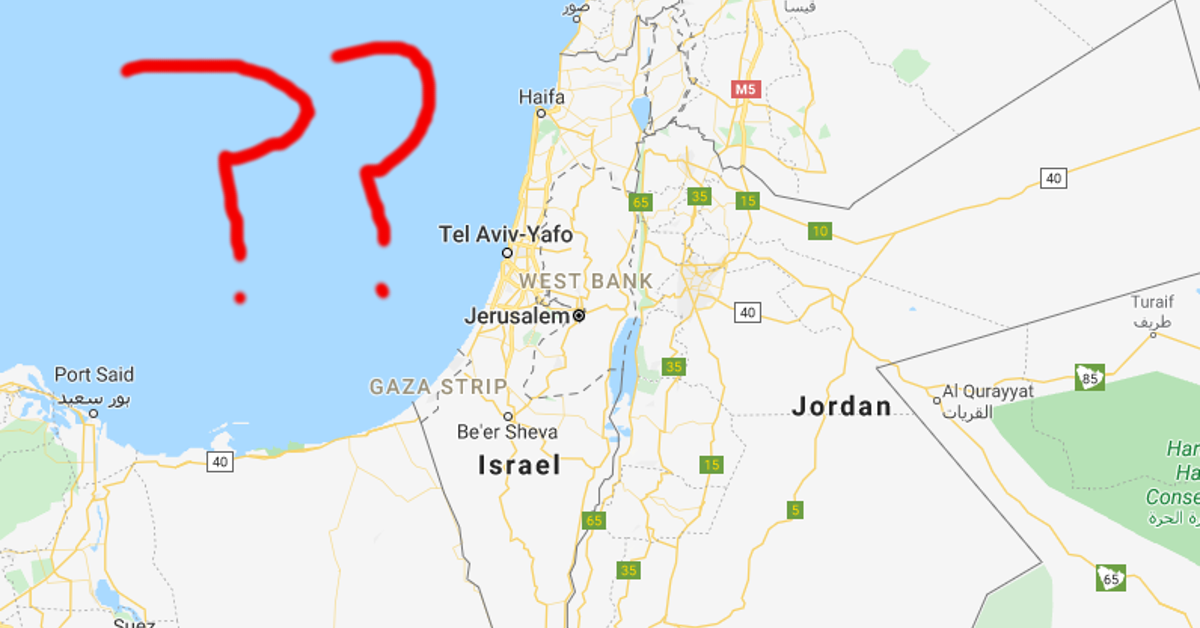 Throngs of people are flocking to Twitter to voice their disbelief that Google Maps has removed Palestine from its application yet again. The conflict between Israel and Palestine is such a contentious topic that the very name of the respective nations has sparked debate. Recently, high-profile celebrities like Chris Evans and Bella Hadid have had their names brought up in discussions around Palestine, too.
So why is Palestine removed from Google Maps in 2020 —and is it actually as suspicious at it seems?
Article continues below advertisement
Palestine is not only "gone" from Google Maps — it's not on Apple Maps either.
The Cupertino-based tech giant also doesn't have Palestine in its search results, users have noticed. The hashtag #FreePalestine began trending on social media again after several tweets about the nation's omission from mapping services gained traction online. Now, many public figures and users across multiple platforms are questioning Google and Apple's decisions to "remove" Palestine from their services.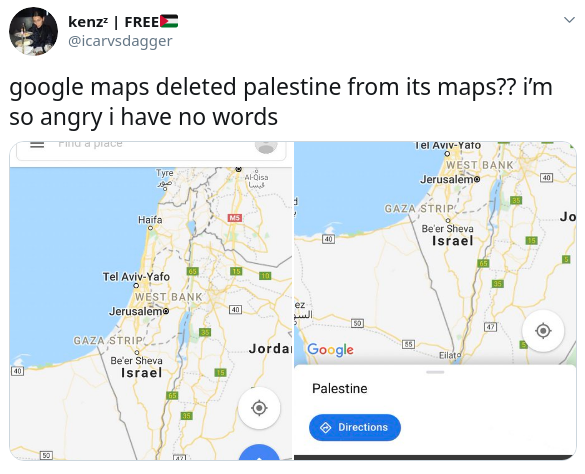 Article continues below advertisement
A resounding number of tweets expressed outrage over the supposed change: "Palestine is no longer a place according to google — ethnic cleansing, murder, land theft & corporate conspiracy, all done in israel's name."
Another user wrote: "google maps deleted palestine from its maps?? i'm so angry i have no words"
However, a deeper look into the issue proves that it's a bit more complex than most people understand.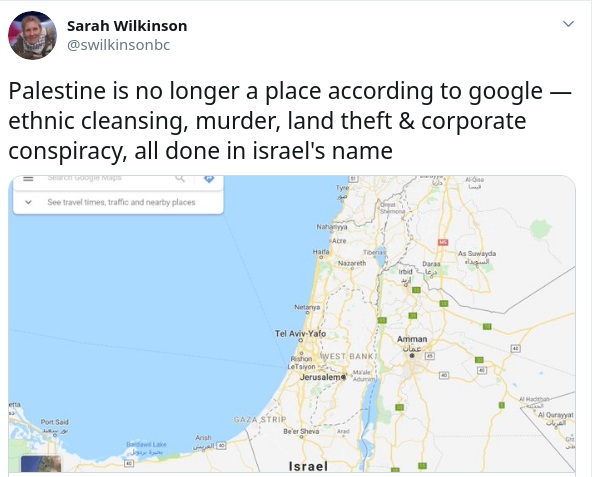 Article continues below advertisement
Why was Palestine "removed" from Google Maps in 2020? It was actually never on it to begin with.
According to Express.co.uk and previous statements from Google, similar outrages occurred in 2016 and 2011, when Palestine's "removal" from the mapping service was met with a similar online uproar.
Back in 2016, Google had clarified that they had never included Palestine as a searchable option in their Maps application. They did, however, include the West Bank and the Gaza Strip.

Article continues below advertisement

So if you're a user trying to search for Palestine using Google or Apple Maps, you won't be able to by that specific name. Many people, after learning that Google and Apple hadn't "removed" Palestine from their Maps, wanted to know why it was never on there in the first place.
This most likely has to do with the fact the United States does not officially recognize Palestine as a nation.
Article continues below advertisement
138 United Nations members do, however, America is not one of them. Apple and Google are both American countries despite their worldwide reach, so it would make sense that they would base their mapping applications on America's officially recognized global, geographical borders and nomenclature.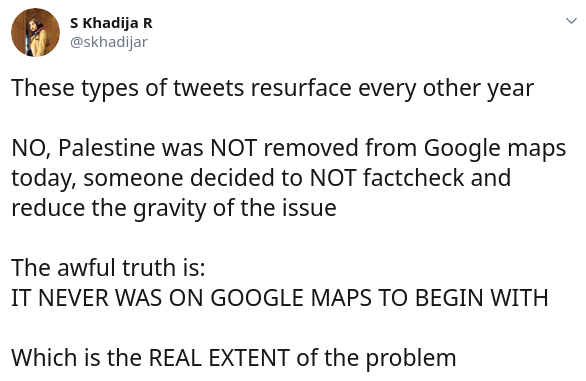 Article continues below advertisement
Bella Hadid had a post flagged by Instagram by referring to Palestine on the platform.
At least, that's what the supermodel thought after she posted a photo of her father's passport that listed his birthplace as Palestine online. She had accused IG of "bullying" her:
"Instagram removed my story that only said 'My baba And his birthplace of Palestine' with a photograph of his American passport. Are we not allowed to be Palestinian on Instagram? This, to me, is bullying. You can't erase history by silencing people. It doesn't work like that," she wrote.
Bella followed up by asking her followers to post pictures of where their parents were born, which prompted an influx of reflective responses from her fans. Instagram has since apologized to Bella, explaining that the reasoning her post was removed was due to the fact that it displayed personal information, i.e., her father's passport in this instance. They have since restored her original post.
Article continues below advertisement