Woman Exposes Healthcare Gender Bias After Husband Receives Stronger Medication Than Her After C-Section
A woman called out hospital staff for giving her husband morphine when he went in for stomach pains, but not her after having a c-section.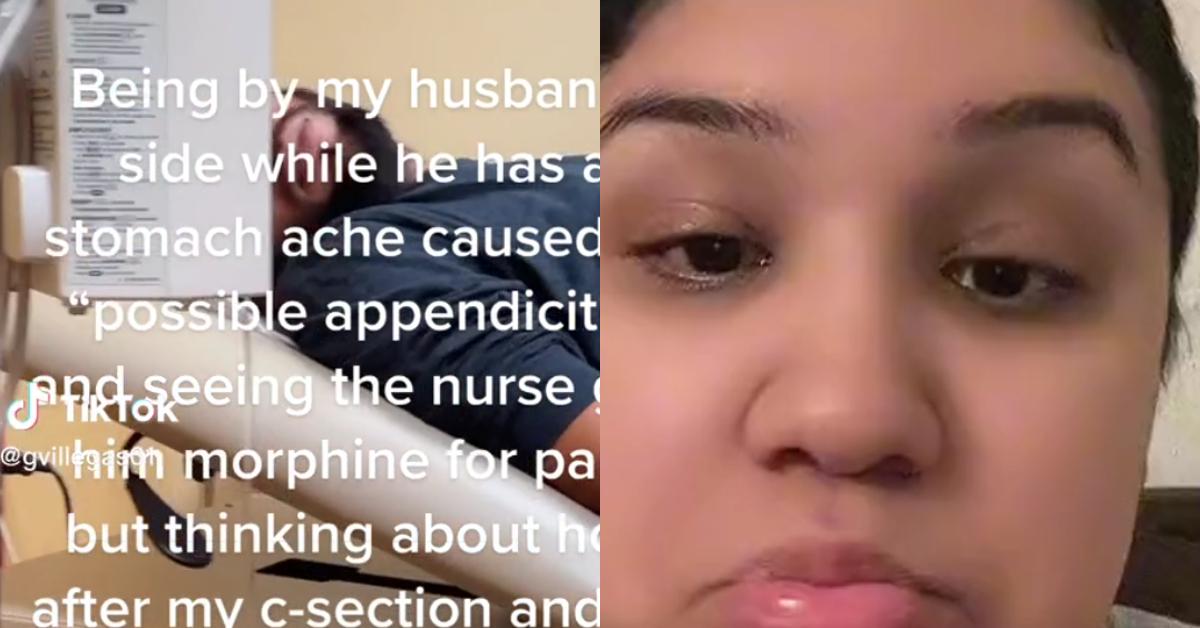 The recovery following childbirth, whether it's a natural birth or a c-section, is no joke. While many doctors say that it generally takes 6-8 weeks to fully recover physically for both delivery methods, every person's labor is different, and each person experiences varying levels of pain.
Article continues below advertisement
However, one mom thought there was a clear double standard when she compared the levels of pain she received as a mother who just delivered a baby via c-section, versus the tummy ache her husband experienced as a result of him possibly having appendicitis.
A TikToker named Griselda (@gvillegas01) uploaded a now-viral video to the app that's received over 717,000 likes. In the clip, her husband can be seen hooked up to an IV drip of sorts on a medical table, his body propped up at a slight angle.
Article continues below advertisement
Griselda writes in a text overlay in the clip, "Being by my husband's side while he has a stomach ache caused by 'possible appendicitis' and seeing the nurse give him morphine for the pain, but thinking about how after my c-section and my colposcopy I was only given Tylenol and ibuprofen."
Article continues below advertisement

She adds in a caption for the post, "Women are superior and the U.S. health system sucks a**!"
According to the American Society of Anesthesiologists, post-partum c-section patients can be medically cleared to have morphine administered to them.
Article continues below advertisement
The center goes on to state that in "most cases" after the 18-hour or so period of morphine pain management wears off, doctors can prescribe "oral opioids" in order to help women manage their pain. And while the Cleveland Clinic states that a colposcopy should be "relatively painless" there were several women in the comments section of Griselda's video who claimed otherwise.
Article continues below advertisement

Article continues below advertisement

One commenter wrote in response to her clip, "YUP. I'm a medical assistant and I literally see this every. single. day"
Another woman said, "I screamed during my colposcopy and passed out from the cramps after. Worst pain ever. When I broke my foot I kept running on it"
Article continues below advertisement

One user suggested that there's an attitude from medical staff that assumes women are simply being dramatic or are lying about the amount of pain that they're in: "I went in for unbearable leg pain and got given the 'have you considered you're just making it up' attitude. It was blood clots from birth control."
Article continues below advertisement

Apparently, this same phenomenon is witnessed from multiple vocations in the medical field: "I'm a pharmacy tech and see this alllll the time. Man & woman can have the same procedure—they'll send her an RX for ibuprofen and the man a c2"
Article continues below advertisement

According to the National Institutes of Health, there does seem to be a level of gender bias when it comes to administering pain medication to patients: women and minorities "receive less analgesic than men and nonminority patients."
Harvard University also said that women are more likely to be prescribed sedatives rather than painkillers, when compared to men.