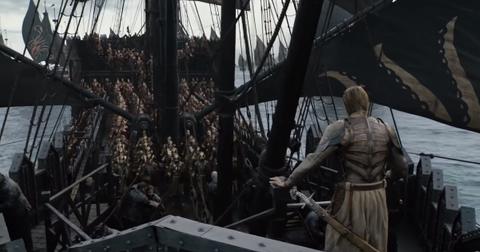 'Game of Thrones' Fans Are Convinced the Golden Company Will Betray Cersei
By Anna Quintana

Dec. 4 2019, Updated 12:29 a.m. ET
Before Cersei Lannister got control of the Golden Company (thanks to a little help from Euron Greyjoy) on Game of Thrones, the sellsword company from Essos was a topic of conversation between Ser Davos and Stannis Baratheon. 
Article continues below advertisement
"Westeros is not the world, your grace. We need to look east for ships and men. Ten thousand skilled soldiers fight for the Golden Company," Davos told Stannis, who at the time was in the running for the Iron Throne. Four seasons later, and the controversial mercenary group has made its way to King's Landing. 
But, who is the leader of the Golden Company? 
In Season 8, the Golden Company is brought to King's Landing by Euron Greyjoy, who is determined to impress Cersei. When the fleet arrived, its captain Harry Strickland met with Cersei and informed the Queen that roughly 20,000 men were in her service along with 2,000 horses. 
Unfortunately, the elephants could not make the journey via sea. 
Article continues below advertisement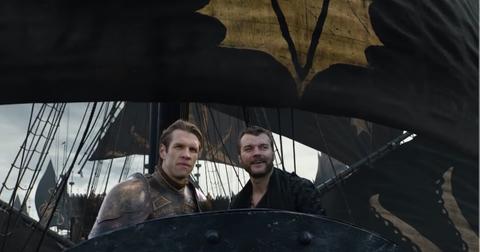 Harry Strickland, who is portrayed by actor Marc Rissmann, oversees a division of the Golden Company on the Silence, Euron's flagship. 
According to the books, Harry is an exiled knight of House Strickland and he is also known as "Homeless Harry Strickland."  
Article continues below advertisement
The Golden Company was originally founded by supporters of House Blackfyre, a branch of House Targaryen, who tried to seize the Iron Throne during the Blackfyre Rebellion. Harry's great-grandfather lost his lands in the First Blackfyre Rebellion, and then Harry, his father, and his grandfather were raised with the company in exile. 
Will the Golden Company betray Cersei? 
There is a very convincing fan theory that Sansa Stark will convince the Golden Company to betray Cersei in Season 8. According to one redditor, Sansa will use the knowledge she gained while being Cersei's hostage in King's Landing to convince the Golden Company to turn. 
Article continues below advertisement
#GOTPredictions

1. Sansa will sit the Iron Throne
2. Battle of Winterfell will be episode 3
3. Someone will do a suicide run to kill the Night's King, probably Jon or Arts.
4. The Golden Company will betray Cersei.

— Stepping Razor 🇯🇲 (@geoffmarsh) April 18, 2019
Ready to see the Golden Company turn on Cersei too.

— . (@niaaaimani) April 22, 2019
Article continues below advertisement
Gonna go one step forward and suggest that Tyrion has a plan to get the Golden Company to break their contract with Cersei.

But also this will be yet another betrayal of Dany (who is about to lose her army), and she won't forgive him for either thing. #GameofThrones

— Advocate (@NinerAdvocate) April 22, 2019
"Sansa says in Season 7 that she learned a lot from Cersei, and there is clearly still a lot of animosity for Cersei on her part given her refusal to participate in the Dragonpit council, so this would be a way for Sansa to combat Cersei in her own way and for that feud to finally be resolved," the fan explained before adding, "The Golden Company in the show are not Targ loyalists, as clearly evident in their fighting a war against Daenerys Targaryen..." 
"This means any argument to recruit them to the side of the living must be an appeal to self-interest, not their morality. It's really Sansa or Tyrion who are best equipped to make such an argument to the Golden Company." 
Article continues below advertisement
And let's not forget that Jorah Mormont was once a member of the Golden Company before he joined Daenerys. 
"When I fled Westeros, I washed up where most disgraced knights do: the Golden Company," Jorah once said on the show. Will he be able to sway the Golden Company to switch sides?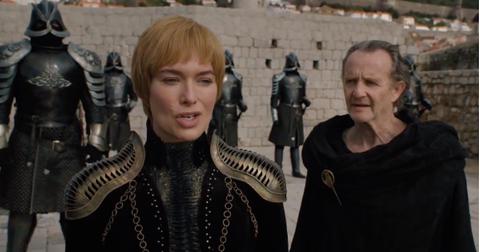 There is also the small fact that the Golden Company [in the books] has always been loyal to the Targaryen family, which fans think will null any contract. 
"Well, they are fighting for Cersei by default, because she pays them," another fan theorized. "That being said, if any of the dragons survive the White Walkers, I can see the dragons scaring the Golden Company into submission." 
Watch Game of Thrones Sundays at 9 p.m. on HBO.