'Power Book II: Ghost' Fans Are Convinced Tariq Will Get out of Jail and Tie up Loose Ends
Most Power Book II: Ghost fans never thought they'd see the day of rooting for Tariq St. Patrick (Michael Rainey Jr.). Thanks to the shenanigans he pulled in the original series — from not protecting his twin sister Raina to setting up Proctor's murder — die-hard Power fans have wanted him to face the music for quite some time. However, as Power Book II: Ghost is deep in its second season, fans have changed their tune — largely because Tariq has become more likable and the struggles he's facing.
Article continues below advertisement
Power Book II: Ghost has been on short hiatus following the new year. And while fans are ready to continue watching the storyline unfold, many viewers want to see Tariq take back his power and do what needs to be done — especially since the last episode has left the star behind bars. So the obvious question stands: Will Tariq get out of jail? Viewers are convinced that he'll be out in no time.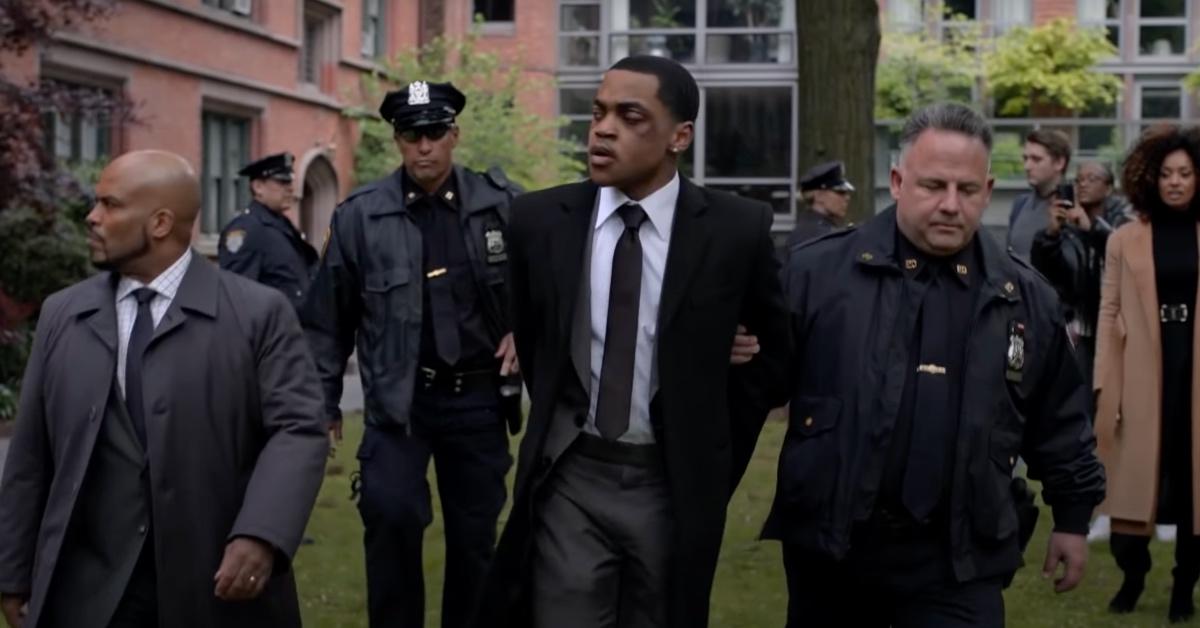 Article continues below advertisement
Social media users believe that Tariq will be a free man very soon.
Watching police officers search Tariq and Brayden's (Gianni Paolo) dorm room at Stansfield was a tough pill to swallow. Cane Tejada (Woody McClain) put the badge of an NYPD officer that he killed in Tariq's desk, which police found — and they later charged him with the murders of the cop and Professor Jabari Reynolds (Justin McManus).
While it's true that Tariq did kill Professor Reynolds, he had nothing to do with the death of the NYPD officer. And now that he's currently in jail, social media has been discussing the possibilities of Tariq being released.
Article continues below advertisement
Truth be told, Tariq is like a cat with nine lives. Throughout the franchise, he's been able to get away with various things. From murdering his father James "Ghost" St. Patrick (Omari Hardwick) and flipping the script on Cooper Saxe (Shane Johnson) in court, to getting away with lying to Monet Tejada (Mary J. Blige) multiple times, the Gods seem to always smile on Tariq.
Article continues below advertisement
With that in mind, fans are convinced that Tariq will be floating out of jail in no time. For starters, not only is Tariq very intelligent, he has important connections. From his new alliance with Council Rashad Tate (Larenz Tate) to his deal with businessman Simon Stern (Victor Garber), Tariq is not without resources.
Article continues below advertisement
In case you've been MIA, Councilman Tate is counting on Tariq to help him get information on Rick Sweeney — Brayden's uncle — so he can steal his congressional seat. Not to mention, Tasha St. Patrick (Naturi Naughton) made a deal with Simon for Tariq to get into his alma mater, Stansfield University, in exchange for Truth nightclub — which James left to Tariq upon his death. So, with such high-powered people riding on Tariq's help, the general consensus on social media is that Tariq will be out of jail soon.
Article continues below advertisement
How long will Tariq stay in jail?
While viewers believe that Tariq will eventually be released from jail without incident, the extent of his stay is the million-dollar question. See, showrunners are known to throw a few twists and turns at viewers, so there is no clear indicator of when Tariq will be released.
Article continues below advertisement
Fans predict that the show may feature Tariq behind bars in Episodes 6 and 7, but are convinced that he'll be out before the season finale. Not only will the police have to gain substantial evidence that exonerates Tariq, the person who actually framed him may have to take the fall. We're looking at you, Cane!
However, showrunners may surprise us in Episode 6 with Tariq's release. There is no way to tell, but you can bet that the second of half of Season 2 will be iconic.
Catch new episodes of Power Book II: Ghost Sundays on Starz.