Will Fans Be in the Building at UFC 249 to See Justin Gaethje vs. Tony Ferguson?
UFC 249 is playing tonight, but will there be any fans watching the bouts live? Let's take a look at who will (and won't) be there.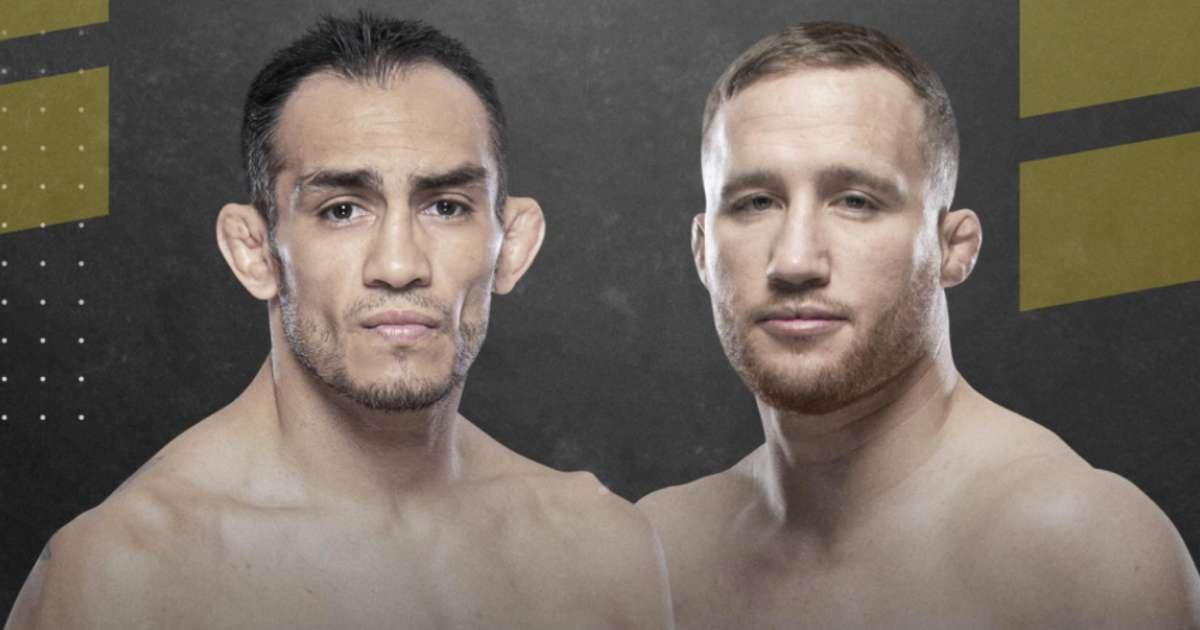 When the COVID-19 pandemic hit, a ton of businesses were hit hard and heavy, especially when it came to live entertainment. The future of sports seasons are pretty much all up in the air along with the respective leagues and organizations that run them, not to mention the livelihoods of folks who work these events.
A ton of events were canceled and rescheduled — like UFC 249 — but will there be fans present to watch the fights?
Article continues below advertisement
While combat sports make a ton of money off of pay-per-views, it's no secret that live gates bring in massive amounts of cash for fight promotions like the UFC.
So when Dana White announced that he was working tirelessly to put the fights on anyway, there were a lot of questions surrounding his decision. Is it smart to stage events? Will fighters be safe? Will there be athletic commissions even green lighting said events?
Dana was able to pull some moves, like creating his own "fight island" that was reminiscent of Bloodsport, and bypassing state athletic commissions by staging fights at Tachi Palace in California. Because it's on a Native American reservation, the venue has its own sports governing body that was ready to stage the fight card with Justin Gaethje and Tony Ferguson as the headlining bout.
However, Disney was quick to tell ESPN+ that there's no way they could put the fights on.
Article continues below advertisement
So ultimately, the card was postponed to Saturday, May 9 — which meant that there were not only some roster changeups, but a change to the venue as well.
It's no longer taking place at the Tachi Palace Casino, but at the VyStar Veterans Memorial Arena in Jacksonville, Fla. And it looks like the move, even though it's got critics in a kerfuffle, is paying off dividends for Dana and the UFC. That's because 249's already seeing a large jump in pre-event buys.
Article continues below advertisement
Will fans be present at UFC 249?
Because large-scale group gatherings are still a big no-no at this stage in the game, UFC 240 will not take place in front of an audience, which will be a bit jarring. The WWE still staged events in empty arenas — and without the roar of the crowd, it's a pretty weird overall experience. However, anyone who's watched The Ultimate Fighter knows that while not hearing cheers or jeers detracts from a fight, at the end of the day, great combat action is great combat action. Watch this clip below:
Article continues below advertisement
So we're still going to hear commentators react to it, and yes, we're going to see brutal back and forth action, regardless. And it's something UFC Vice President of Production and Operations Craig Bosari said will be a welcome "return to normalcy" for some folks.
"We don't want to push too hard and try to create something that people are unfamiliar with," he said in an interview with Newsday.
He continued, "I think the comfort of seeing a live sporting event and live fights and the UFC the way they've remembered it is what we're going to try to achieve. The hope is that if you're tuning in, you have some comfort knowing that all right, you know, we're getting back to operating and some normalcy in our life. And we can do that for a few hours by bringing them a broadcast to their home."
Article continues below advertisement
How much is UFC 249 on ESPN+?
While the move to ESPN+ was much maligned in the beginning, thanks to a slew of technical issues, it seems that fight fans have gotten on board with the streaming platform to watch fights. It'll run you $64.99 to stream the fights if you've already got an ESPN+ subscription. If you signed up for the Disney+ bundle, you won't have to pay extra for it either, so you can just stream the fights.
Article continues below advertisement
Is Ronaldo "Jacare" Souza fighting?
At the last minute, Jacare's bout with Uriah Hall was canceled after both he and two of his cornermen tested positive for COVID-19. Yes, that's the same Uriah Hall you saw flatten a TUF opponent who was heralded to be the future of the Middleweight division. The Jamaican athlete has been hot and cold in the octagon, but there's always a chance for him to land an explosive KO in his bouts, as evinced by his initial victory over Gegard Mousasi.
If you have an ESPN+ subscription, the prelims, which begin at 8 p.m. (EST,) will stream on ESPN+. The main card, which also features a bantamweight title bout between Henry Cejudo and Dominick Cruz, will begin at 10 p.m. (EST.)
Who are your top picks for tonight?