A Rundown of the Most Dangerous UFC Fighters
Who is the most dangerous fighter in the UFC? That's a tough call to make because the roster is filled with such immense talent. Keep reading.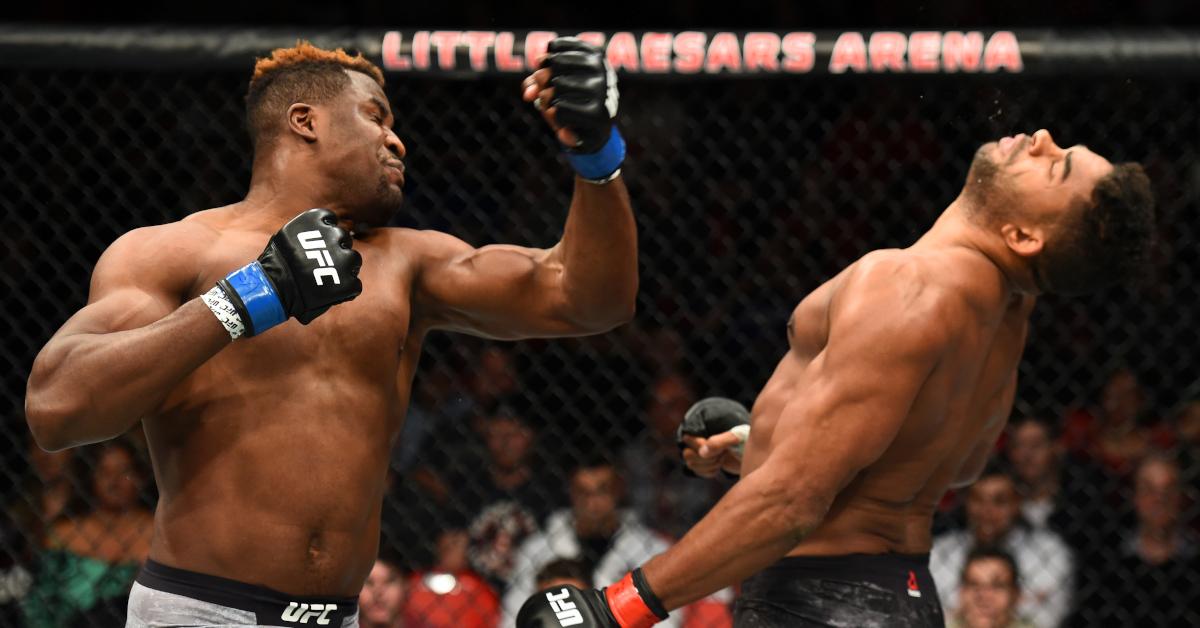 "The Baddest Man on the Planet." It's a moniker that fighters all around the world look to capture. Heck, it's why the BMF title was created in the headlining fight between Nate Diaz and Jorge Masvidal which saw a ton of back-and-forth action between the Stockton Slugger and the Miami native who were both known for their tough-as-nails-what-is-the-point-fighting-anyway brand of pugilism.
But who is the most dangerous UFC fighter of them all? That's tough to decide.
Article continues below advertisement
Obviously, a heavyweight fighter, even one with a so-so record, is going to obliterate someone from a smaller weight class. Blagoy Ivanov might be ranked No. 10, but he'll probably have his way with Henry Cejudo because he's double the man's weight.
So "the most dangerous" UFC fighter is probably best divided up into different weight classes.
These are the most dangerous UFC fighters:
It's also important to note that styles make fights. TJ Dillashaw came up short against Dominick Cruz, but blasted Cody Garbrandt. Cody, on the other hand, had pretty much a perfect fight against Dominick, who only ever came up short against Urijah Faber early on in his career.
And while nobody rules the roost in the world of fighting forever, the following combatants are fierce brawlers any fighter would dread going up against.
Heavyweight - Francis Ngannou
Francis Ngannou has a heartwarming rags-to-riches story. He was a dirt shoveller in Cameroon and trained his butt off to develop a scary skill set. But his size, power, and explosiveness are what make him probably the baddest man on the planet.
He doesn't even need to throw his punches with much technique either. Glancing blows have staggered durable heavyweights and led to easy KOs. He had boring losses against Stipe and Derrick Lewis, but he can put your lights out anytime, anyplace.
Stipe Miocic and Daniel Cormier are no slouches, either, but there's something about Francis' freakish power that makes him so frightening to go up against.
Article continues below advertisement
Light Heavyweight - Jon Jones
"Bones" has had a few uninspiring performances, but the man has never tasted defeat in his UFC career, save for a BS DQ loss against Matt Hammill where Jon was controlling the entire fight and brutalizing Matt from the top position. 12-6 elbows from the top are illegal in MMA competition, and the ref ruled the victory belonged to Matt. No matter, Jon went on to win the title and never lost it in a fight.
Article continues below advertisement
He's beaten tons of champions, and even though he doesn't have one-punch KO power, he will wear you down and put you out of your element and even fight you at your own game and win. There hasn't been someone else in MMA since Fedor Emelianenko who has had an unbeaten streak as long as Jon while fighting top competition — he's easily the GOAT of mixed martial arts.
Article continues below advertisement
Middleweight - Yoel Romero (or Paulo Costa)
One of the best fighters in the UFC to have never gotten gold, Yoel is still a very, very scary opponent because he lulls his foes into a false sense of security and can put their lights out in a heartbeat. His fight against champ Israel Adesanya was a snoozefest, but Yoel clearly landed the more powerful shots and it was clear that Izzy wasn't going to play his game. The Nigerian fought a smart fight, which is the only way to do it against Yoel.
Article continues below advertisement
The future of the Cuban Olympian's career in the UFC is uncertain at this point, but it's clear he has what it takes to compete at a high level. Paul Costa is also another Middleweight who's a very, very scary dude, but Yoel's so dangerous that top fighters are never quite the same after a bout with him, even if they manage to win. Which is saying a lot because the division is filled with some pugilists who aren't to be trifled with.
Article continues below advertisement
Welterweight - Robbie Lawler (this is a tough one to decide)
You wanna talk comeback story? Robbie Lawler has a storied MMA career and it's far from being over. After leaving the UFC to fight at other organizations, Robbie's performances against Babalu, and fighting above his weight at 185, didn't really give fight fans that much to look forward to once he came back into Dana White's promotion. His first fight coming back gave Robbie fans palpitations too: former title contender Josh Koscheck.
Article continues below advertisement
Robbie managed to KO him in spectacular fashion and ended up challenging and beating Johnny Hendricks for the title and put on an absolute barnburner with Rory MacDonald, one of the bloodiest wars of attrition MMA has ever seen. Robbie ended up losing to Tyron Woodley, along with a decision to Rafael Dos Anjos, a controversial loss to Ben Askren, and a shutout at the hands of Colby.
But Robbie's combination of power, explosiveness, and stellar takedown defense makes him a tall order.
Article continues below advertisement
That being said, Jorge Masvidal (a longtime favorite fighter of mine) has had a streak of unbelievable performances. Santiago Ponzinibbio was on a crazy win streak but has been removed from the UFC's official rankings. You can't forget about Tyron Woodley, either. He gets blasted for "boring" performances, but his lightning-quick KO of Robbie and period of Welterweight dominance cannot be forgotten, either.
Article continues below advertisement
Lightweight - Khabib Nurmagomedov
A no-nonsense, Dagestani mountain man who literally wrestled bears as a kid, Khabib's game plan is simple: outwrestle you, get your back, and submit you. But the complexities of his wrestling game are complemented by his ever-evolving stand-up skills. People are so afraid of his ground game that even seasoned strikers like Conor McGregor will get dropped by his punches.
The depth of Khabib's wrestling knowledge, his tenacity, and humble-swag make him one of the scariest guys to fight. Ever.
Article continues below advertisement
One also has to keep in mind that 155 pounds is probably the most stacked division in the sport with a crazy amount of talent including the monstrous likes of Justin Gaethje and Tony Ferguson, who are incredibly scary in their own right.
Article continues below advertisement
Featherweight - Chan Sung Jung
There's a bunch of murderers at Featherweight. And yes, I know Chan Sung Jung lost to Yair Rodriguez right at the bell with a spectacular behind-the-back-elbow KO, but the "Korean Zombie" has KO power in both hands, always pushes the pace, and has improved immensely since his layoff due to mandatory military service in Korea. Plus, at 33 years old, he's hitting his prime. Expect him to challenge for the title soon after another win.
Article continues below advertisement
Women's Featherweight - Amanda Nunes
Amanda's a badass, plain and simple. Skill, size, strength, the ability to go the distance and end fights at a moment's notice, she's a well rounded fighter who's a threat from anywhere, but her ability to measure distance, slip punches and counter with blistering speed makes her head and shoulders above the competition. She made Cris Cyborg look like she had no business being in the cage with her... a task many thought was impossible as Cris has gone undefeated for years.
Article continues below advertisement
Bantamweight - Marlon Moraes
It's crazy to think that Marlon fights at 135 pounds — I'm 230 and if this guy wanted to fight me, I'd probably only do it if I had a metal baseball bat and plenty of space to run away in case I made him really angry. He lost to Henry Cejudo, but it's important to note that he was wrecking "Triple C" before the Olympian (who also competes at flyweight) started making it a close quarters fight and Marlon gassed.
Article continues below advertisement
Women's Bantamweight - Amanda Nunes (again) and Germaine de Randamie
"Lioness" is a champ-champ and one of the best fighters in the world right now and not just the women's Feather and Bantam weight divisions, but Germaine gives her a run for her money. Their title fight was a lot closer than many thought it would be and I'd probably bet on Germaine if she was going up against anyone who isn't Amanda Nunes. Her kickboxing acumen, long reach, and durability make her a very frightening fighter to square up with.
Article continues below advertisement
Flyweight - Henry Cejudo
Technically, he is a dangerous bantamweight as well, but ultimately this is the weight class for Henry. His upset over Demetrius Johnson was shocking, but he was the clear winner in that contest. His wrestling is unmatched, his ability to transition from heavy strikes to blistering takedowns is uncanny. The youngest American to ever get a gold medal for wrestling, Henry holds belts in two different weight classes and beat high level guys to do it, has a high fight IQ and can adjust accordingly.
Article continues below advertisement
Women's Flyweight - Valentina Shevchenko
I'm just going to go ahead and say it: I personally think that pound for pound, we have never seen a fighter as skilled or dominant as Valentina Shevchenko. She gave Amanda Nunes the best fights of her career and some of the best contests MMA fighters have ever seen. She's a ridiculously dedicated athlete with a deep skill set, unparalleled knowledge of distance and timing, has demonstrated an insane in-cage intelligence and is just an all-around badass.
Article continues below advertisement
One could argue that she shines even brighter because her competition hasn't always been as developed as the other fighters on this list, but it's difficult to find another pro-pugilist who loves what they do as much as Valentina and has such impressive explosiveness. To top it all off, she's an insane marksman and loves the outdoors. I want her in charge if there's ever a zombie apocalypse. If you wrote a character as cool as Valentina in a show, people would say she's too awesome to be believable.
Article continues below advertisement
Women's Strawweight - Weili Zhang
KOs in lower weight classes usually don't come easy, but Weili makes it look like it's just par the course. The first-ever Chinese UFC champion, Weili's honest attitude and passion for training have won over fight fans. It doesn't hurt that she's one big punch or heavy body kick away from victory. Her decision win against Joanna Jedrzejczyk proves she's got a gas tank to go the distance as well. The strawweight division's been put on notice and it'll take a special fighter to take out Weili.