This Woman Accidentally Took Her Dog's Benadryl — What Happened?
Allergies can be torture, and not just for humans. Sadly, this woman accidentally took her dog's Benadryl. Thankfully she woke up to tell the tale.
Francis Scott Key wrote the "Star Spangled Banner" in 1814, a little less than a year before the War of 1812 ended. In it, the line "bombs bursting in air," would eventually be represented by fireworks on the Fourth of July. And while they are lovely to behold, it's no secret that animals often suffer the most on that night.
Article continues below advertisement
Dogs in particular spend Independence Day cowering under beds or on their owner's laps. It's not uncommon to give them something that could calm them down. For Chloe, who goes by @chloebluffbakes on TikTok, that thing is Benadryl. July 4, 2023, was no different except for one thing. Chloe accidentally took her dog's Benadryl pills. Did sleep then take her, or did the Hat Man show up? Let's Benadryl down into it.
Article continues below advertisement
Take four of these and call us in the morning.
In a pristine white kitchen, wearing a crisp white dress, Chloe explained how the pill faux pas went down. She shook out about four or five pills for her dog while chatting with her husband when, without thinking, Chloe swallowed them all. "I ate the handful of Benadryl," she said tearfully.
This happened only moments before she uploaded the TikTok. "So, I'm recording my last message before I fall into a coma for the next 12 to 14 hours," yelled Chloe. This is a lot of theater kid energy for someone who microdosed herself with a sleepy allergy pill. Evidently, Chloe is fairly sensitive to this medication and can barely handle one pill much less four.
Article continues below advertisement
Obviously Chloe's dog has yet to get any Benadryl and as Chloe is pointing out, he's still "walking around panting." Strangely, she acts as if he can no longer have any despite the fact that we can clearly hear pills rattling around in the bottle as Chloe gesticulates wildly. She is particularly disappointed about possibly missing fireworks, but what about the fireworks that occur when trying to push through a Benadryl haze?
Article continues below advertisement
Chloe certainly slept soundly.
The next morning, Chloe returned to TikTok with a bleary-eyed update. We suspect she didn't get to see any kind of fireworks. Shrouded in a green blanket, hair up in the kind of messy bun that says "I can't brush my hair now," Chloe shared an update.
Article continues below advertisement
"Good morning," she began, clearly in need of coffee. "I'm alive." Honestly, prove it. Chloe looks depleted. "I did sleep though. My bones are Jell-O." It wasn't a restful sleep as Chloe revealed she often felt as if she was outside of her body.
A few folks wanted to know what her husband did when she took the Benadryl, because he was standing right there. "Honey, what did you think?" she screamed. "F------ hilarious," was his reply. "He wasn't concerned," confirmed Chloe.
Article continues below advertisement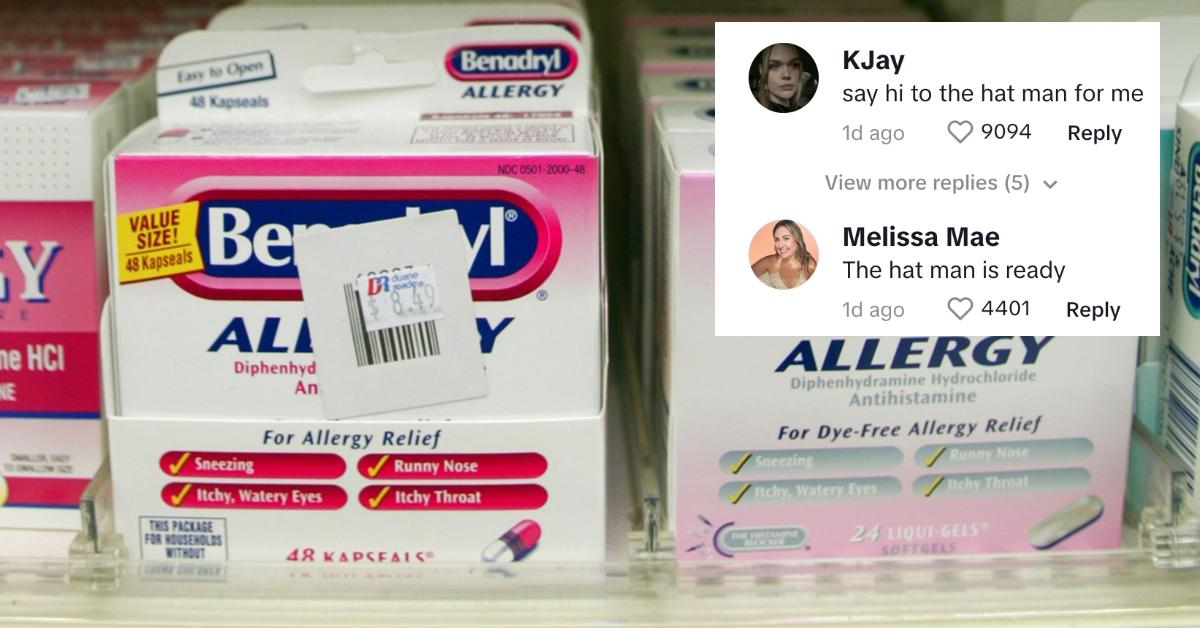 A lot of folks jumped into the comments, asking about the dosage Chloe was going to give her dog. It seems as if many thought it was too high. "My dog's like almost a hundred pounds," said Chloe to the strangers on the internet who aren't veterinarians. "I don't know what your vet thinks is correct, my vet tends to think that one 25 milligram Benadryl per 20 to 25 pounds that your dog is which yes, is four Benadryl."
Article continues below advertisement
Was Chloe visited by the Hat Man?
According to Timothy M. Brown, Jr., who runs The Hat Man Project blog, The Hat Man is a shadowy figure that often comes when one is dozing off in bed. Timothy, who has had his own experience, described him as a man with "no eyes, no nose or mouth, only blackness. He looked like a shadow, only darker — much darker. He had a very wide brimmed hat and a long trench coat that flowed as he moved."
He's mentioned on the website drugs.com as a "fictional figure that started appearing on certain internet sites in the early 2000s that has recently been referred to as the 'Benadryl Hat Man' after reports of people hallucinating and sighting him after overconsumption or abuse of Benadryl. Thankfully Chloe seemed to be spared from this. She lost her bones, not her mind.