Woman Breaks Into Dollar General Store, Doesn't Realize It Until the Alarm Goes Off
A woman shared how she accidentally "broke into" a Dollar General in a viral TikTok.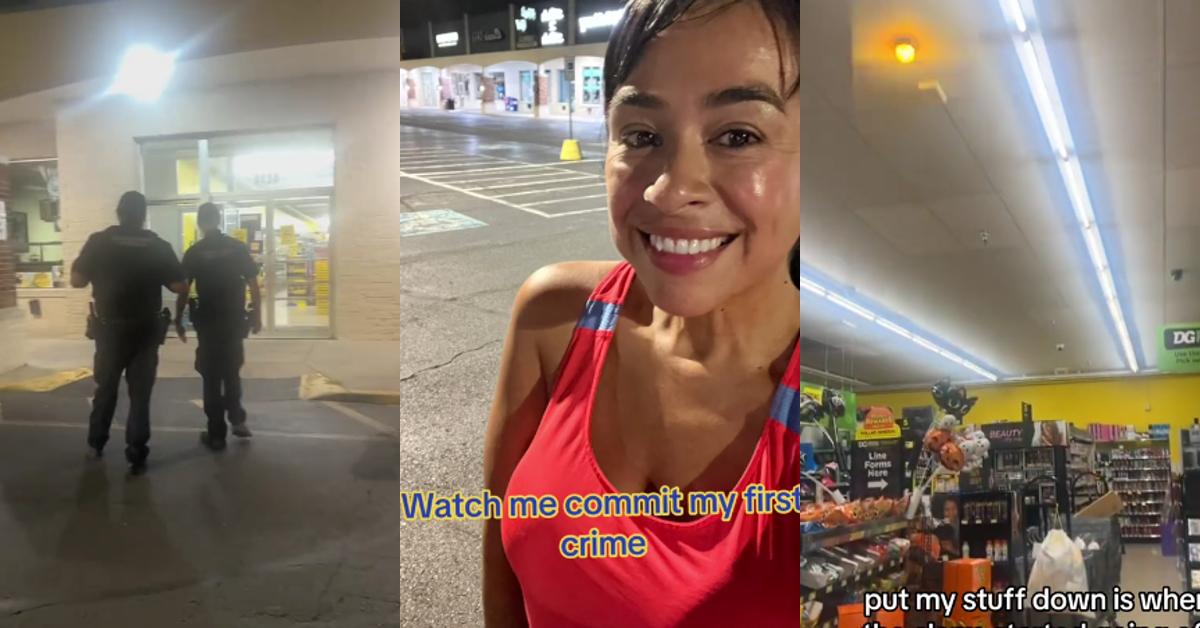 Isn't it annoying whenever you Google the closing times of a restaurant and a store, you drive all the way down there, thinking that the place is open and wouldn't you know it, right when you pull up, you see that all of the lights are off and the only car in the parking lot, is the same broken down Ford Escort that's been there since Bob Dole was running for President.
Article continues below advertisement
Usually, when that happens, we just curse to ourselves and drive home. But what if, when you pulled up to the restaurant or store in question, the place looked open, despite otherwise being completely devoid of customers? Would you try and approach its automatic doors and step inside? And if you did and those doors opened, would you try to go shopping?
That's what happened with TikToker Sandra Vasquez (@sandravasqz) when she went to a Dollar General location thinking that it closed at 10 pm. However, as she ambled through the store and tried to purchase items, she soon realized that she shouldn't be there, and learned she inadvertently "broke" into the location.
Article continues below advertisement
Sandra opens up her video featuring a selfie of her standing in front of a Dollar General. She proudly writes in a text overlay on the video: "Watch me commit my first crime."
The delineates her dollar store break-in story time: "I just broke into the Dollar General...the cops are in there right now."
Article continues below advertisement
In between shots of her addressing her viewers, she intercuts her video with footage of police officers entering the Dollar General location in question.
She explains what happened further, indicating that the "break in" wasn't intentional — she thought the store closed at 10 pm, so she didn't think it was a big deal that she was in there and shopping at 9:45 pm.
Article continues below advertisement

Nonetheless, Sandra went about filling her cart up with items as if the store was operating under regular hours: "I walked right in the door, I started shopping and on my Snapchat, I started putting stories saying wow it's really dark in here."
Article continues below advertisement
At this point in the video, she transitions to the Snapchat clip she was referring to which, indeed, shows her strolling the aisles of a dark Dollar General store.
"I'm at the Dollar General, it's so dark and kind of creepy in here...hope I don't get killed over some Takis for Bella," she says, holding up a bag of chips.
Article continues below advertisement

Her Snapchat video then cuts to show the interior of the Dollar General store, showing off just how desolate and gloomy it looks. One could even mistake it for a scene out of Frank Darabont's 2007 horror masterpiece, The Mist.
Article continues below advertisement
Back on camera, Sandra further explains why she didn't think shopping at the Dollar General was such a big deal: "Okay so everything was all good, I just figured it was getting a little dark cause they were trying to push people out cause 9:45. I just continued with my shopping."
However, she noticed that there might be a problem by the time she approached check-out: "Once I hit the register and put my stuff, put my stuff down, is when the alarm started going off."
Not the kind of shopping experience one would want or expect to have when they're buying some Takis.
Article continues below advertisement

Her TikTok then cuts to her, in a panic, panning to the interior of the store as the alarm begins to sound off, and then she heads to the door. Sandra goes on to say: "Immediately I ran outside and I called 911 to let them know because I was not about to leave and then them see me on camera."
Article continues below advertisement
She decided against booking it, knowing that it would look suspicious if she fled the store after the alarm went off. "Of course I didn't take anything and the sign light, the light is still on, it's just a little dim, the sign is still on. The doors are open the alarm wasn't set I guess and apparently, apparently the Dollar General closes at 9."
Sandra goes on to explain that she decided to "stay until" the cops arrived, "to let them know [she] wasn't a criminal." What an eventful night.
Article continues below advertisement

While there were some TikTokers who questioned why Sandra would share the story at all, like one individual who wrote: "Remember when people did meaningless daily tasks without having to livestream, blog, and post about it?" there were others who seemed invested in her Dollar General misadventure.
"How clueless where you like I mean DESPISTADA not to hear the 'we are closing'"
Someone else quipped that she basically snitched on herself: "You called the cops on yourself"
While another couldn't believe that she didn't immediately think something was amiss while walking through the creepily empty store: "The silence in the store would of scared me"