"It Looked Like a Toothpaste Tube" — Woman Accidentally Brushes Her Teeth with Icy Hot
A woman recorded the funny-in-hindsight phone call her boyfriend made to poison control after she inadvertently brushed her teeth with deep heat.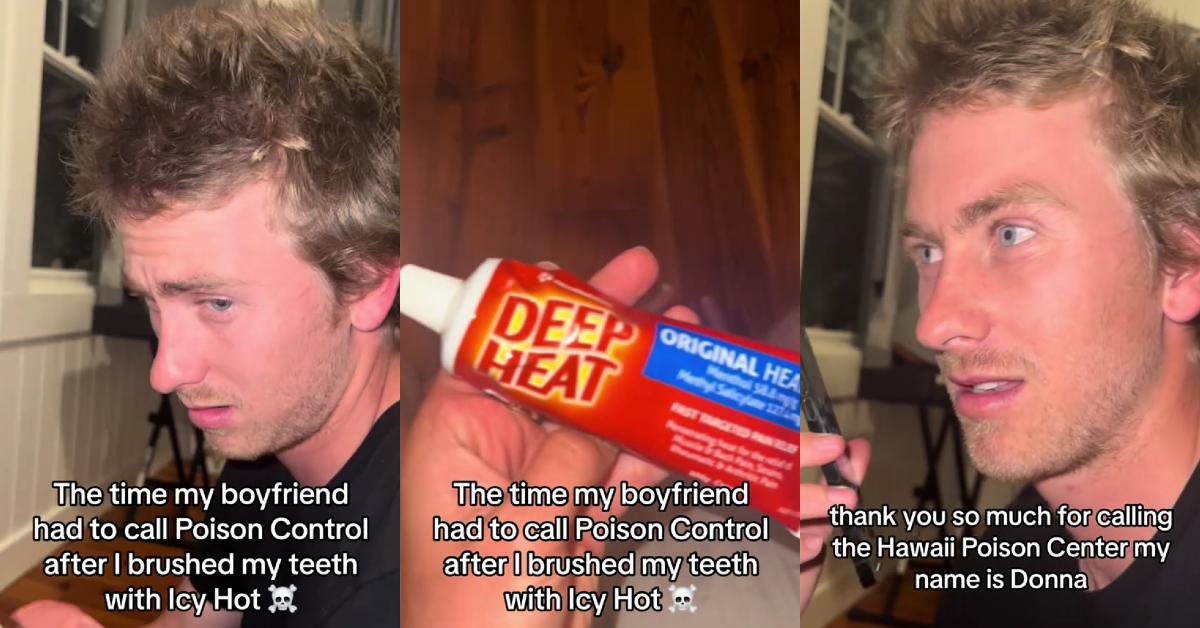 A woman shared a viral phone call with poison control on TikTok in a clip that's accrued over 15.2 million viewers on the app.
The reason behind the call? She mistook a tube of Deep Heat, an Icy Hot-esque muscle relaxing ointment, for toothpaste and proceeded to brush with the stuff.
Article continues below advertisement
Mia Kittleson's (@mia.kittleson) concerned boyfriend decided to give Hawaii's poison control a ring, and this is what transpired.
Mia's video begins with her and her boyfriend stifling laughter as he looks down at her and smiles.
A waiting tone on their phone ringing above their giggles sounds off, and the camera pans down to Mia showing off a tube of the muscle-relaxing ointment she mistook for toothpaste.
She writes in a text overlay of her video: "The time my boyfriend had to call Poison Control after I brushed my teeth with Icy Hot"
Someone answers the phone, "Thank you so much for calling the Hawaii Poison Center my name is Donna can I have your name please."
Article continues below advertisement
Mia's boyfriend responds, "Hi Donna this is Lyon. Hey Lyon how can I help you?"
"Um, I'm good I'm with my girlfriend right here she's okay, she can talk."
"Hi?" Mia murmurs.
Lyon continues, "She accidentally brushed her teeth with, like a Deep Heat, um, like Icy Hot, that looked identical to, her like, Colgate toothpaste?"
Article continues below advertisement
The video then transitions to showing the tubes of the creams side by side before the clip ultimately ends.
But was Mia in any trouble? Well, it depends on how much of the ointment she swallowed. According to WebMD, Deep Heat: "is for use on the skin only."
The online medical advice website also cautions: "Do not apply near the eyes, mouth, nose, or genitals, and be careful not to touch those areas while the medication is on your hands. If you do get the medication in those areas, flush with plenty of water. Wash your hands well before inserting contact lenses."
Article continues below advertisement

Swallowing the stuff can also result in a bad time, WebMD's page on Deep Heat continued: "This medicine may be harmful if swallowed. If someone has overdosed and has serious symptoms such as passing out or trouble breathing, call 911."
Article continues below advertisement
The outlet stated that while folks should only call emergency services if they are in immediate medical danger as a result of ingesting the ointment, Mia and Lyon did seem to do the right thing by calling a poison control center to alert them about her potential "brush with death."
NBC News reported in June of 2007 that for the first time ever in the New York Medical Examiner's office history someone died after overdosing on Icy Hot.
Article continues below advertisement

17-year-old Arielle Newman had covered her legs with the stuff in order to alleviate the pain associated with her intense training for the sport. Her skin had purportedly absorbed too much of the methyl salicylate chemical in the stuff, which is used in a litany of other soothing balms, and she overdosed on the substance.
Article continues below advertisement
It wasn't just Icy Hot, however, that the runner used: the athlete put on anti-inflammatory pads along with "an unspecified third product."
Commenters who saw Mia's video applauded the couple's decision to phone poison control following the mistake, with a number of users joking that they would more than likely just wait and see if they died instead:
"The way I wouldn't even think to call poison control and just wait to see if I die or not"
Article continues below advertisement

"Am I the only one that never calls poison control and just waits and see if I die or not"
There was one user who thought it was sweet that Lyon would explain why she brushed her teeth with the product by detailing how it was easy for anyone to confuse the toothpaste and Deep Heat tubes.
Article continues below advertisement
Some folks shared their own interactions with poison control like this one person who drank detergent: "If it makes you feel better, I had to call poison control at like 2 am because I accidentally drank laundry detergent I had put in a water bottle"
Hey, at least they weren't trying to vape Tide pods.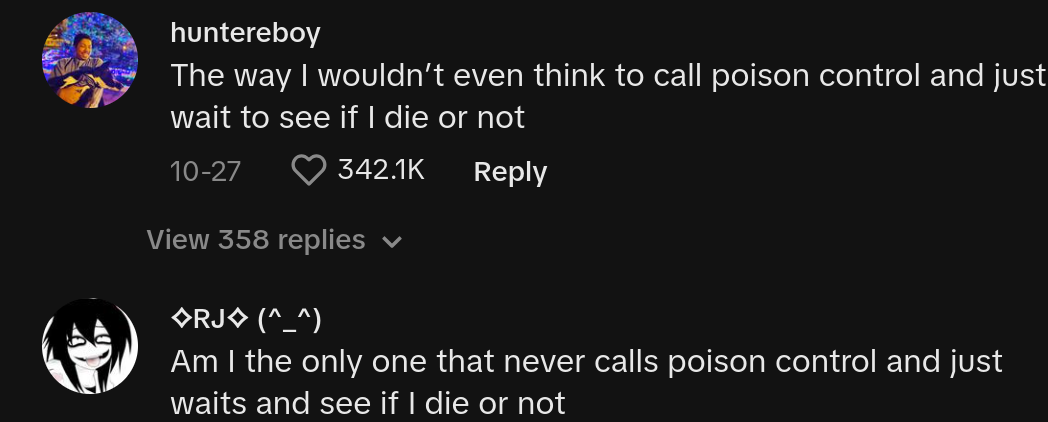 However, there were some who remarked that they've never once had to call poison control because they're attentive enough to not accidentally ingest products that could be harmful to their health.