A Woman Uses Her Food Stamps to Reward Herself at Starbucks and Some Folks Can't Handle It
A woman on food stamps documented her use of them at Starbucks. Unfortunately some folks in the comments think she doesn't deserve that. We disagree.
According to the United Stated Department of Agriculture (USDA), the first food stamp program was conceived of in 1939 by Secretary of Agriculture Henry Wallace and the program's first administrator Milo Perkins. It lasted until 1943, and was meant to help people on relief due to the war. "We got a picture of a gorge, with farm surpluses on one cliff and under-nourished city folks with outstretched hands on the other. We set out to find a practical way to build a bridge across that chasm," said Milo.
Article continues below advertisement
Nearly 85 years later, this program has gone through several updates, the most recent of which occurred in 2014 when the Farm Bill was signed into law by President Obama. Some of the major changes included testing apps and online transactions to use benefits and allowing home delivery for vulnerable populations. Nowhere did the bill say people on food stamps cannot use them at a Starbucks, which is precisely what one TikToker chose to do. We love to see it.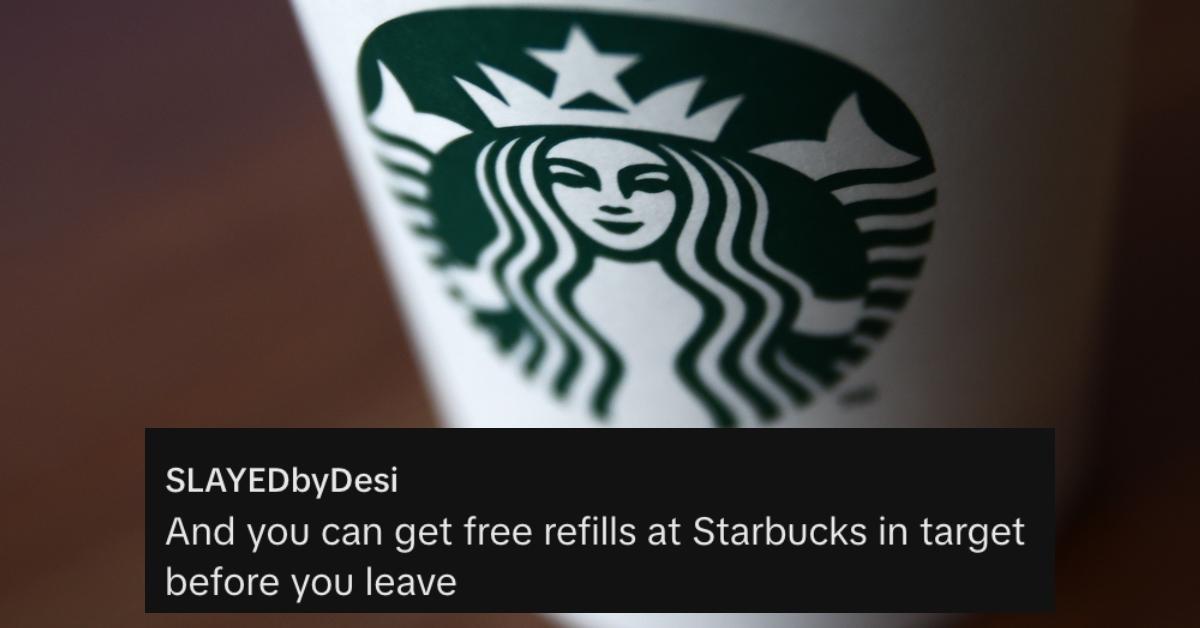 Article continues below advertisement
Please treat yourself.
Jinger Elizabeth, who goes by @imjingerwithaj_ on TikTok, is a single mother who regularly shares ways in which she cuts corners and saves money. As someone who was raised by a single parent, I relate to this deeply.
Honestly she's kind of amazing. Beyond raising her very adorable son, Jinger makes her own jewelry and has written two e-books. I am particularly interested in the Spice Up Your Life Cookbook for practical reasons but I want The Boss B---- Bible for the title alone. What's a girl to do? As of this writing both are sold out, but I'm gonna keep looking.
Article continues below advertisement
In one TikTok, Jinger takes us on a very special journey to a Target Starbucks where she reveals they accept her EBT card. "Electronic Benefits Transfer (EBT) is an electronic system that allows a Supplemental Nutrition Assistance Program (SNAP) participant to pay for food using SNAP benefits," per the USDA.
Article continues below advertisement
Essentially this is modern-day food stamps and Jinger felt it was her duty to let others know they can use it to treat themselves. "Did you know that if you go into a Target or a Publix or whatever type of store like that, that has a Starbucks inside, you can use your food stamps to get Starbucks?"
I bet most people weren't aware of this because Starbucks is always viewed as a luxury item. For some reason a cup of coffee has become weaponized, and by that I mean people are always suggesting folks stop buying Starbucks if they can't afford necessities. The issue is not Starbucks but rather our broken system, but I digress.
Article continues below advertisement
Jinger then proceeds to order a delightfully complicated drink that I couldn't repeat on my best day. She asks for a grande iced peach green tea made with lemonade and lite ice, swipes her EBT card, and is out the door.
Article continues below advertisement
There were mixed reactions in the comments but we don't care for the haters.
First and foremost, there is this unacceptable idea held by some that those living below the poverty line brought it on themselves and therefore deserve to struggle. Look around; most people can barely afford to live in this country, so questioning Jinger's decision to go to Starbucks is not indicative of fraud in any way.

Article continues below advertisement
Secondly, far too many people decided that using one's EBT card for Starbucks was unacceptable. I've got news for them: It's perfectly legal. Per GoodRx Health, "Even though you can't buy a steaming cup of coffee or other hot beverages with your benefits, it's OK to purchase cold drinks — like iced coffees, smoothies, and fountain drinks — if they're intended for home consumption."
One woman asked how Jinger was able to get her hair and nails done while still on food stamps. Perhaps she explains this in another TikTok but this is similar to the Starbucks critique. Why can't this woman take care of her physical appearance and use food stamps? Also, I am constantly impressed by what people can do on their own. It wouldn't surprise me if Jinger was doing her own hair and nails. There is a YouTube tutorial for everything.
Article continues below advertisement
A ton of people were super supportive of Jinger and left very uplifting comments. "Why are folks judging?" asked one person. "She has those benefits that she's ELIGIBLE for and where she shops has been APPROVED and she can choose." That's a great point — Jinger isn't scamming the system; she's using it correctly.
By the way, here are some other surprising items you can use your SNAP benefits for. You can buy plants or seedlings and if you have the space and the know-how, grow your own vegetables! Participating restaurants in certain states will absolutely accept your EBT card so take yourself out! If you have a sweet tooth, head to a bakery and pick up a cake. Life is too short to suffer so please grab a wildly difficult beverage from Starbucks after you've snagged a cupcake.