"I Would've Been Throwing Hands Instantly": Woman's Car Thief Asks Her for a Ride Home
Having your car broken into is an unsettling and scary experience. But one woman's thief worsened the experience after making an odd request.
Unfortunately, the economy and other personal factors have made some people commit crimes to support their necessities. One prevalent act of treachery has seemingly always been to break into someone's car for money or, for the crafty crooks, a new vehicle through hot wiring or other actions.
Article continues below advertisement
During one car thief's crime spree, a woman interrupted him once she noticed the car he was trying to break into was hers. Once the woman confronted the culprit, he boldly asked her for a favor while trying to steal her car. The thief's behavior was so audacious that the woman had to share it with her TikTok community.
Keep reading for the full story!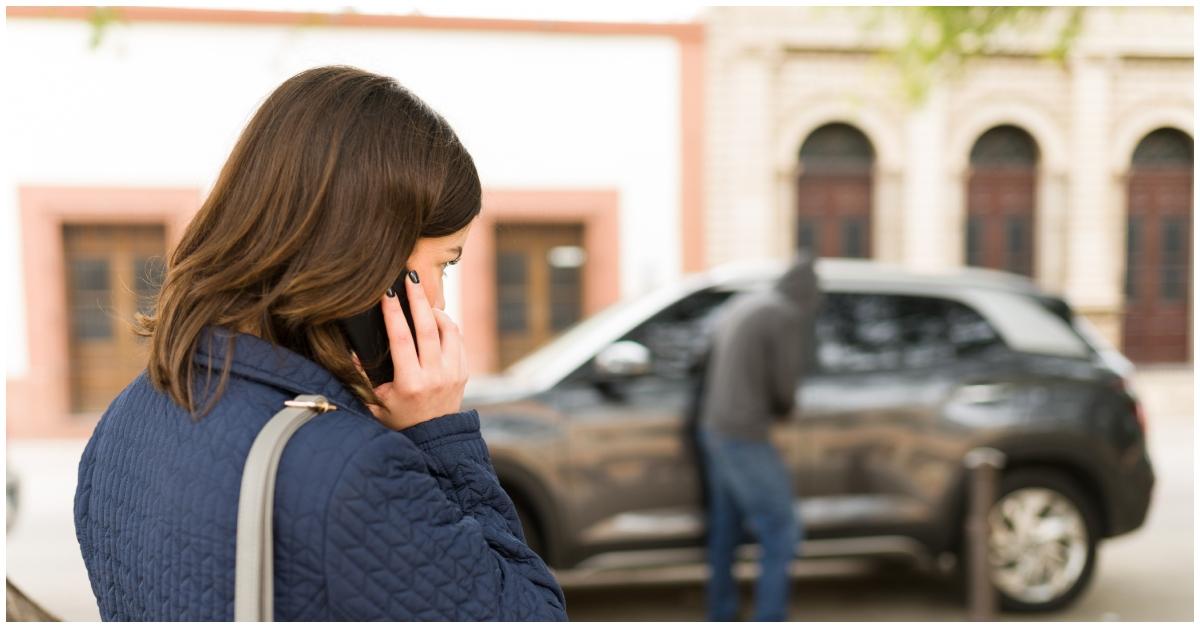 Article continues below advertisement
A woman records a man trying to steal her car in the middle of the night.
On June 6, 2023, TikToker Rachel (@girlwithpetsnails) recorded a car thief attempting to drive away with her vehicle after finding her keys in the car. According to the pet snail owner, the thief had "broken into" her house and stole the car keys while she wasn't at home.
As Rachel records the thief's attempt at getting himself a new car, she confronts him and yells at him to "get out" of her car pronto. The man eventually stopped driving and complained to the owner her vehicle didn't have an "emergency brake." He then continues demanding the "e brake's" location while Rachel informs him she's "going to call the police" if he doesn't go away soon.
Article continues below advertisement
At one point in the TikTok, the thief gets out of Rachel's car, but not without causing some commotion. After Rachel warned the man she planned on getting the cops involved, he exited the driver's seat and asked the woman he almost stole from for a favor.
"Alright, give me a ride home at least," the car thief demanded.
Article continues below advertisement
Rachel wasn't interested in ensuring the man got home safely. She wrote on TikTok that she was stunned by his "audacity" to ask for such an odd request, though she did entertain him by asking where he lived in one clip.
But even after the crook gave her his address, Rachel again demanded he go away and told him she called the police. The woman said her 9-1-1 call ultimately forced the car thief to scram and leave some of his possessions.
"He ran away when I called the police," Rachel confirmed. "Leaving his skates, wig, screwdriver, torch lighter, and a Bible in my car." It's the irony of the Bible for me!
Article continues below advertisement
The TikToker warned her viewers to "lock" their car doors at all times.
In addition to recording her car thief in the act, Rachel added footage of herself discovering him trying to take her car. Toward the end of her TikTok, she posted a Ring security camera recording of her running out of her house barefoot as the culprit tried to scurry off with her car Fast & Furious style, prompting Rachel to write "RIP to my brakes" during the video.
Article continues below advertisement
Rachel then recorded how her street looked after the man drove as fast as he could to escape her. The road was covered with black marks from the tires and showed that the thief had almost made it off Rachel's block before she found him.
Article continues below advertisement
After posting her TikTok, Rachel received tons of support from commenters stunned by the ordeal. Many users couldn't believe the car thief's "casual" approach to his criminal act, especially after he asked Rachel to take him home.
"It's the 'give me a ride home at least,' SIR, WHAT?!" one viewer said.
"I would've been throwing hands INSTANTLY," a second user promised.
Article continues below advertisement
Other concerned commenters questioned why Rachel was "so calm" around the car thief and wondered if the video was real. However, several users felt the video was real because of Rachel's Ring camera footage.
A few more TikTokers asked Rachel why she approached the car thief herself, stating the act was "dangerous." In her caption of the TikTok, Rachel admitted chasing after the thief wasn't her finest moment and warned others in the same situation not to do what she did.
"Girlies, always lock all your doors and windows," Rachel demanded. "Put the emergency brake on when you park, carry pepper spray/some sort of protection, and don't run up on strangers stealing your car like I did!"