Woman Shocked Company Expects Her to Actually Work After Giving 2 Weeks' Notice
A woman leaving her job was shocked to learn that her now-former company expected her to work after she gave her 2 weeks notice.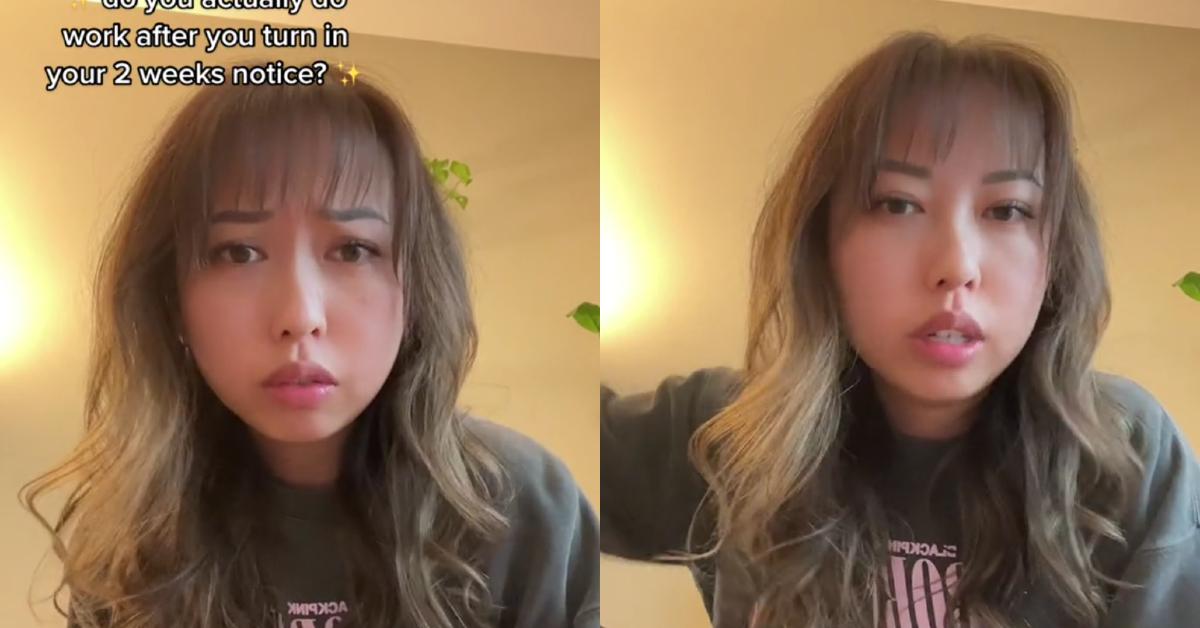 A woman said she was stunned to discover that her job's definition of "2 weeks" notice was much different than the one she had in her mind. A TikToker who goes by Hanny (@hannynutcheerios) uploaded a clip expressing her shock that management at her now-former job fully expected her to work all of her job duties/responsibilities, and not allow her to coast while training her replacement.
Article continues below advertisement
In her TikTok rant where she seemed truly upset that her company expected her to work during her last two weeks, she says: "Tomorrow's my last day at work and honestly I'm so confused because I thought when you submit your 2 weeks it's kind of like when you're a senior in school and it's the last two weeks before the summer break."
Hanny went on: "And you do stuff, but not really. But they want me to do my exact job responsibilities as if nothing's changed. But I was also doing stuff above my scope of work and under the impression that I was gonna get promoted three weeks ago."
Article continues below advertisement
It seems that Hanny's main gripe with her job, which caused her to leave was that she wasn't being fairly compensated or recognized for all of the extra work that she was putting in. So after she put in her two weeks, she didn't know that her job would continue to expect to get the work out of her that they were paying her to complete in the first place.
Article continues below advertisement
She continued to state her case of what her definition of a two weeks notice was, "And I thought the whole point of a two weeks notice was that you can transition your stuff to another person?"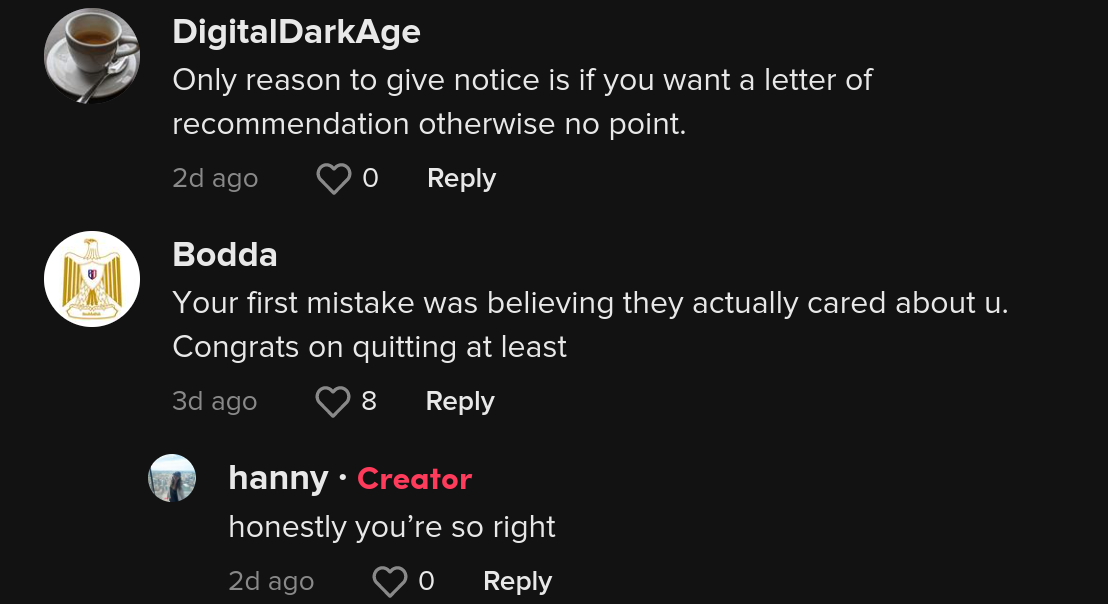 Article continues below advertisement
According to the TikToker, she thought it was basically supposed to be used as a means of folks training their replacements: "Not squeeze as much work out of me as possible?" she states in the video.
"Because if I was really so important to these tasks, because I have so much knowledge on them, then why didn't they just pay me more to keep me longer?"
Article continues below advertisement

Hanny believes that her passive attitude at her job is what ultimately resulted in management's expectation for her to fulfill all of her job responsibilities during her final two weeks at the company.
Article continues below advertisement
"And because I'm a pushover, I still did some of the tasks anyways, but honestly at this point what are they going to do? Fire me?"
In the comments section Hanny added that she was encouraged to "finish strong" at the job she was leaving, but then quipped, "but i also only use 10lb dumbbells so that really sucks for them."

Article continues below advertisement
Her video prompted a litany of different responses from various users on the platform. There were some who agreed with her initial assessment of what a 2 weeks notice is supposed to be used for.
"100% the point is to transition the role and responsibilities to your replacement,' one penned. Another offered up ways to get around her job's expectations: "3 hr lunch!" they wrote.
Article continues below advertisement
However, another TikToker said that giving 2 weeks notices' are completely pointless and that no employee should ever be giving their bosses that courtesy unless there are extenuating circumstances.

Article continues below advertisement
"Never submit a two weeks. You either get fired or slaved. When you work at an amazing company and need a letter afterwards is the only time you do," they wrote.

What do you think? Do you agree with Hanny that two weeks' notice periods are only to give the company some time to find your replacement so that you could train them or make existing co-workers privy to your job duties so that they can cover them until a new person is staffed? Or is Hanny right and this period is akin to being a senior in High School just riding out the last few weeks?