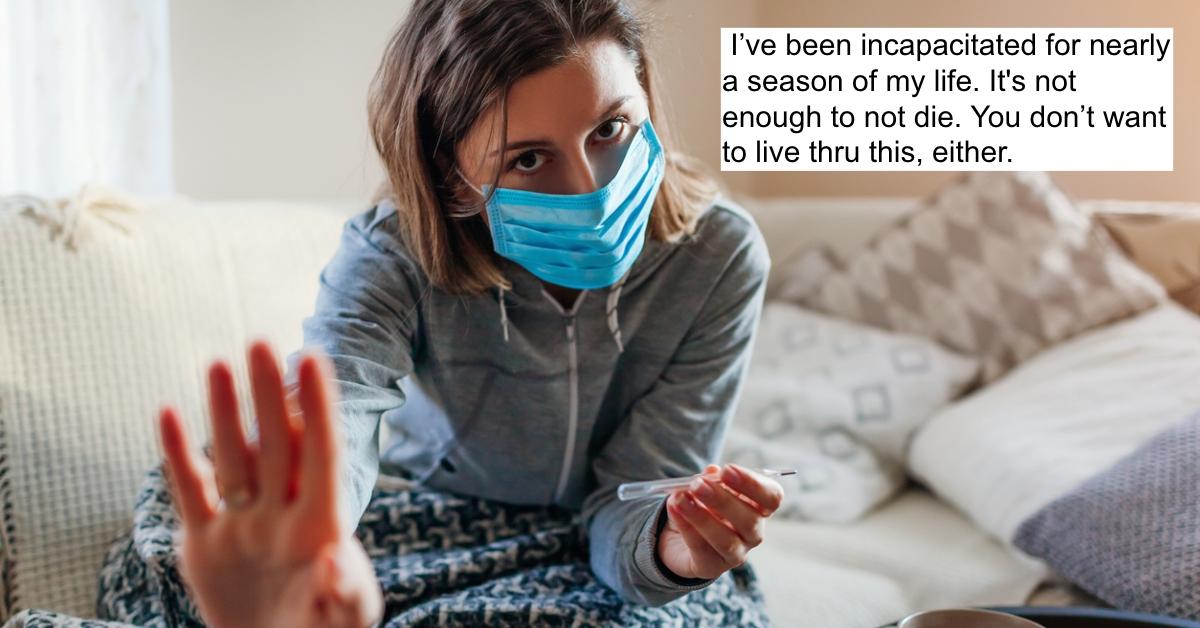 Woman Explains Her Horrifying Struggle to Beat COVID-19 in Powerful Viral Thread
If you still think that you're somehow immune from COVID-19 or that if you get it, you're healthy so it won't be that serious, you have to read this thread. Dani Oliver has been sick from COVID-19 since March, and, in a powerful thread, she details exactly why you don't want to catch this virus. Even those who live through COVID-19 experience horrifying, life-altering symptoms that they may have to deal with for months if not the rest of their lives.
Article continues below advertisement
Dani's thread went mega viral, garnering over 125,000 retweets and 284,000 likes. She warns that even though she got sick months ago, she's still contending with terrible symptoms. "It's not enough to not die," she writes. "You don't want to live thru this, either."
Because COVID-19 is so new, there's no consensus from doctors or the CDC about what the real statistics of the virus really are. The guideline of 2-6 weeks for recovery is not accurate for so many, and it downplays the seriousness of the symptoms that many experience.
Article continues below advertisement
The CDC still claims that fever, shortness of breath, and a dry cough are the main symptoms of COVID-19. But Dani and so many others have experienced so much more than that, including elevated heart rates, extreme fatigue, back and rib pain, and more.
Additionally, she experienced gastrointestinal symptoms like diarrhea and acid reflux. Every day. For more than two months. Dani is not the only one to report these symptoms, but they're rarely talked about in an official capacity in discussions of the virus.
Article continues below advertisement
This sounds horrifying. Her entire body was ravaged by this virus. She experienced hallucinations, a strange vibrating sensation in her body, insomnia, and tremors in her sleep. This is not the flu. This does not only happen to the elderly and those with pre-existing conditions. This is what COVID-19 can do to anybody.
Dani experienced intense brain fog, which had to be so scary for her and her partner. But this is not where the symptoms stop. She also experienced "thickening of the blood" and random changes to her menstrual cycle.
Article continues below advertisement
Even though we know what COVID-19 can do to your lungs, it hasn't quite registered with many that these complications may not go away. Ever. People who've been diagnosed with the virus may have trouble breathing, complications with their lungs, for the rest of their lives.
Many COVID-19 patients have explained that recovery is non-linear. You can show improvement one day and then be worse than you were in the first place the next day. I can't imagine not only the physical toll of dealing with a virus like that but also the mental toll on top of that.
Article continues below advertisement
Even someone like Dani, who has dealt with mental health issues in the past and felt equipped to handle mental ups and downs, struggled mightily with COVID-19. She even blocked some parts of her experience out because they were too traumatic to confront.
Dani begs those who are taking risks, who are socializing or refusing to wear masks, to read her story, to realize that we know very little about this brand new virus, and that even if you survive it, you can experience harrowing, awful symptoms that may cause permanent damage. Is getting a haircut really worth risking your life?