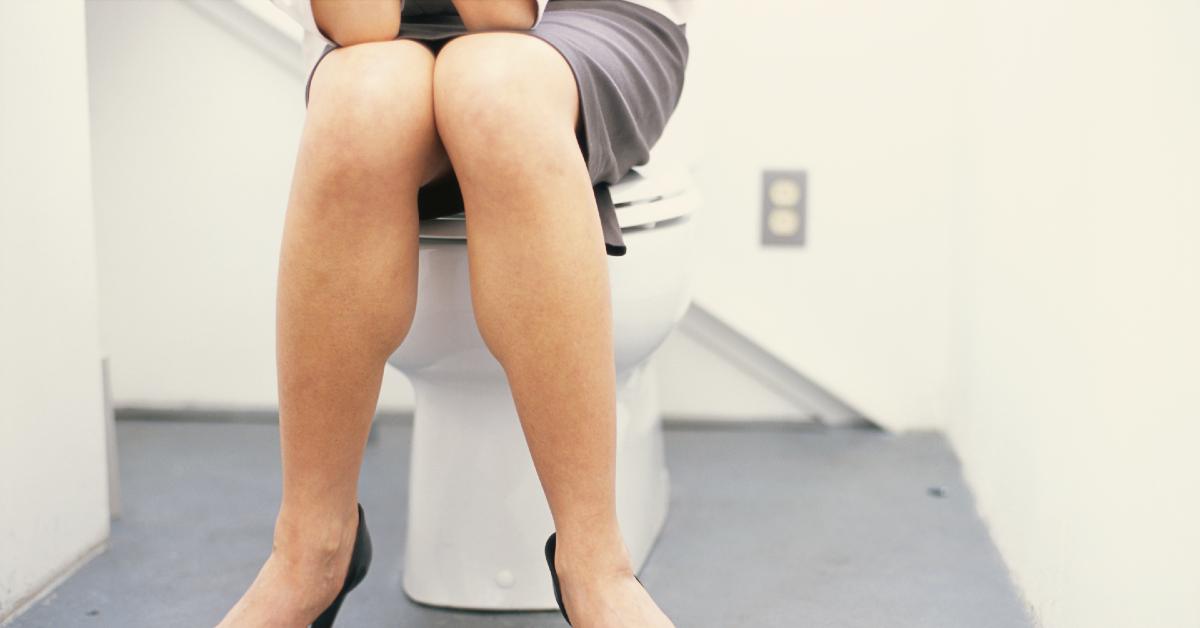 Woman "Destroys" Boyfriend's Toilet After Meeting His Family for the First Time
There's something inherently embarrassing about going to the bathroom. Sure, it's a natural bodily function that every human being, more or less, participates in, but talking about poop and pee, or, heaven forbid, someone coming across evidence that you engage in this natural function can be downright humiliating.
Article continues below advertisement
This is probably why this TikToker's recently posted clip on the popular social media platform is going viral. Kennedy (@kennedyallegedly) provided live updates of a bathroom disaster that occurred while visiting her boyfriend's parent's house for the first time.
That's right, while she was probably worrying about what kind of first impression she was going to make on her significant other's family, she also had to deal with the fact that she dropped a deuce in their toilet...only to find out that it wouldn't flush. When she attempted to fix the can, well, she ended up just making things worse.
Article continues below advertisement
Kennedy says in the clip, "I just flew across the country to my boyfriend's parents house for the holidays and the first time I'm here..." she then makes a face towards the camera as if to indicate that something terrible happened, and that's because it did.
The event that unfolds sounds like a scene straight out of Dumb and Dumber, or any comedy that features a panic attack toilet moment.
Article continues below advertisement

You know the kind of scene, where you're getting second-hand embarrassment so hard from the actors on the screen that you can't even look at the movie any longer?
Yeah, that's what happened to our TikToker.
Article continues below advertisement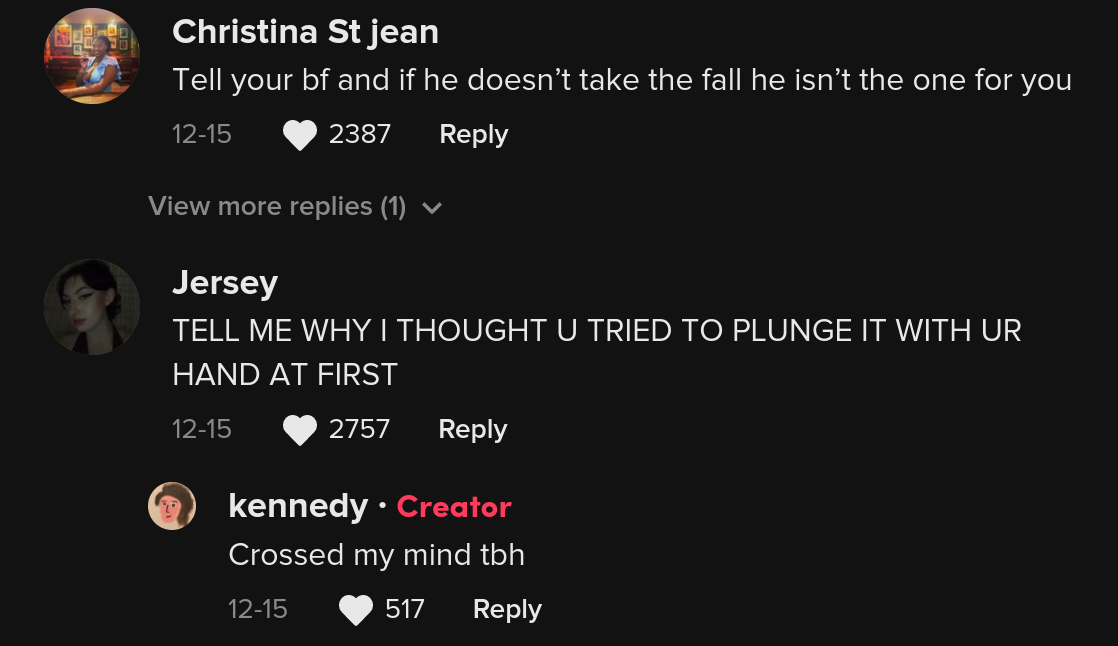 "So I wake up and girl I have to go number 2, OK? So I use the bathroom and then the toilet won't flush, which is already a nightmare. So I'm like, I'm not trying to tell anybody about this I'm gonna get in there and fix this problem myself. So I lift up the little lid thing get my hand all up in there, and besties..."
Article continues below advertisement

She continued, "I broke the sink. I dropped this on the ground. Like girl...I shattered the thing." She then swings the camera lens around to show what happened to the toilet's water tank lid: it's split in multiple pieces on the floor.
Article continues below advertisement

Kennedy then swings the camera around to show her face and she's freaking out into the lens and asking other TikTokers what she should do in this situation.
Article continues below advertisement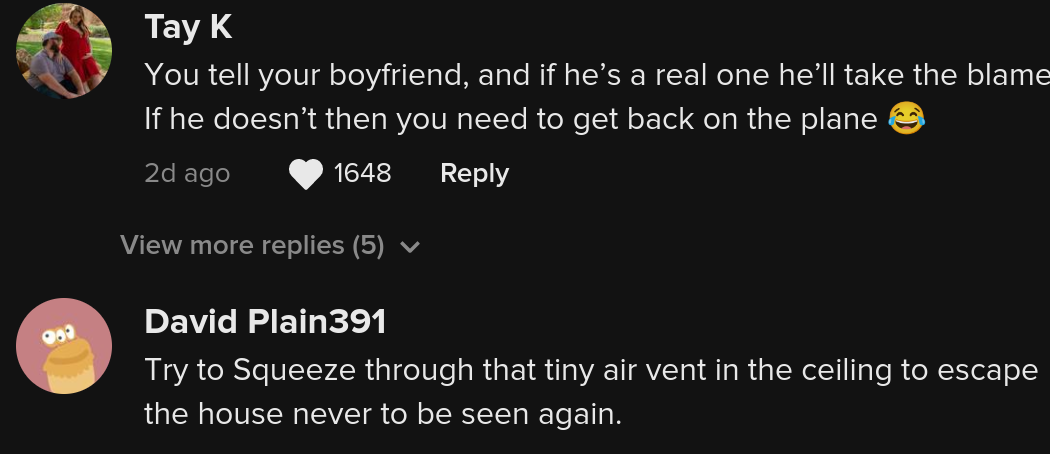 "So now not only do I have to tell my boyfriend and his family that there's a doodie in the toilet, but that my doodie - I broke the toilet. No but what do I do? This is so embarrassing. Girl, does anyone have a spare toilet lid they can send to me. Ah! Pray for me."
Article continues below advertisement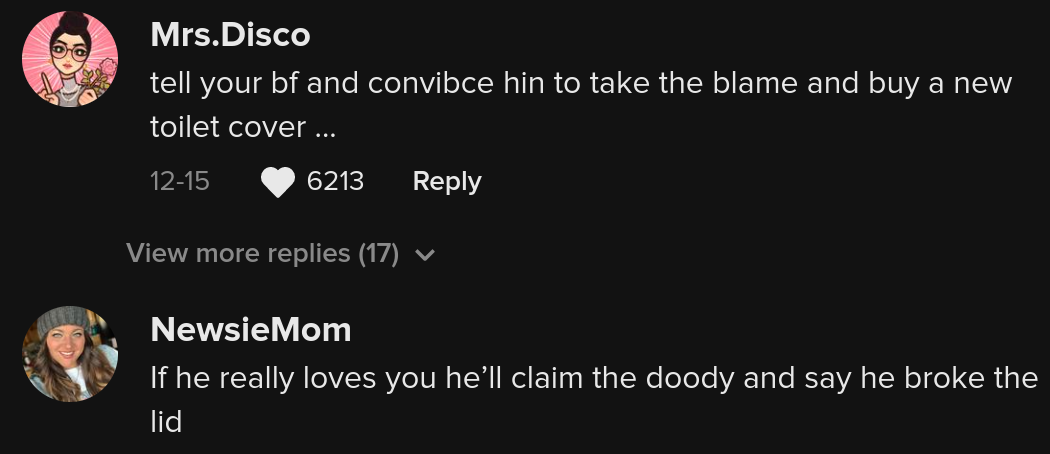 TikTokers offered up a litany of different responses to Kennedy's conundrum. Some said that she should have her boyfriend take the heat for it, which he lovingly did and Kennedy even got video of him on the phone with his mom as proof.
Article continues below advertisement
Who says chivalry is dead? Honestly, in this instance, it's really the only way to go about solving this problem. Now here's hoping his mom and dad don't go on TikTok. Or read Distractify.