"Please Be Safe on the Road" — Woman Has Gun Drawn on Her During Road Rage Incident
A mother on TikTok recounts a woman drawing a gun on her during a road rage incident. The mother encourages other folks to stay safe.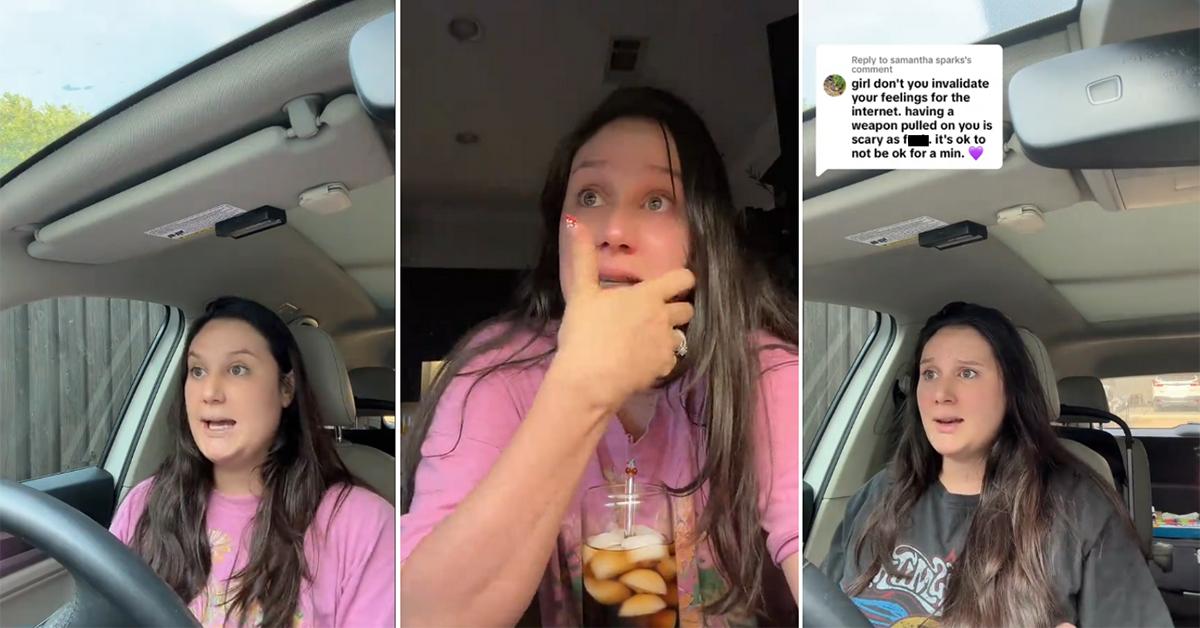 Anyone who has ever been behind the wheel of a car will most certainly encounter road rage at some point in their lives. Whether they become a victim of it or use it against another driver themselves, it's an unfortunate part of driving that folks often contend with in which unbridled anger can take over as you're trying to remain safe in your vehicle. You've probably heard plenty of wild stories about road rage, but few come close to Paige's harrowing cautionary tale about road rage.
Article continues below advertisement
Paige is in charge of her own TikTok account called Positively Page (@positively_page), where her "slay at home mom" escapades have garnered over 1.1 million followers and 56.3 million likes across her videos as of this writing.
While Paige typically posts innocent life updates and mom vlog posts, she took the time to vent about a road rage incident in which another woman drew a gun on her while they were on the road. She discloses her terrifying story on TikTok.
Article continues below advertisement
A TikToker shares her story about a gun being drawn on her during a road rage incident.
Paige first posted about the incident on July 20, 2023.
"I had a gun pulled on me this morning," she began very succinctly in her TikTok. She had just dropped her children off at school right before.
As Paige remembers it, she and several other drivers were stuck behind a slow-moving service vehicle. She then turned on her signal and waited for traffic beside her to pass so she could go around it. The woman behind her apparently had the same idea as she began moving into the next lane at the same time.
Article continues below advertisement
The other driver wasn't too happy about this, with Paige recalling that she was slamming on her horn when she saw Paige's car move out. They began yelling at each other through their windows, with Paige arguing that they were both trying to do the same thing.
Article continues below advertisement
However, the situation soon escalated. The other woman reached into her glove box and pointed a firearm at Paige. Paige ultimately decided not to let things escalate any further for fear of losing her life.
"With access to weapons like we have now, that type of situation could have been deadly," she recounted. While she tried to remain collected in the aftermath, she was understandably shaken by the entire ordeal.
Article continues below advertisement
In a follow-up, Paige revealed that she had called the police and even shared video footage of the other car in an effort to press charges. She feared for her safety and her children's safety in the event that the situation ended badly.
Article continues below advertisement
"I don't really understand how someone could get that angry," Paige said. She continued by admitting to her driving anxieties and how this incident only exacerbated those emotions.
"I was just getting comfortable driving around this city and actually doing more things," she revealed. "I'm not from the city, I'm from the country. This is not my town so this is just really hard. I already didn't feel like this was home, so now I really don't."
Article continues below advertisement
In a final follow-up, Paige admitted that she was struggling to get used to driving again in her town as she developed a lingering trauma over the incident.
"Please, please, please be safe on the road," she warns. "People don't care who you are or what family you have or who loves you. They don't care. Please be safe."