Woman Complains About Quality of Food Bank Food, Gets Called Ungrateful
A TikToker was blasted for criticizing the free food she received from a pantry, but some are siding with the woman's meal preferences.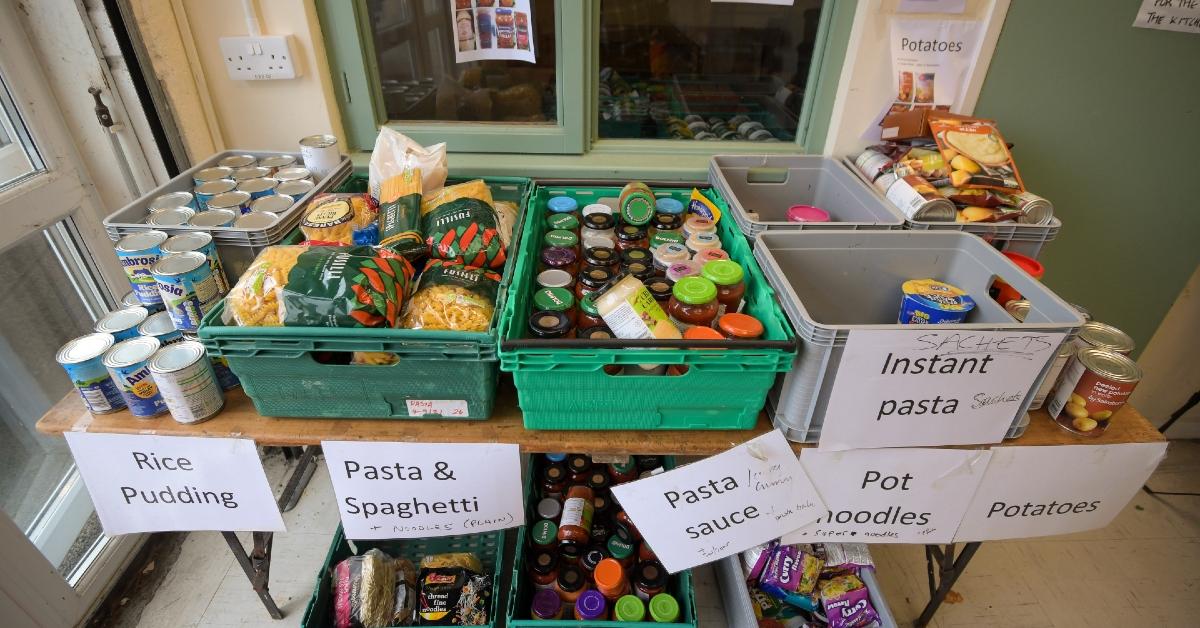 Anyone who's ever said "Beggars can't be choosers" clearly hasn't tried offering food to someone begging for money to buy something to eat in Midtown Manhattan. Because I can't count the number of times I've had people turn their noses up at me when they're "trying to get something to eat" and then when I offer to get them a meal from multiple restaurants within a two block radius, they say that they don't like anything in this neighborhood.
Article continues below advertisement
Maybe they were gonna go get on a train and head to the Lower East Side to dine at Pastis, who knows?
But there are plenty of folks who've expressed their gratitude at any kindness or charity that they received in their time of need, as it is a humbling experience to not be able to care for oneself and rely on the goodness of others.
Is this woman who put a food pantry haul on blast one of those people, however? Throngs of folks online certainly don't seem to think so. While she doesn't show her face in the clip, people noted that she was holding the items with freshly manicured nails while scoffing at them.
Article continues below advertisement
Brenna O'Hara uploaded the viral video to TikTok under the handle @brennaohara, but she received so much hate that she ultimately deleted her account. However, as we all know, nothing is ever truly removed from the World Wide Web, and it didn't take long for other folks to upload her clip to other social media platforms.
Article continues below advertisement
It found its way to Twitter as well as Reddit's r/facepalm sub where people called out Brenna for her critiques of each item that a man named Liam, presumably a member of her family or her partner, hands to her.
At first, she shows off a box of Lipton soup containing an individually sealed pack of soup. She complains that the box is opened and says, "there's not even two of them."
Article continues below advertisement
"Oh some peach slices in concentrate. No name," she says as she slams the can down. "Some MSG-filled Mr. Noodles and oh look! Some pasta!" she says sarcastically. "Do we have anything to put on this pasta?" she asks as she pans her camera over the other food pantry haul items.
She holds a can of tomato soup and says that she could probably put that on the pasta, but adds that because she doesn't eat meat the can of Turkey Flakes Liam procures from the bag won't cut it.
Brenna then grabs a can of Sliced Pineapples saying that this was probably the only good thing in their food haul, but then says that the "can is dented" and "beggars can't be choosers, right?"
Article continues below advertisement
The next item is a jar of peanut butter in perfect condition but Brenna asks, "What would I put my peanut butter on?" After that, Liam procures a box of Oatmeal Crisp cereal, but Brenna says that she doesn't have any milk so there's no way she could eat it. "I guess I could eat it dry."
Article continues below advertisement
Liam appears to get jazzed over the massive can of non-perishable pasta in sauce, which Brenna says that she could use with the bag of pasta, however, she says that she's been eating pasta for weeks. She continues to show off the canned goods in the same sarcastic tone.
Article continues below advertisement
"So everybody that says go to the food bank you know what I can appreciate all this but there is not one thing I'm gonna eat in here. There's no fresh fruit. There's no veggies. There's no toilet paper. You know like...I guess I'm going out to the backyard to find my frozen dandelions and I'm gonna go fry those up in some water. Lucky day."
Responses to the video were pretty savage online. There were throngs of Redditors who clapped back at the woman, with some saying that when they were in a similar financial position they were extremely grateful to get any food they could into their home as it meant that they weren't going to bed hungry.
Article continues below advertisement
Some pointed out that she clearly had money if she was able to afford a smartphone to upload the video to TikTok and that she was able to get her nails manicured. Others mentioned that Liam appeared to be on the bigger side, suggesting that he wasn't missing any meals.
Article continues below advertisement
Some said that because she has an internet connection she could use resources like SuperCook, which takes into account available ingredients one has at home and then generates recipes based on those ingredients.
However there were others who more or less agreed with Brenna, stating that none of the food they brought home could be used to make a meal, especially for someone with dietary restrictions.
What do you think? Is this a case of someone being a choosy beggar? Or is Brenna as awful as so many people are saying she is?