Woman Says She Was Fired Three Times in a Year Over Her TikTok Account
A woman revealed that her TikTok account was ultimately responsible for her losing her third job. She was previously fired from 2 others in 2023.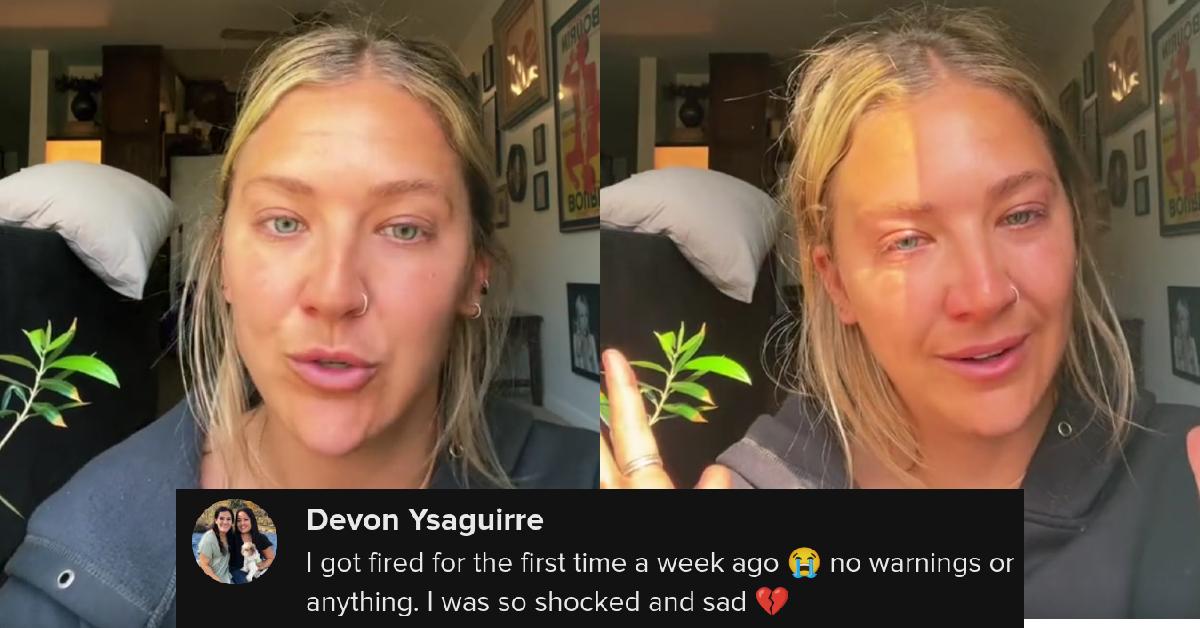 People's TikTok accounts are costing them their jobs. Whether it's sharing their salaries online, or "outing" their work habits on their social media page, more and more people are revealing that their personal internet activity is culminating in them being handed their walking papers.
Article continues below advertisement
And TikToker Diane Smith (@dianeesmith) said that she was fired from her third job in 2023 for this very reason, even though she says she didn't share any disparaging remarks or sensitive details about the company she works for.
She posted about the unfortunate series of events in a trending TikTok clip that's garnered over 9,000 likes, with several viewers who saw her video commenting that they didn't think she did anything that would be a fireable offense.
Article continues below advertisement
Diane says in the video, through tears: "I got fired again. So I had to pull myself together cuz this doesn't deserve a cry." She goes on to explain in the video that she was a recruiter who also does social media marketing who lost her job back in January of 2023.
Article continues below advertisement
"I got pretty much fired twice in one day in January...like the recruiting that was just you know layoffs and stuff like that and then the social media they just obviously couldn't afford a budget for marketing which totally made sense but it was just kinda hilarious like, did I just get fired twice in one day?"
Diane continues, "Then I got this new job I started and I got fired again! So I would come on here with my platform I just like tell people everything and just express everything," adding that she would never "talk bad about a company."
Article continues below advertisement

However, it turned out that management at her new job wasn't exactly thrilled with the fact that she was posting about work on her TikTok account, and ultimately let her know that the reason they were letting her go was because of her social media account.
Article continues below advertisement
"I would never talk bad about any situation or anything like that it just make light of situations. So supposedly, I get a call today and they're like we've seen your TikTok and today's gonna be your last day."
So what did the company find so offensive about the videos that they would let an employee go? Diane said: "Some of the videos that they said there was one there I was talking about training and I was like, 'oh my God like does anyone go after training and they learn all this stuff and you're like wait, what did I just learn?! I learned so much!'"
Article continues below advertisement

She says that they got mad about the fact that she seemed to sarcastically remark she learned a lot from work training sessions.
"And then another video I came on here and I was like....having a real depressed day and I was like do you ever have this feeling where it's like you're not passionate about your job or you're like oh my God is this a job I'm gonna do forever?"
Article continues below advertisement
She adds that the video where she shared her own internal mental struggles about feeling happy in her job wasn't her "bashing the job" but "more just like I'm going through this confusing state where like is this what I wanna do? Or is this what I wanna do?"
She added that she was having a "mental breakdown" after "turning 31" in the clip that managers at her former company referenced when they let her go.
Article continues below advertisement

"Then another one I did kind of like a joke being like I was like calling a client or whatever, I think it was just like a voicemail I'm just like 'be quiet so they call you back,' you know just making a joke because I did get a lot of people, clients and recruiters on this platform from my first video that blew up about recruiting so like I was trying to weave some things in there to make any connections that way..."
Article continues below advertisement
She added that she "found it kind of bad" that the company decided to simply fire her instead of giving her a warning about her TikTok content being a potential problem.

Article continues below advertisement
She went on to say that her job seemed to have a problem that she was posting during work hours, but she explained that she recorded all of her videos in the morning and then has her account set up to post at intervals.
However, she also mentioned that she felt as if she was back in the days of working in the restaurant industry where she wasn't allowed to slink away from her shift or take out her phone for a few seconds to check her phone.
Article continues below advertisement

Several TikTokers commented words of support for Diane, with some mentioning that they couldn't believe a business would let her go for simply expressing her feelings online.
Someone else thought it was strange that management "stalked" her page, to which Diane replied that she believed the company wanted to get rid of her but were just "looking for an out," to do so.