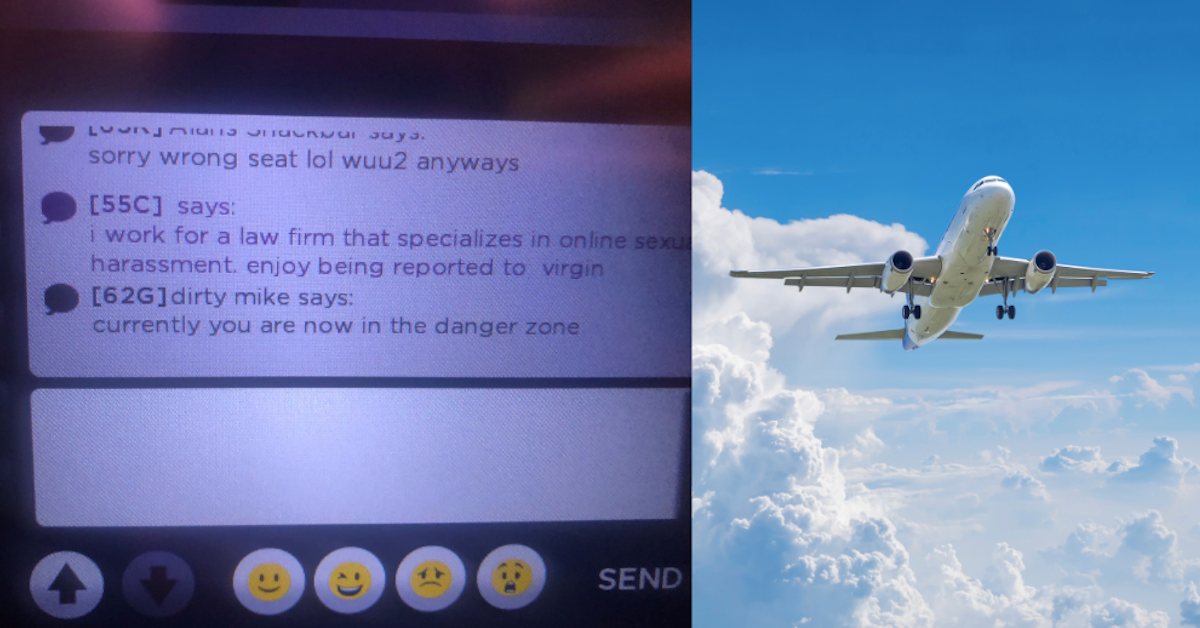 Woman Harassed via Seat-to-Seat Message Function on Recent Flight
Apparently, on Virgin Atlantic flights, you can use the seat screen to message other passengers on the plane. Any passenger you want, whether you know them or not. And that other person, if they accept that you can message them, will see exactly what you wrote to them, no matter how gross or inappropriate it is.
Article continues below advertisement
If this seems like a bad idea to you, join the club. When Jessica Van Meir boarded a Virgin Atlantic flight recently, she didn't expect to be faced with harassment in the form of instant messages from other passengers on the plane. But that's exactly what happened.
Article continues below advertisement
So gross. Why do dudes think this is acceptable? This isn't even like the internet, where you have the barrier of anonymity. They were on an airplane and the messages showed exactly what seat they were sitting in! Men are so dumb.
On Twitter, Jessica wrote, "Yesterday I was on a @VirginAtlantic flight, and I unexpectedly received these sexually harassing messages on my screen (I was in 55C). The flight attendants were helpful and dealt with it swiftly. Have any other women had this happen to them?"
Frankly, I'm shocked that this is the first story we're hearing like this.
Article continues below advertisement
People turn into monsters on planes to begin with, and Virgin decided to hand these monsters the ability to message random strangers whatever they want. Luckily, Jessica wasn't going to let these guys' gross messages slide, flexing that she works for a law firm that specializes in online sexual harassment.
Article continues below advertisement
Jessica stayed true to her word, too. She notified the flight attendants on board, then tweeted out these photos and called out Virgin Atlantic publicly. "You should probably take measures to prevent this from happening by flagging specific language and putting in place a reporting function on the chat to report abusive users," she wrote.
Those functions should have been in place before they ever made this messaging system available to passengers. At least it's being brought to their attention now, but man, that is some grave oversight.
Article continues below advertisement
Jessica explained that after she talked to the flight attendants, they confronted the men in those seats, and she walked through the aisle and took a picture of them. After, a young guy approached Jessica and apologized on behalf of the men who sent the messages.
They were a rugby team traveling together, and this guy was one of the captains. He said he would talk to his teammates and let them know that what they did was not OK. It became clear to those guys that what they did was extremely unacceptable.
Article continues below advertisement
Virgin sent Jessica a personal email to address the situation in addition to making a public statement on Twitter. "What matters to me is not going after these guys," Jessica wrote on Twitter, "but making sure they understand why it was harmful."
Here's Virgin's statement on the matter:
Article continues below advertisement
Listen, I think Virgin made a bad judgment call by letting any passenger on any plane send messages to any passenger saying anything they want at any time. That's insanity.
But that being said, if we lived in a world where we could count on dudes to not say creepy things on a regular basis, this would be less of a concern.
So yeah, Virgin, unfortunately, we have to think about all the possibilities when we do things like create chat functions for plane passengers. This isn't necessarily a completely terrible idea, and Jessica acknowledged it. Unfortunately, there are people who will use it inappropriately, and it's important to plan for that.