Mom Shares Heartbreaking Story of Insurance Company Taking Grievance Money After Son was Killed
This mother's sad tale of her one-year-old son being killed by a reckless driver highlights a huge problem with healthcare in America.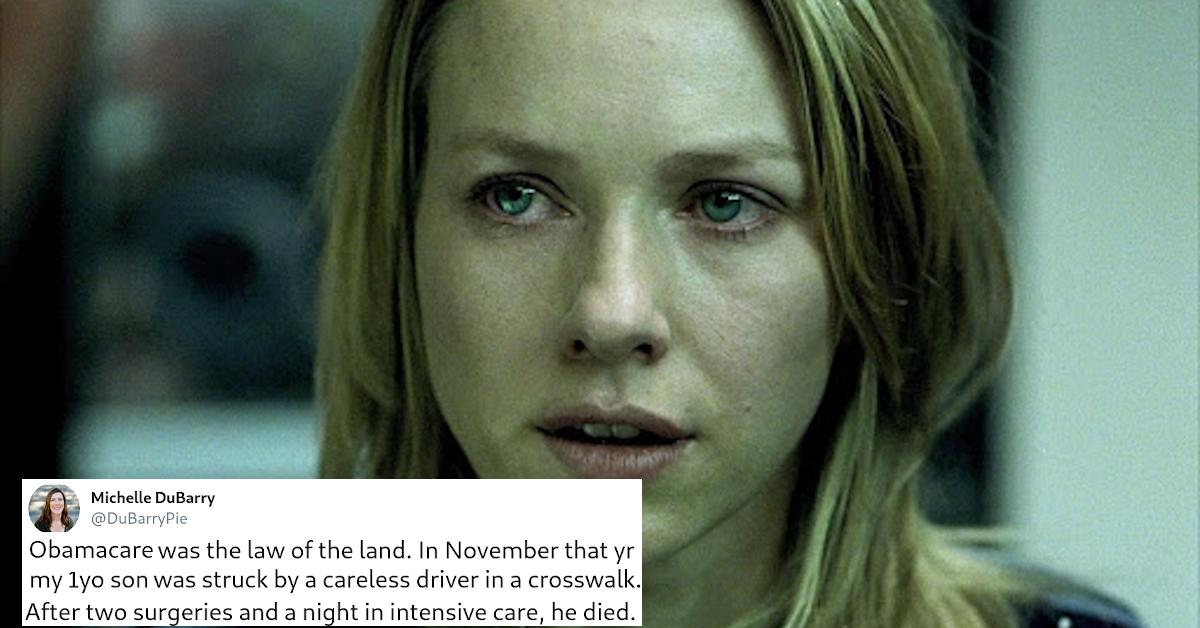 It's no secret that the healthcare system in the US is in need of some desperate reform. It's also no secret that it's a multi-billion dollar industry so it makes sense that there are tons of lobbies and special interest groups that spend a lot of money to keep it going as-is. As a result, there are tons of media stories that help to foment debates between US citizens arguing either for or against radical reform of a fundamentally broken system.
But that doesn't help this mom who shared a story.
Article continues below advertisement
Michelle DuBarry posted a painfully personal experience she had with the US healthcare system that sadly ends with the tragic death of her 1-year-old who, along with his father, was struck by a careless driver. The boy was immediately taken to the hospital and, despite doctors' best efforts through two surgeries and one night in the ICU, he didn't make it.
Michelle's heartache and frustration didn't end there.
While still grieving and dealing with the numbing and unnatural pain of having to outlive your child after a sudden tragedy, she was left with the daunting task of wondering just how in the world she was going to pay for attempting to save her son's life.
It's a story of a horrifying experience made exponentially worse because she was forced to navigate the discombobulated and often heartless world of the US healthcare system.
Article continues below advertisement
Article continues below advertisement
She wasn't going to be able to take extended time off of work to properly mourn the death of her baby and care for her husband, who also suffered in the accident, because she was a new hire at her job and wasn't working there for 12 months yet. She couldn't up and leave her job either because if she did, her health insurance would go out the window.
Not even seven days had passed before the hospital served her and her husband's home with a lien.
Article continues below advertisement
They wanted to make sure she wouldn't "skimp" on paying the hospital bill, basically saying, "Sorry your kid's dead, but if you can't pay us for trying to save his life, we're gonna make sure you're childless and homeless too." It gets worse: her husband couldn't receive treatment from his primary care doctor because their "good" health insurance didn't cover it, nor would the doctor accept payment from the auto insurance company. Wonderful.
Article continues below advertisement
Article continues below advertisement
But there was a small ray of light, they were only required to fork over $5,000 after the death of their child, and still had the cash from the insurance company on behalf of the driver who ran their kid over and killed them. Once their health insurance company discovered the couple got $175,000 from the driver's insurance company, they had their legal department on the case to take all of that grievance money, because, you know, healthcare ain't cheap.
Leaving the two with nothing.
Article continues below advertisement
Michelle worked tirelessly for 8 years to make sure taking pain and suffering payments from families illegal in Oregon, but in other states, they can still do that. Since she couldn't go on FMLA, she had to go back to work, while both she and her husband did their best to cover their mortgage and pay their bills and go about "business and usual" even though their 1-year-old son was just killed.
Article continues below advertisement
Article continues below advertisement
Obamacare and company health insurance did nothing for their 27-hour visit in the hospital. There was no help from their jobs. No help from the hospital and certainly no help from the insurance companies. Instead of being able to deal with a personal tragedy, they were left fighting to make sure they weren't homeless and financially ruined all because someone carelessly ran their son over with a car, not to mention Dad, who was also left with multiple injuries.
Article continues below advertisement
Article continues below advertisement
Again, I'm not expert, but I can't imagine it'd be too difficult for a doctor or insurance company to see the difference between getting a G.I. Joe stuck up your butt during foreplay, or scraping your knee, with your 1-year-old child being run over by a reckless driver.
But maybe that's too impractical to ask for. I don't know.