"I Don't Go Stealing Because I'm Broke": Woman Finds Her Stolen Car and Confronts Thief in Powerful Video
In a viral video, a woman hunts down her stolen car, finds the culprit sitting it in, and proceeds to confront her for her actions.
We all know that times are hard. With the price of food, rent, and other necessities skyrocketing, it has been tough for many people to sustain a living.
That said, going through a season of struggle doesn't give anyone the excuse of committing a crime. After all, breaking the law can only leave you worse off. However, that hasn't stopped some people who feel desperate from breaking the law in their favor.
Article continues below advertisement
So, when one woman on TikTok hunted down her car and found the culprit in the front seat, it made sense that she gave the person a piece of her mind. Here's the full scoop.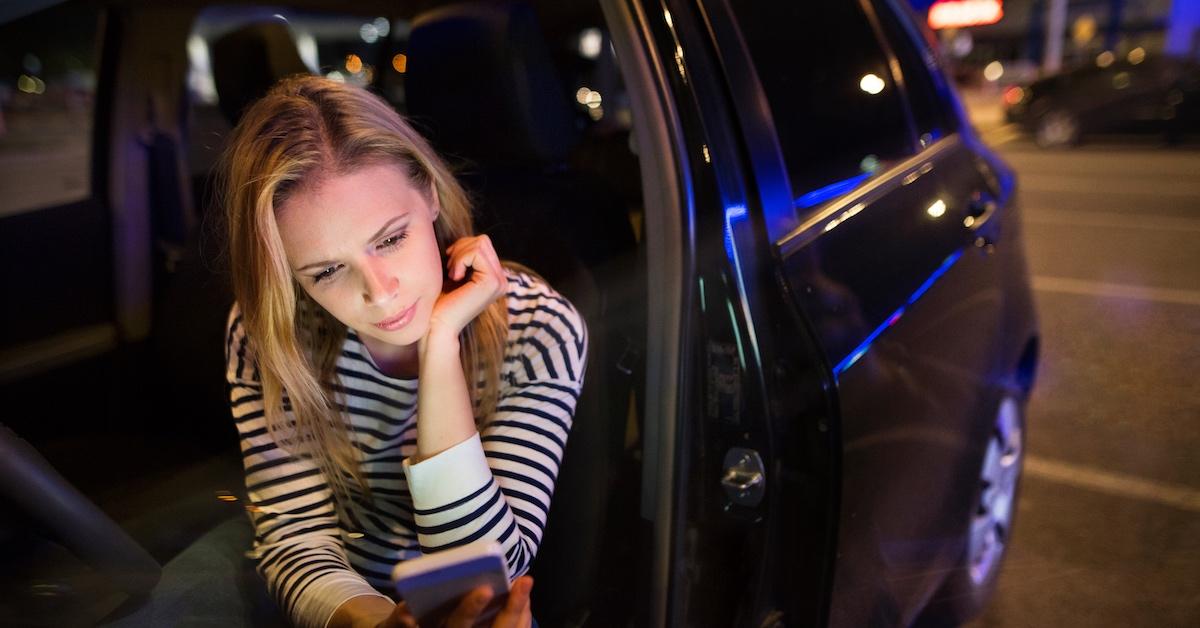 Article continues below advertisement
A woman on TikTok hunts down her stolen car and finds it.
Baby, stealing is never OK. In an Aug. 3, 2023, TikTok video, creator Kelsey Eshelman (@strawpurrie) shared that she hunted down her stolen car and found it.
"😂For those of y'all that want to view the whole video of Sunday's adventure of me finding my stolen car, 5 hours later at Dollar Tree… 👮‍♀️🚔👀. Cops were called BEFORE, DURING, AFTER filming, " the video caption reads.
As the video starts, Kelsey is in a parking lot while a man, presumably her partner, walks up to a black hatchback car.
"That's my f------ car," Kelsey says as she watches her partner approach the car.
Article continues below advertisement
Kelsey then approaches as well, and you can hear her partner telling the woman in the car, "You don't steal from a veteran."
Kelsey then opens up the door on the passenger's side and gives the woman who stole the car a piece of her mind.
Article continues below advertisement
"Get out of my car. Oh, you b----," Kelsey says to her. "You f------ b----. I want my wallet too. Give me my wallet."
As the woman who stole the car reaches for the wallet and gives it to Kelsey, she gets cursed out.
Article continues below advertisement
"I'm broke as f---, you have no idea. That's why it declined," Kelsey says about the car thief seemingly attempting to use her credit cards. "Do you have any idea how broke I am?"
"I'm broke AF, why do you think I did this?" the car thief asks Kelsey.
Kelsey replies that being broke is no excuse for her stealing her car and attempting to steal her money. Kelsey tells her that this incident scared her and she has been "crying all day."
Kelsey also notices that her child's car seat is missing and asks the woman about it. The car thief says that the car seat is in the trunk.
Interestingly, the car thief says that when she stole the car, she didn't notice the car seat in the back.
Kelsey then goes to the trunk to find the car seat and starts taking out bags and other items that seemingly belong to the thief.
Article continues below advertisement
(Some text later appears on the video indicating that Kelsey is pressing charges.)
The woman then tells the thief that she will give her all of her stuff and insists that she "won't steal" from her, despite the thief's actions.
Article continues below advertisement
The thief also gathers her belongings in the car. After everyone takes account of their belongings, the woman gives the thief loose money she has in her car. After Kelly gains back possession of the car, the car thief apologizes and says she's struggling.
The car thief then asks if the woman and her partner are going to call the police and Kelsey says yes as the video ends.
Article continues below advertisement
TikTok users praised Kelsey for maintaining her composure.
Most of us can agree that if we find the person who stole a car from us, they would be in big trouble legally and physically. However, Kelsey opted to let the law handle the car thief as opposed to taking matters into her own hands. As such, TikTok users admire her for staying calm.
"The fact you were so nice says a lot about the person you are ❤️," one person said.
"I honestly get why she wasn't freaking out, she was relieved that it was in one piece 😭," another user shared.
"You were too calm girl because there is no way I could react like that major props," another person chimed in.