Woman Asks Waiter She Just Met to Be Her Date to a Wedding Later That Day, and He Says Yes
One woman took a wild chance by inviting a waiter she had for breakfast to a family wedding later that day. Read on for how the wedding went.
We've all heard the story of Wanda Dench, the grandmother who accidentally texted the wrong number with an invitation to her Thanksgiving dinner. On the other end of the text was a man named Jamal Hinton, who despite not knowing who Wanda was, asked if he could still come over for the holiday. And guess what? The two of them hit it off and have spent multiple Thanksgivings together.
Article continues below advertisement
This heartwarming story is a reminder that the best relationships can start in the most unexpected ways. And now, we have another wild experience to add to the collection. One woman took a chance by asking a complete stranger to be her plus one at a family wedding. Did they instantly connect like Wanda and Jamal did? Did they fall in love while celebrating love? Keep reading to find out.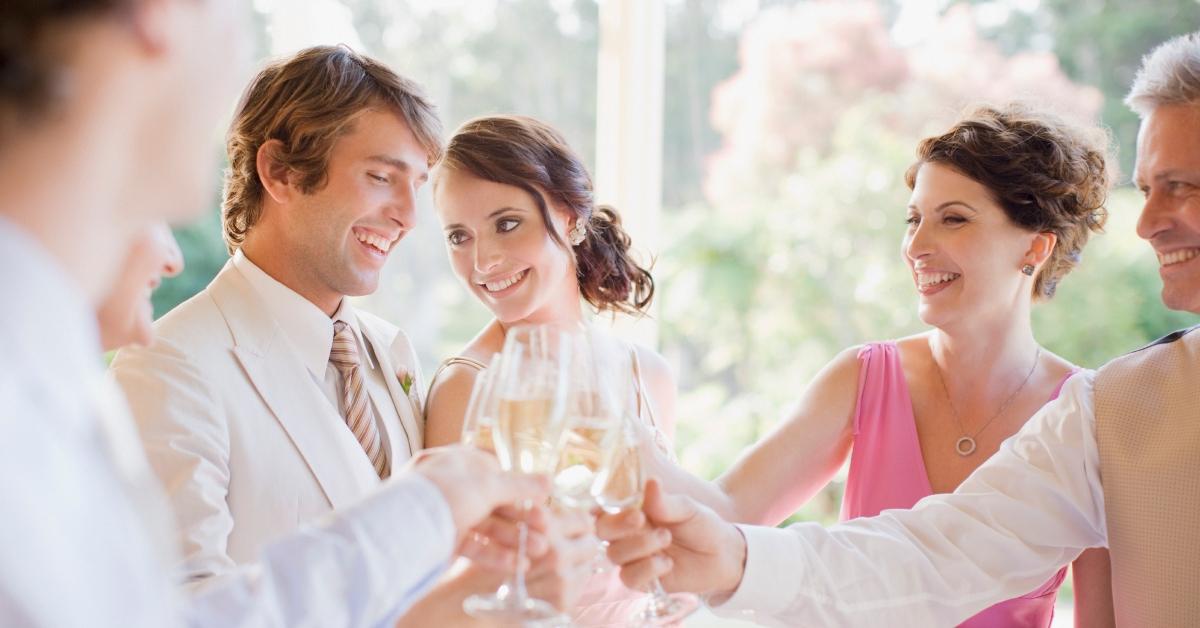 Article continues below advertisement
Woman says her sister asked a waiter to be her date to a family wedding and he agreed.
TikTok creator @caarrlleeyy took to the platform to share the story behind her sister Morgan's wedding date. "My sister thought our waiter was cute at breakfast and invited him to our family wedding that night," she wrote in her video.
Fast forward a few seconds to the actual wedding, and the waiter, whose name is Scott, actually showed up. Not only did he attend the wedding, but he made a great impression on the family — especially Nana.
Article continues below advertisement
As the video continues, Scott is seen enjoying a beer after Morgan's father teasingly checked his ID to make sure he was old enough to drink.
Scott is also seen dancing with glowsticks, dancing with the bride, and meeting the groom's parents during this special night.
Article continues below advertisement
In the comment section, people were swooning over this adorable interaction between Morgan and Scott.
One person wrote: "Someone get booktok on this rn."
Another opined: "The most golden retriever man i've ever seen."
Article continues below advertisement
And a third user said: "The type of guy that's down for random situations and makes friends easily…green flags abound."
Many people in the comment section also asked for an update on Morgan and Scott's relationship post-wedding.
Article continues below advertisement
A few weeks after sharing the video, @caarrlleeyy shared an update video on her sister's relationship with Scott.
It was in this video that we unfortunately learned that Morgan and Scott live on different sides of the country and as a result, are currently not pursuing a romantic relationship.
Article continues below advertisement
However, @caarrlleeyy's family wasn't ready to cut ties with Scott just yet.
Since @caarrlleeyy's father had checked his ID at the wedding, he knew Scott's birthday was actually just two days after the wedding.
That said, Morgan's entire family of 36 people ended up texting him happy birthday.
And Nana was specifically adamant on making sure he received a birthday message as she seemingly wanted the waiter to join their family.
In this update video, a screenshot of a text message exchange between Morgan and Scott is shown. However, as one user pointed out: "Texts seem too friendly…. Maybe they won't be a thing."
Another person wrote that Scott should move to be with Morgan, teasing "Nana needs grandkids."