"I Literally Have 17 Bananas!" — Woman Orders Three Bananas on Instacart, Gets Three Bundles
What do you get when you ask for three bananas? 17, naturally! On TikTok, a woman shared how her Instacart shopper misinterpreted her order.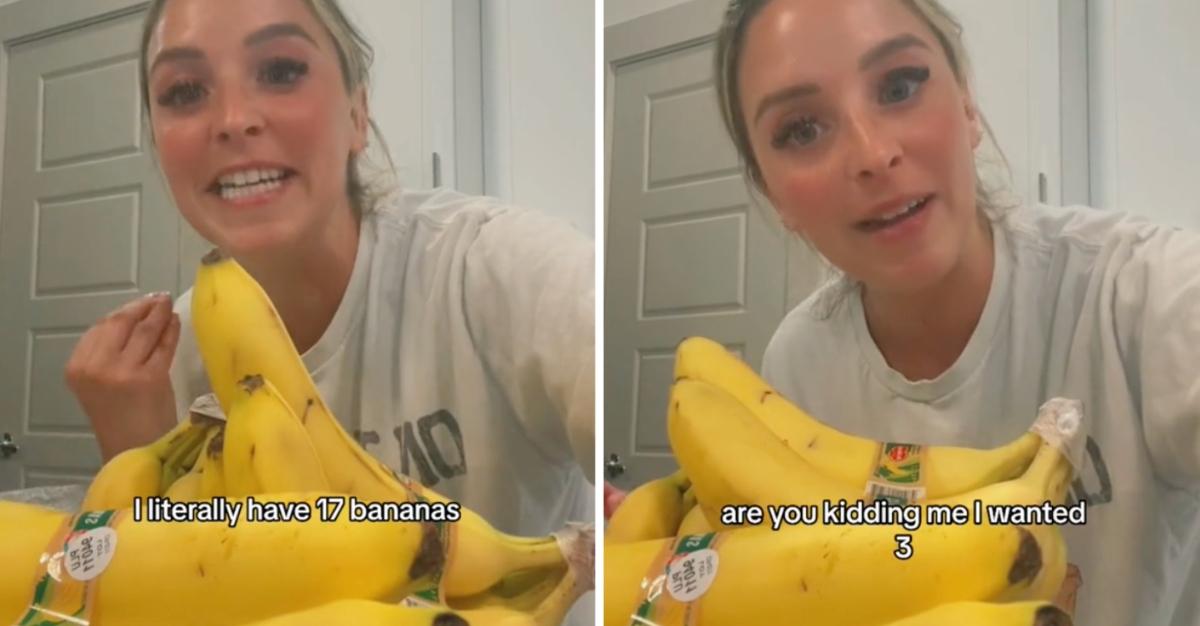 Article continues below advertisement
And for TikTok creator @dani_mignone (Dani Mignone), her Instacart shopper gave her the former. In her hilarious viral video, Dani explained how she ended up with 17 bananas after ordering three. Here's what went down.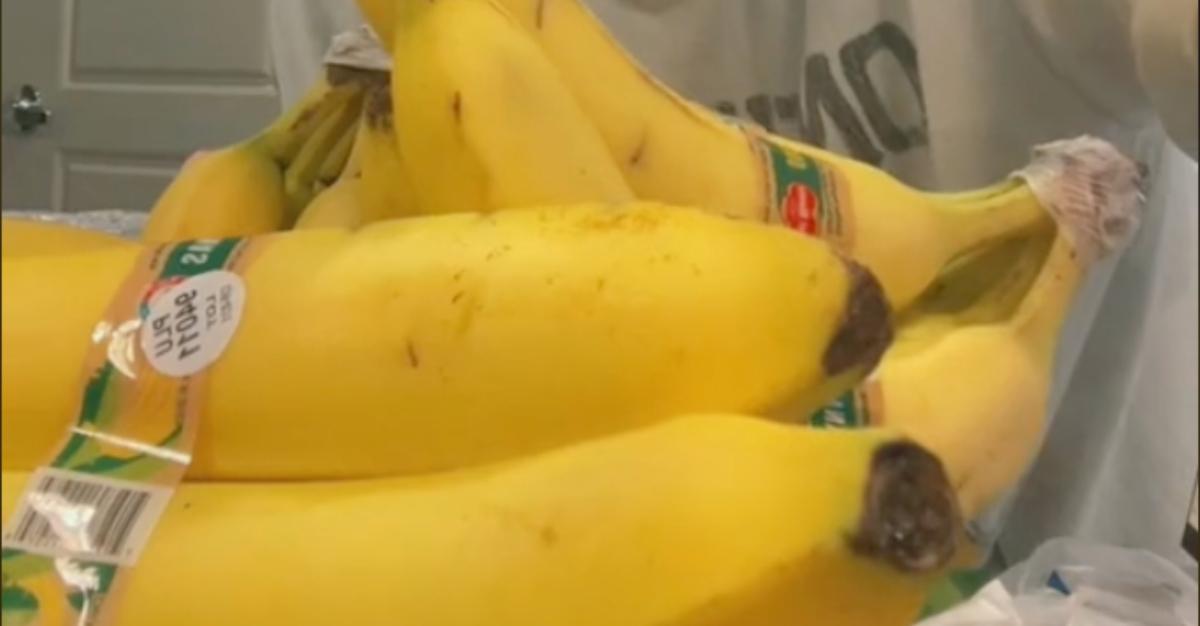 Article continues below advertisement
A woman ordered three bananas but received 17 through Instacart.
In her viral video, Dani explained how she ended up with more bananas than she could handle after ordering three on Instacart. "Ordering on Instacart is literally so hit or miss every single time," the creator noted at the beginning of her TikTok.
Dani prefaced that she had ordered through the delivery company before, so the mistake wasn't on her end. She clarified that she specifically asked for three bananas because she lives alone and couldn't eat more than that without their going bad.
Article continues below advertisement
So, you can imagine her surprise when she was given three bundles of fruit instead of three singles. "I literally have 17 bananas!" the bewildered creator exclaimed.
Article continues below advertisement
"I'm a single woman. There is no way I can eat 17 bananas before these go bad." Dani then took to the caption to express her frustration by @ing Instacart. "This should not be such a common occurrence," the TikToker wrote. "P.S. I don't even like bananas that much."
The comment section offered advice about what to do with the 17 bananas.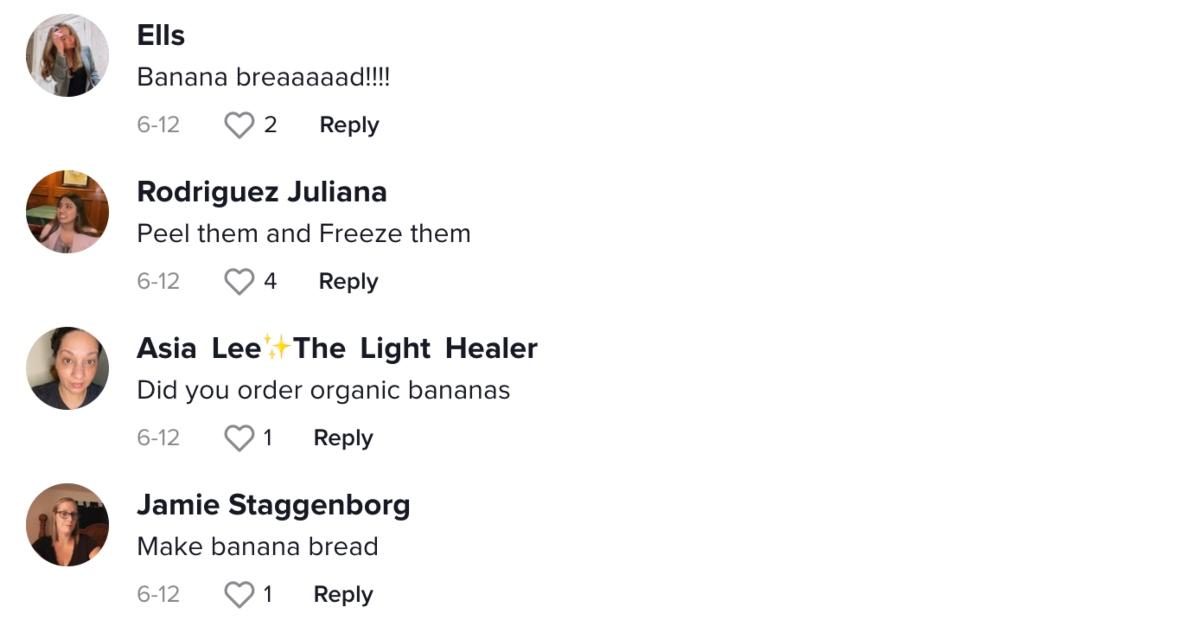 After Dani exasperatedly claimed that she couldn't eat all 17 bananas before they went bad, folks in the comments section came to Dani's rescue. The most common tip? "Peel them and freeze them."
Article continues below advertisement
Some people pointed out that she could make virtually limitless smoothies with so much frozen fruit, while others noted that she could make banana bread.
One person said the same thing happened to their boss when they ordered nine singular bananas, and their Instacart shopper provided them with nine bunches. "LMAO this needs to be fixed @Instacart," Dani replied.
Article continues below advertisement
Other people shared their own Instacart misfortunes in the comments.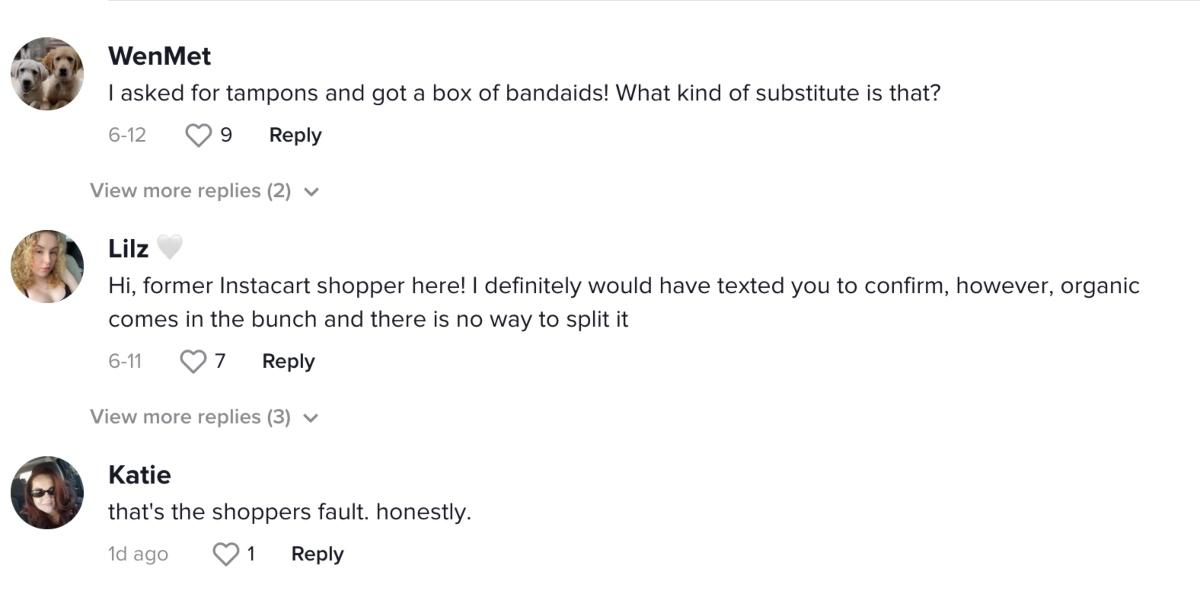 Aside from offering Dani tips and tricks on how to approach the banana fiasco, other TikTok users shared horror stories about their experiences using Instacart. "I asked for tampons and got a box of band-aids!" one person revealed. "What kind of substitute is that?"
Another person shared that they had the opposite experience that Dani had. "I ordered a bunch of bananas from Target Drive Up, and they gave me one singular banana."
Article continues below advertisement
And according to one Instacart shopper, confusion about banana orders happens quite frequently. "I'm always seeing new shoppers in the [Facebook Instacart] groups asking if three bananas means three bunches or three bananas."
However, seasoned shoppers revealed a surefire method to avoid uncertainty. Their #1 tip: Write specific instructions in the app or text your shopper.