Woman Caught on Camera Trashing Coworker's Belongings When He Stepped Away for a Minute
A woman was caught tossing a coworker's belongings in the trash when he stepped away from his desk for a few minutes.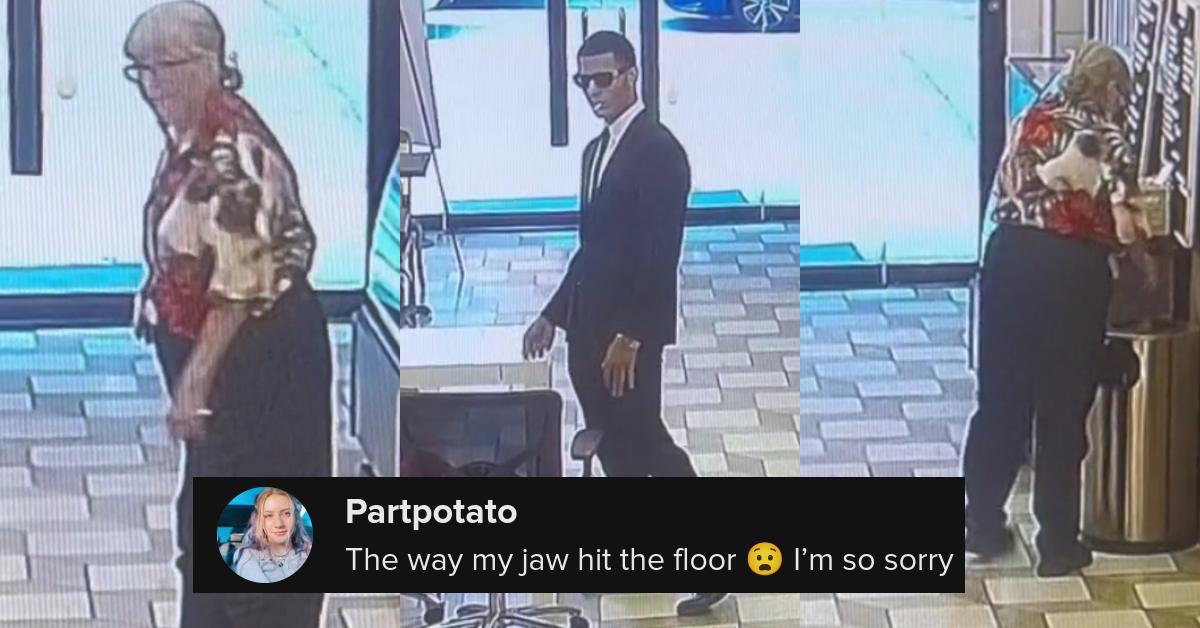 A man accused a co-worker at his job of discrimination after she threw away his belongings upon while he stepped away from his desk for a few minutes.
Article continues below advertisement
And while there are plenty of online resources with suggestions on how to handle best "toxic" co-workers and eliminate yourself from those gnarly situations, it's a different feeling entirely when you're staring at footage of someone going out of their way to mess with your stuff when your back is turned.
This is what happened to a TikToker named Roanen (@.roanenknows) who posted snippets of a security video taken of the co-worker in question that nabbed his belongings.
Article continues below advertisement
Roanen writes in a caption for the video: "RACISM IS REAL. This lady has been working at this spot for 30 years.. and ive been working here for about 3-4 months on and off.. ALWAYS SHOWED HER LOVE AND GREETED HER… literally evil.."
Article continues below advertisement
He adds in a second part of the caption that people "always have a choice on how [they] react" and expressed his gratitude to a security guard who saw her tossing out the items but didn't tell him in the moment, presumably to curb him from chewing the woman out.
When the video begins, the security camera footage shows him sitting in a chair when the woman in question appears on camera. He smiles and greets her and she can be seen walking off camera.
Article continues below advertisement

At some point in the clip, he stands up, puts on his sunglasses, and then heads outside of the building's doors. Back indoors, he walks in the same direction that the woman earlier in the video walked towards, before the clip cuts to her standing at his desk.
Article continues below advertisement
She then begins rifling through his personal belongings, even reading through a notebook. She grabs several items before ultimately tossing them into the trash.
Roanen provides a play-by-play in a series of text overlays in the video, set to the song "Backstabbers" by the O'Jays: "Just another day on my shift. Always sweet and humble. I greet her [the money who tossed his stuff] every morning."
Article continues below advertisement

He continues, "Step away for a quick 5 min...now what she up to," he writes when she appears at his desk, hovering over it. Read my notes, grabbed my book and..."
Article continues below advertisement
It's at this point in the video that she takes his items and tosses them into the trash. She goes back to his desk to grab some other items. "She's not done...now my brush and drink"

Article continues below advertisement
Then, for some reason, the woman looks off camera and starts shaking her head. It appears like she's speaking to someone off camera, perhaps the security guard who extricated Roanen's items from the trash at a later time in the video.
Roanen writes in the clip: "Racism and hate is real still in 2023," before he walks back to his desk looking for his belongings. "Come back literally 5 min after. I know I'm not trippin...looking"
Article continues below advertisement

"Shout out to the guard who seen but didn't tell me right away to save me from reacting...still can't believe this s--- man"
Numerous TikTokers urged him to escalate the issue with management at his workplace and to consistently pursue it.
Article continues below advertisement
"Don't stop pursuing, keep climbing until someone listens and helps you! So sorry humans are still so s----" one wrote.
Another said, "Glad you are aware to this s--- tho stay cool and collected s--- can get handled regardless all about being professional"
Someone else thought that the woman was addressing the security guard after she tossed away Roanen's belongings: "It seems the security guard saw what happened, and she gestured towards him after she threw away your stuff, because who else was she talking to?"