"Can't Afford to Do It Anymore" — Woman Shares the "Things She's Given Up" Due to Cost of Living
A woman shared a list of different things she's had to give up due to inflation in the United States, and TikTokers are relating hard to her post.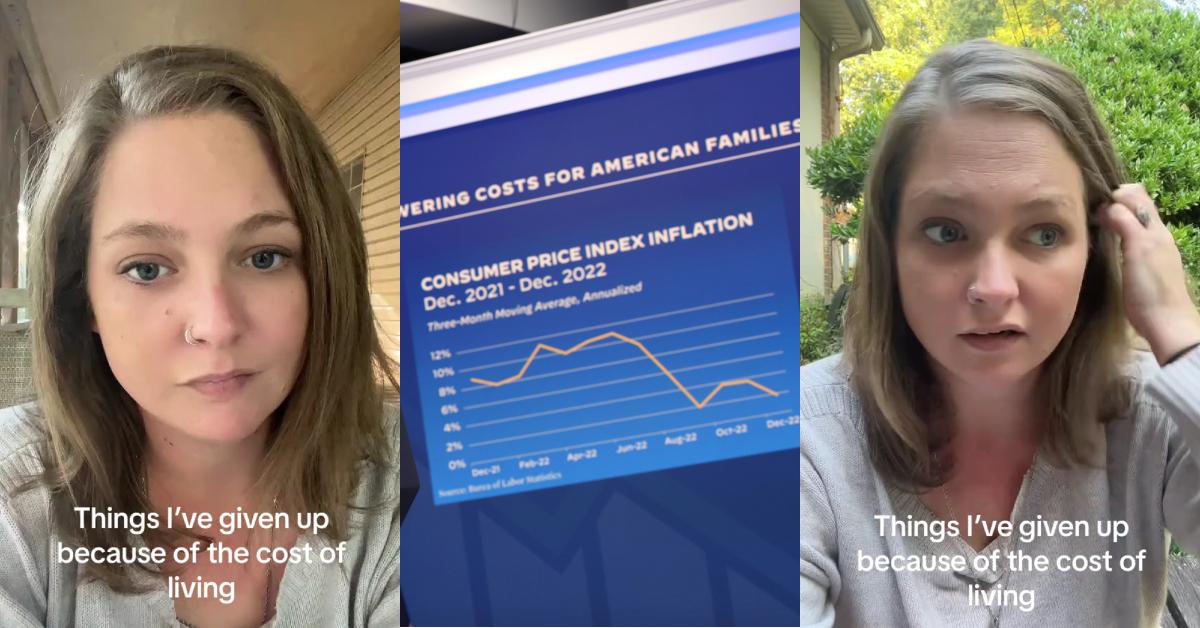 A woman went viral on TikTok after highlighting what she's had to give up in her life due to their costs becoming prohibitively expensive. Heather, (@heathersidehustleskeptic) says that she's seen several other folks on the platform upload similar clips, and as "terrible" as they are, she "absolutely loves them," because it makes her feel as if she isn't the only one having a difficult time upholding the same quality of life after inflation rates skyrocketed in the United States.
Article continues below advertisement
What's more is that Heather says a lot of the stuff she's had to part ways with enjoying/doing aren't anything prohibitively expensive or extravagant, but were "basic" things she used to do "all the time."
She goes on to say that she's going to focus on only three things in her clip, despite having "way more than that."
Article continues below advertisement
"First thing I've given up because the cost of living in 2023 is absolutely insane is unnecessary expensive food purchases, like olive oil. I don't buy olive oil anymore it's f------ expensive. We just go with the off-brand vegetable oil or whatever's on sale. I used to buy olive oil all the time cause it's better for you and I was trying to be all healthy and stuff and I could afford to do that back then. Can't do that anymore now," she says.
Article continues below advertisement
While Heather said that she's ultimately decided to just substitute olive oil for another type of cooking oil, the next item she elected to give up is considered a dietary staple around the world: bread. She says that she makes her own now instead.
"I don't buy bread anymore, I learned how to make it. It's a lot easier than what you think, if you want a recipe let me know."
She adds that it's not only cheaper than buying sliced/pre-made bread from the store but that it also tastes way better: "It's kind of fun, you get to knead it and punch it and take some aggression out. And it tastes a lot better. And things like mixes, you know like pancake mixes, cornbread mixes, don't buy any of that s--- anymore, It's convenient yeah it's nice, but, you can make that s---for a lot cheaper"
Article continues below advertisement
The TikToker goes on to say that cost of living increases in the US have also severely inhibited her ability to buy people "random presents," noting that she just doesn't have the disposable income to randomly get someone a little special something now and again.
Article continues below advertisement
"Back in the day back when s--- didn't suck so much I would just...take my kids out on a Saturday or something when they were out of school and be like hey guys...you've been really good this week you want to go and get a toy or do you want to go out for ice cream or something like that or if I happen to be out shopping for myself which I can't do that anymore either, but if I happen to be out like, you know, going to get myself a little something or other and I saw something I thought my husband would like I would buy it."
She also highlighted how being able to just scroll through Amazon to get herself a gift or randomly surprise someone is now out of the question as she simply doesn't have the money for it and that's because everything else just costs so much.
Article continues below advertisement

Heather then says that the third "thing" she's had to ultimately give up is "getting [her] hair done." She can no longer afford salon services thanks to inflation jacking up the cost of pretty much everything in the country. She even pokes fun at herself in the video as she checks out her hair in the camera: "I know you see I'm struggling here."
Article continues below advertisement
She then says that just a couple of years ago, things were much different: "My hair used to be white. Like I got it like, bleached to the max all the time I've been having my hair highlighted heavily since I was 12 years old I'm 36 now that's a good portion of my life. But I haven't had my hair done in like 2 years and this is its natural color now and at this point it's like well you're finally at your natural color after I don't know how many years."
Judging from the comments left by viewers of Heather's video, she isn't the only person who's had to cut back. One commenter shared all of the little niceties they can no longer afford to enjoy due to the current state of America's economy: "No candles, no decor, no desserts or snacks, soda, nails, hair, name brand items, gifts, postage, Amazon, shoes, fast food."
Article continues below advertisement

For someone else, it's a basic commuting necessity: "Having a full tank of gas every week"
Things got really dark, really fast, as another user on the platform wrote: "the will to live... I've given that up. I work 70 hrs a week just to survive."
Article continues below advertisement
And then for others, they've decided to purchase lower-cost versions of household basic necessities: "Nice hand soap from bath & body works…I dump dollar store hand soap into my nice soap containers"
"We don't eat out at restaurants any more," someone wrote
"Buying new clothes! we'll go to thrift stores!" another penned.
If you've been feeling particularly penny pinched as a result of inflation, what are some of the items/experiences you've had to cut back on as of late?