"Would They Tell a Man He's Too Old to Wear Something?": Woman Shamed by Salesperson While Shopping
All this mom and wife wanted was to buy a new coat. She didn't need to deal with the unnecessary comments from the saleswoman. Sigh.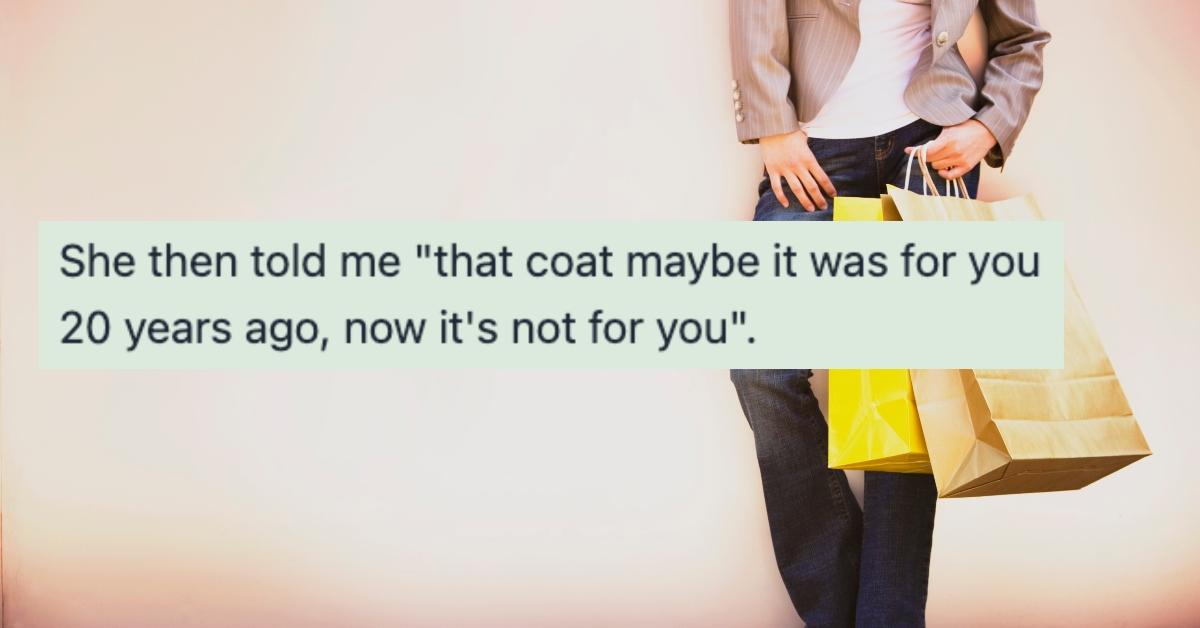 Imagine taking a shopping trip with your loved ones. One of them suggests stopping into a particular clothing store, since they know you've been looking for a coat, and this would make for a nice birthday gift for you.
You agree, and you try on some coats. The salesperson who is assisting you then decides to make a rather blunt remark that catches you off guard — right in front of your loved ones, no less — about how this coat doesn't suit someone your age.
Article continues below advertisement
Probably doesn't feel great to hear. Do you have a right to be upset, or is the salesperson just doing their job? That's what one woman on Mumsnet wants to know, after this very thing happened to her. Folks in the comments section of this woman's post had some very different opinions about it too.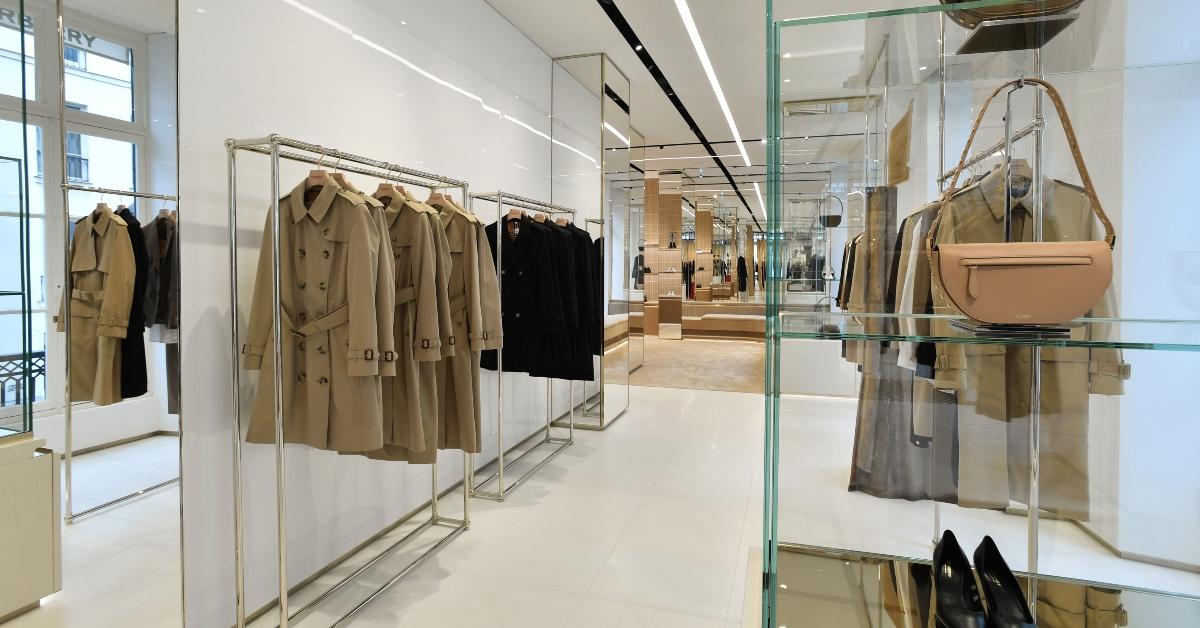 Article continues below advertisement
"That coat — maybe it was for you 20 years ago. Now it's not for you."
On the "Am I Being Unreasonable" (AIBU) subforum on Mumsnet, a 44-year-old woman in the U.K. going by Cupcakemum79 (we'll call her Caity) wrote a post about a recent experience shopping for a coat at a luxury store.
She doesn't name the store, but users quickly figured out it was Burberry after Caity dropped some hints in the comments section.
In her post, Caity says she and her husband and daughter were doing a bit of shopping when her husband suggested they pop into Burberry to get Caity a new coat.
"Normally I wouldn't even consider buying such an expensive clothing item, but [my] husband insisted that I try on the coat I liked," wrote Caity. "He wanted to treat me if I ended up loving it, as he said it was a timeless item and he wanted to buy a nice Christmas/birthday gift that he knew I'd enjoy for years."
(We love Caity's husband!)
Article continues below advertisement
All of this sounds great so far. But then, things took a turn when a saleswoman helped Caity try on some coats. Caity liked one in particular, and she asked the saleswoman if they had a size up for that coat.
But the saleswoman instead suggested that Caity try on some other, more expensive coats instead.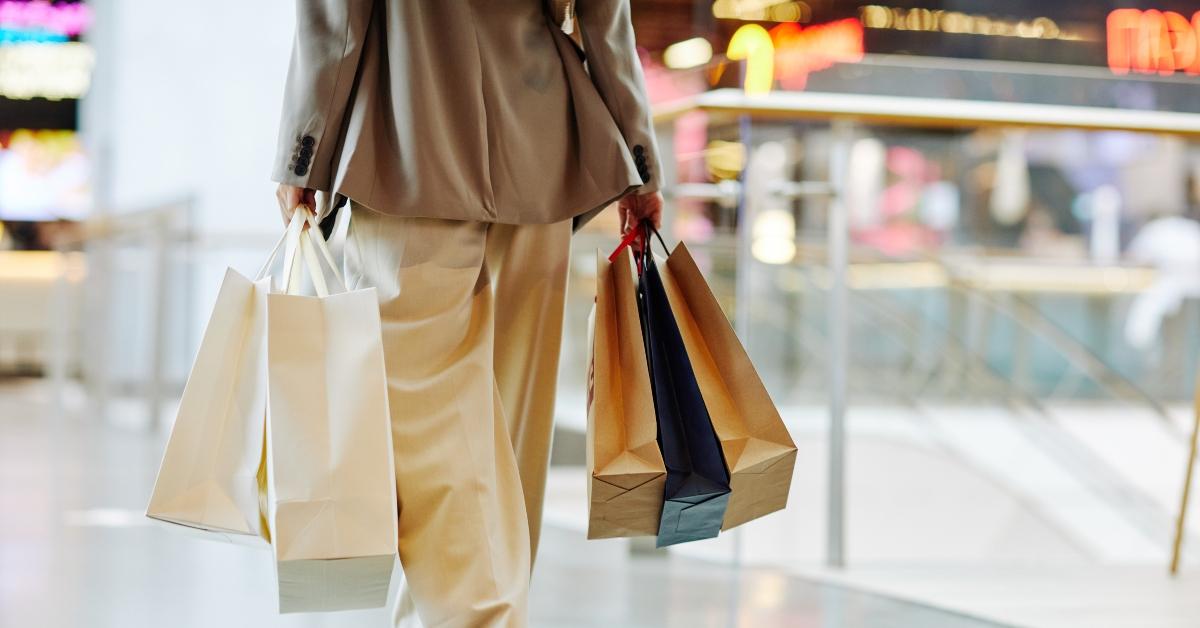 Article continues below advertisement
They weren't really Caity's style, though, as they were too straight-fitting. Caity still preferred the original one, which had a waist belt and didn't look baggy to her.
That's when the saleswoman dropped the verbal bomb.
"That coat, maybe it was for you 20 years ago," the saleswoman told her. "Now it's not for you."
At that, Caity suddenly didn't feel much like shopping anymore.
"My husband and I found this incredibly rude, but were too shocked to say anything," she wrote. "It ruined the shopping for me though, so we left immediately and [my] husband told her that we didn't want a coat anymore."
Article continues below advertisement
Caity went on to explain that she didn't think the comment was called for.
"I am now 44 years old and tried the size 14, which fit but pulled across the chest. Surely that's not incredibly old or fat to deserve a remark like that?" she wrote.
"Also what's with the '20 years ago'? I really don't even look that old!" she continued. "AIBU that I found this incredibly offensive and also I think that had I looked really rich she would never have said anything like that? Also I really don't want a coat from that store anymore..."
Article continues below advertisement

The story didn't end there.
Caity continued to tell more bits of the story in the comments section, as folks flooded in with opinions on the matter. After one person suggested that Caity file a complaint with the store, Caity explained that her husband did just that. (Did we mention that we love Caity's husband?)
Article continues below advertisement
Caity further elaborated in another comment: "Husband was really cute though, once outside he actually wanted to go back inside and ask for the manager. He told me he held back inside the store because he didn't know how I would feel about him getting mad right then and there. I was really hurt by the comment. I told him not to waste any more time on them. But today he was still fuming so he just messaged me that he sent an email to the store ... My knight in shining armor!"
Some suggested Caity have a 'Pretty Woman' moment with the salesperson.
"Go get a nicer one with a nicer in-store experience elsewhere, then go back to [Burberry] Pretty Woman style," one commenter wrote.
Caity got a kick out of that. "Oh I always loved that scene in Pretty Woman!" she responded.
Article continues below advertisement
Many folks believed that the saleswoman's comment was unnecessary, unhelpful, and quite ageist.
"OMG I think I would have burst into tears on the spot. That's so rude. Does she not realize that as you get older, you (hopefully) have more money to spend? Or does she think they should only be selling to 18-year-old supermodels?" one commenter asked.
Article continues below advertisement
Caity responded: "Well yes exactly ... 20 years ago I could only dream of one day being able to spend that much money on one coat ... and it's still a large amount for me to spend on one item even though we both work full-time. It is ageist, isn't it? Is this the start of the 'invisible middle age' for me? Also: would anyone make a remark like this to a male customer?"
Some folks just called out the brand in general for being "chavvy."
"Burberry is chavtastic, you did right to walk away," said one person, while another wrote: "Ergh. What a cheap, nasty and chavvy brand."
Article continues below advertisement

But some folks believed the salesperson was simply doing her job.
One commenter wrote: "Wow why would your husband write a complaint? She just said honestly that she thought it would not be suitable for you today compared to 20 years ago. She did not insult you, she just expressed an opinion. I cannot understand why you would not just shrug this off but instead be so fuming to write a complaint. It has no bearing on anything important in your life. There are thousands of places you purchase a coat from. I find this quite bizarre."
(Is this the salesperson commenting under an anonymous name? You have to wonder!)
Article continues below advertisement
Another person wrote: "I don't think she was being rude but could have been more diplomatic (she didn't have to mention your age for example). If you shop expensive, the shop assistants are often trained and paid to make sure you buy something that suits you. ... You say yourself the coat you tried didn't fit very nicely after all. Had you stayed, she may well have found a coat that looked better on you."
What do you think? Was the saleswoman being unnecessarily rude, or was she just fulfilling the duties of her job?