Retail Worker Gets Petty Revenge on "Rude" Customer by Asking for Her Senior Discount Card
A retail worker went viral on TikTok after delineating how she got petty revenge against a customer by bringing up their age.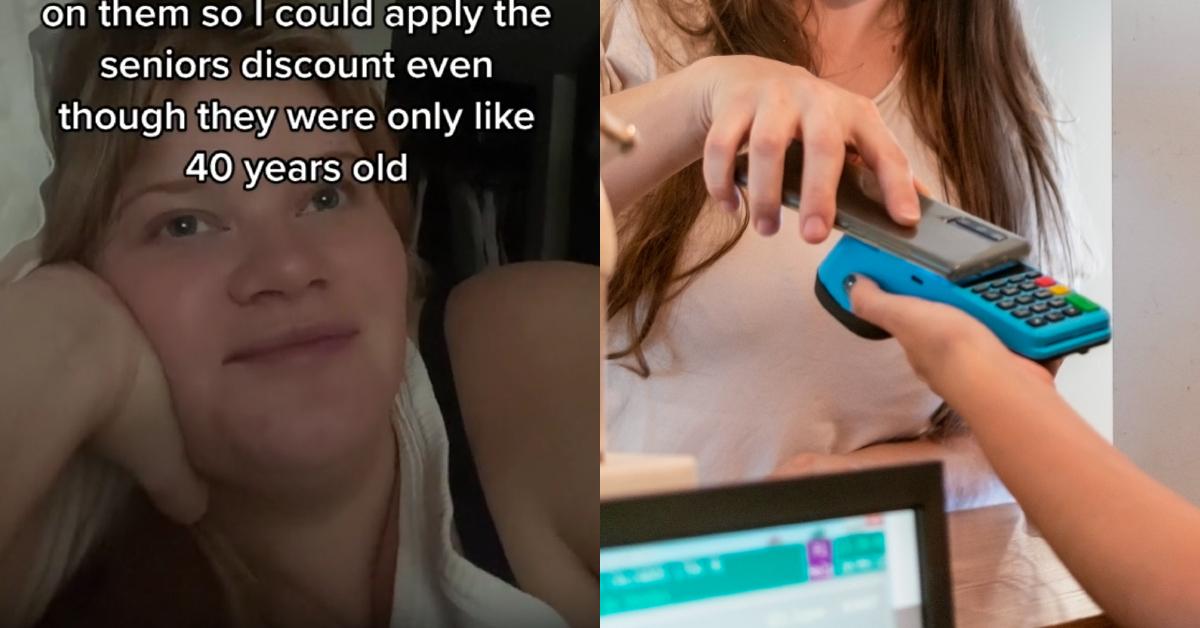 Sometimes, revenge is a dish best served petty. If someone is trying to jam you up or give you a hard time, it just feels good to get a jab in at them for being disrespectful in a situation that doesn't call for it just because they can't control their emotions or act accordingly.
Article continues below advertisement
And how one goes about enacting their sweet revenge is, like any aspect of life, dictated by the situation they currently find themselves in. Maybe you're driving on the highway and you're GPS app is telling you that there's a police cruiser spotted ahead and you see someone speeding way faster than they should and are driving in a sporadic manner.
So, perhaps prior to the cop stop, you rev your engine a little bit or drive a little faster in your lane to curtail the individual from driving even faster past you, forcing them to overcompensate with their vehicle and swerve around you or go WAY over the speed limit.
Article continues below advertisement
If the stars align and the cop is still there, maybe you just caused them to get pulled over for choosing to drive like a Jabroni.
Or, let's say you work in retail like TikTok user Miranda (@mirandadavidso) and a middle-aged woman acts rude to you. Perhaps you've pulled a move similar to the one she says she does in this scenario.
Article continues below advertisement
In a viral TikTok that's garnered over 975,000 likes on the widely used social media platform, Miranda records herself laying down and staring off into the distance in pensive thought.
A text overlay delineates how she enacted her petty vengeance on these rude customers: "When I worked in retail and middle-aged women were rude to me I'd ask them if they had their seniors card on them so I could apply the seniors discount even though they were only like 40 years old."
Article continues below advertisement
It's a play that many viewers who saw Miranda's post appeared to appreciate, like this one commenter who penned, "I've finally made it to PettyTok. This is what dreams are made of"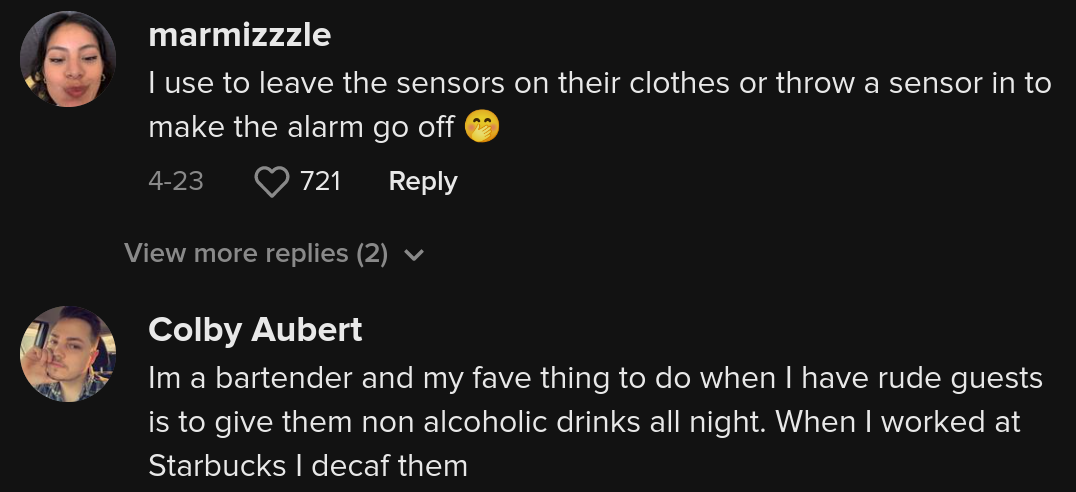 Article continues below advertisement
Someone else agreed, writing: "Petty….and I'm here for it"
"no thats a slay" another TikToker wrote.
Miranda's post ended up becoming a treasure trove of other instances where folks demonstrated their own personal ways of getting back at rude customers at the places they worked.
"I'm male, and always get jealous male customers thinking I like their gf So I change it up and flirt with them and ignore the gf," one person wrote.
Another said: "Bahah- i used to manage a cosmetics dept at 20 years old- when women would tell me I didn't know anything about skincare I'd tell them I was 45"
Article continues below advertisement
One person said that they channeled their pettiness via coin-based refunds: "a customer was rude to me so i gave them their like $10 back in quarters"

Article continues below advertisement
Someone else, who seems to work in a bar wrote: "one time this 45-year-old got mad at me for not carding her when she was buying alcohol so I said 'we card if the customer looks 30 or younger'"
Another TikToker found a way to attack someone's masculinity using nothing but a simple question about paint cans: "I work in a paint store and if the guys are rude to me I ask them if they need help lifting the paint into their car"
Article continues below advertisement
Someone else decided to go the financial shaming route: "I used to tell folks their card declined loudly In front of everyone"
And then there's the old double-standard treatment route: "I won't tell rude customers to have a good day and then I'll be overly nice to the next customer while they're still in earshot"

Article continues below advertisement
This person discovered a unique way to insult someone's clothing choices when they were being rude: "I just tell them I LOVE their pajamas and how brave they are for wearing them. No matter what they're wearing."
And then there was a TikToker who found another way to go after a customer's age: "She knew the coupon was expired. Me: "I know it's harder to read the fine print as you get older!'"
Article continues below advertisement

Have you ever engaged in petty revenge with one your customers at a job you worked at? How did that pan out for you?