Woman Says Her Dog's Old Owner Used to Shower With It, Asks White People If This Is Normal for Them
After a new dog owner explained that the woman she bought the pet from said that she showered with the dog, she has questions for white people.
Dog lovers would agree that their furry friends are part of their family. Some owners pride themselves on dressing their pets up, taking them to salons, and even cooking them immaculate meals with their seasonings (we're looking at you, Reign Storm Samuel).
Article continues below advertisement
Either way, the love humans have for their furbabies is unconditional, but that love comes with firm boundaries. Some pet parents don't like for their furry friends to be on furniture or in the kitchen, and some prefer not to be licked in the mouth. So, when a new dog owner on TikTok was told by the previous owner that she used to shower with the dog, the TikToker was left with plenty of questions.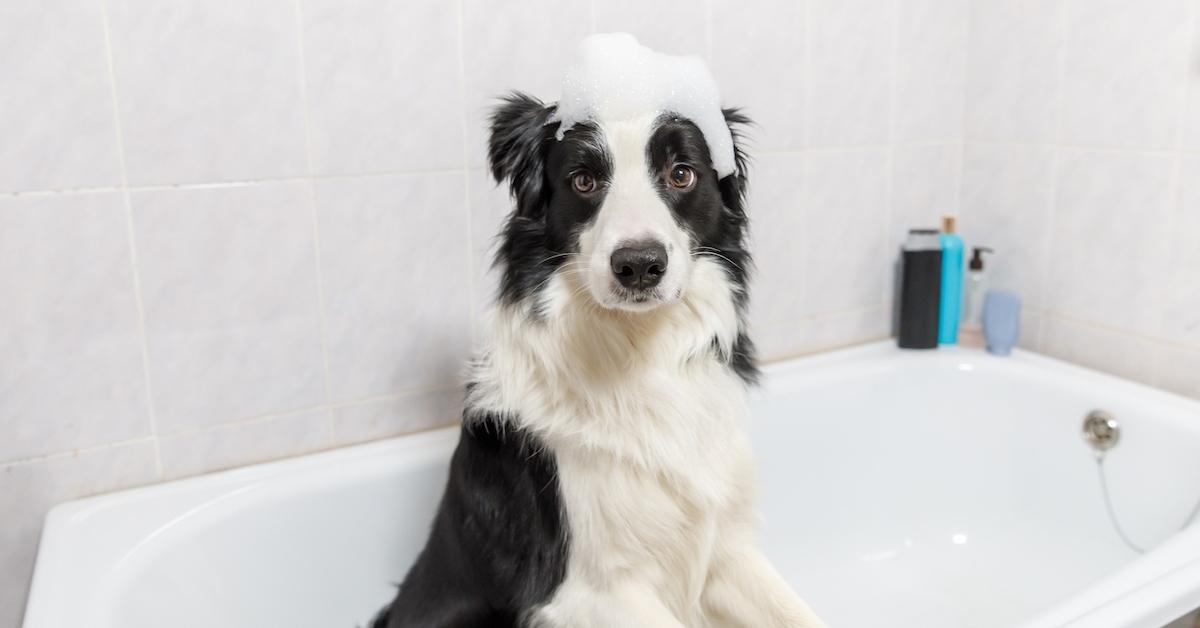 Article continues below advertisement
A woman showered with a dog she gave to a new owner.
We wish we were joking! In an Oct. 20, 2023, TikTok post, creator Temara (@thegirlnamed_t) shared a video about a piece of information her dog's old owner gave to her.
"This has obviously been heavy on my mind since we've had him, I need answers," the video caption reads.
As the video starts, Temara says that she has a question for white people. She reveals that she got a new dog, Milo, three days ago from a white lady.
Temara says that she and the woman were casually talking and "she said that when she gets in the shower she just lets the puppies in."
Article continues below advertisement
After a long pause, Temara continues her video by saying that she doesn't want to judge all white people. However, she needs to know if that was a "her" thing or if it's a universal white-people thing to do.
Article continues below advertisement
"Because I don't want to say the typical line that we all say — y'all know what line I'm thinking about," Temara said. "I don't want to say that just yet. I want to ask. Is that a her thing or is that a y'all thing? Do more than one of y'all do that?
Article continues below advertisement
TikTok users immediately commented that the woman taking a shower with her dog was not normal.
In the name of all that is holy, the weird pet-to-human behaviors have to stop. While pet owners can do pretty much whatever with their pets — as long as it doesn't violate the law — taking a shower with a dog is quite insane.
For starters, dogs are required to take showers with lukewarm water, per Rover. Hot water can irritate a dog's skin and cause problems with their coat.
Article continues below advertisement
Not to mention, dogs typically shed hair while in the shower which can end up on your skin through the grooming process. And of course, dogs are animals. So taking a shower with a dog — who needs to use specialized products — is simply too much and can be a bit unsanitary in most people's eyes.
Article continues below advertisement
So, when Temara posed the question to white people — who have the stereotype of being too friendly with animals — the answers were shocking.
"White person here. It's a no from me. That's definitely a HER thing," one person said.
"No ma'am, no ham, no turkey," another user said.
Don't get me wrong, showering with your dog or any pets for that matter is your prerogative. However, it is clearly looked down upon by many people.