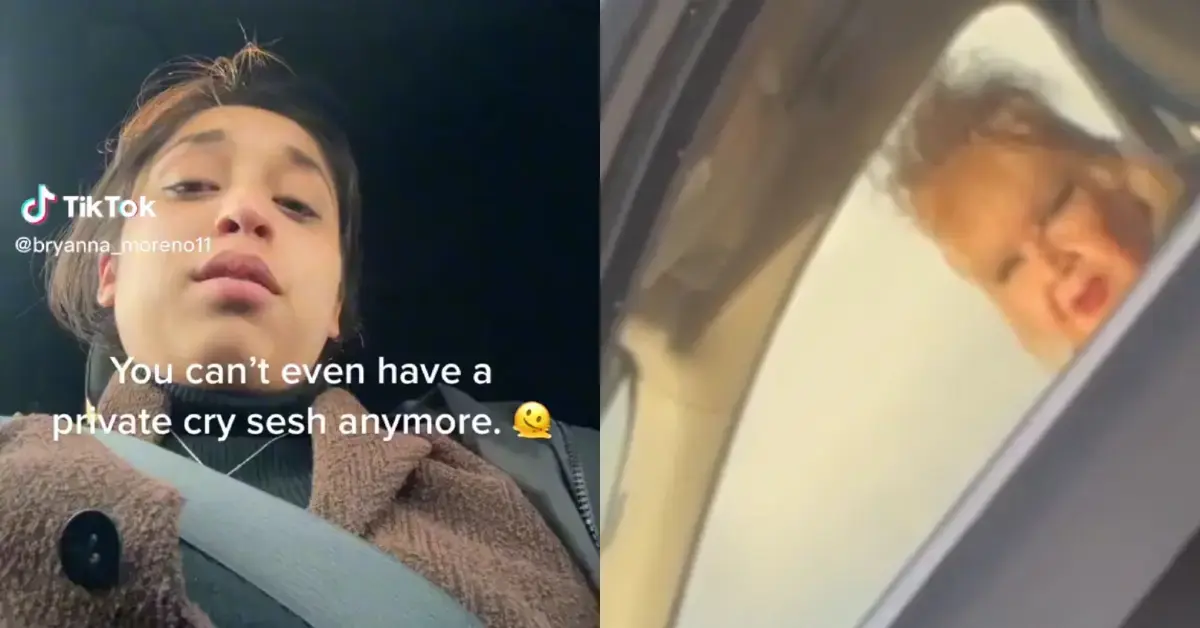 Woman Shares Unsettling Encounter With Old Lady During Private "Cry Sesh" in Remote Location
There's a certain kind of freedom you have when you're driving in a car alone. For many people, that's the only real privacy they get. Heck, there are even people who turn their vehicles into mobile offices, it worked for the Lincoln Lawyer, why can't it work for you?
Article continues below advertisement
But you don't have to use the privacy in your vehicle just to be "productive" if you're a remote worker, for many, it's a place to reflect or actively think about things that are on their mind, like TikToker Bryanna Moreno (@bryanna_moreno11) did when she drove to an isolated area for a "private cry sesh."
However, she soon discovered that she wasn't alone in the spot that she thought was all to herself, as an elderly woman, who one TikTok user described as a Pomeranian in human form, parked adjacent to her vehicle and began staring directly into the windows of her vehicle.
Article continues below advertisement
What's more, is that Bryanna says the lady eventually followed her out of the area where she parked after she became so unnerved she ultimately decided to high tail it out of there.
Article continues below advertisement
In the first video clip that Bryanna posted, it appears as if she parked her vehicle about a stone's throw away from a housing development, but a quick gander at her surroundings reveals that there isn't much in the area that would suggest the spot is a heavily trafficked spot: there was a reason why Bryanna decided to go there to sit in her feelings for a while.
Article continues below advertisement
Viewers who saw the clip were wondering why the woman was so boldly looking into the vehicle. Did the lady see Bryanna crying and wanted to know what was wrong? Did she mistake Bryanna for someone else?
Article continues below advertisement
Well, no, because Bryanna shows in follow-up clips that her vehicle is actually thoroughly tinted, making it difficult for anyone to look inside her vehicle, which could be why the woman was interested as to who was inside. It doesn't help that the young woman was effectively driving a blacked-out black car, which looks like something a member of a secret US government organization drove. You know, if US government organizations drove Kias.
Article continues below advertisement
In a story-time clip, Bryanna says that she "found something out that really shattered [her] heart" and because she had a difficult time keeping it together, she found a good way to cope would be to drive somewhere to sit down, reflect, cry, scream, and "let it all out."
Article continues below advertisement
At least that was the plan until the woman showed up and parked beside Bryanna and began peering into the blackened windows of her imported vehicle's soul.
Article continues below advertisement
In her most recent video, Bryanna revealed that the reason she parked to cry alone for a bit was that she got out of a "toxic" 8-year relationship and it appears that she's finding some solace in the fact that she ended up going viral on TikTok after posting about her heartbreak in a roundabout way.
Article continues below advertisement
She took the time to respond to several questions from other users on the app, like one who asked why she didn't just roll down her window and ask the woman what the problem was. She highlighted one person's response about the time they were stalked by a random person to highlight why she didn't do so while adding that she had a bad feeling about the