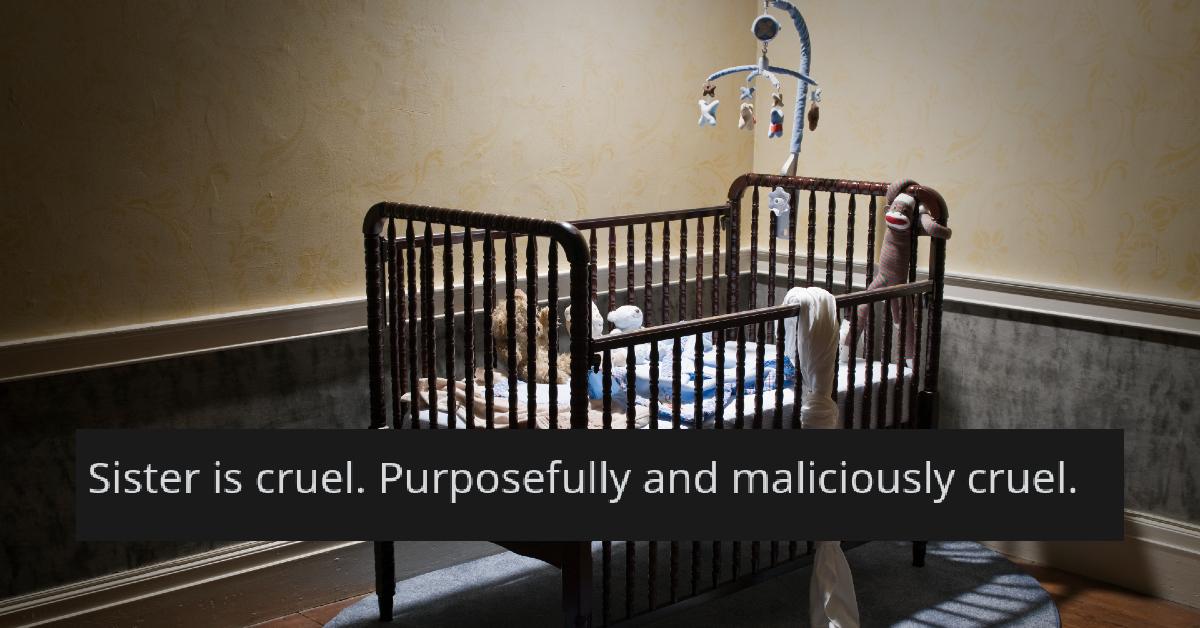 Woman Slammed for Comments on Couple's Stillborn Baby, Sister Kicks Her Out of House
One of the worst pains anyone can go through is experiencing the loss of their child. It's a grief that no one ever really gets over, but rather, something one learns to live with. Fatherly writes: "The loss of a child may be the worst trauma a human being can experience. Though it's not a terribly common experience in the United States — about 10,000 children between the ages of 1 and 14 died in 2018 — the horrific potential for losing a child looms large."
Article continues below advertisement
And if you know someone who unfortunately lost their child, it can be hard to know what to say aside from giving your condolences, as there really isn't going to be anything you can do to make them feel better at that moment. Just pay your respects and move on.
This probably goes without saying, but if you're talking with someone who lost their child, then it's probably not a good idea to tell them that at least they're going to save a lot of money now that they're childless.
That's what happened in a viral Reddit blog posted by user @crispandfries on the site's AITA sub. The user wanted to know if they were in the wrong for kicking their 24-year-old sister out of their home for making insensitive remarks to a mourning father.
Article continues below advertisement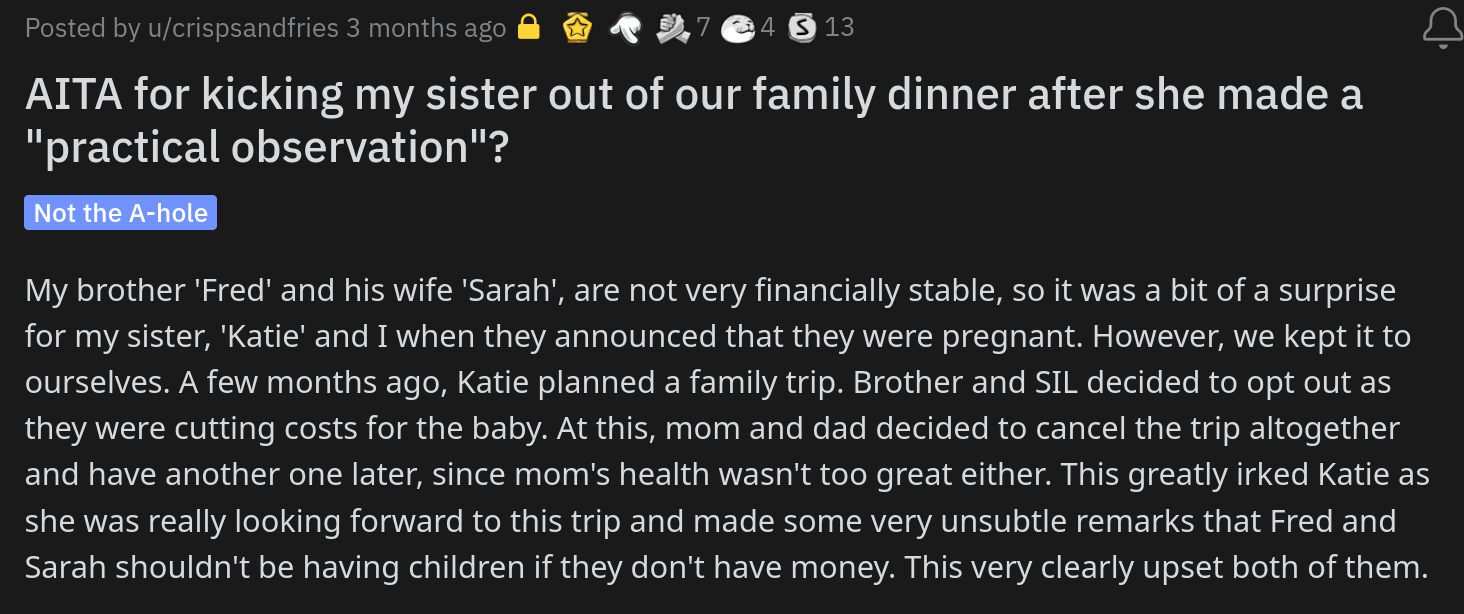 OP begins the post by stating that her brother and his wife (whom she names Fred and Sarah respectively for the purposes of the entry) aren't "very financially stable." This made their announcement that Sarah was pregnant particularly surprising to OP's sister, whom they call Katie.
Article continues below advertisement
OP writes: "My brother 'Fred' and his wife 'Sarah', are not very financially stable, so it was a bit of a surprise for my sister, 'Katie' and I when they announced that they were pregnant. However, we kept it to ourselves. A few months ago, Katie planned a family trip. Brother and SIL decided to opt out as they were cutting costs for the baby. At this, mom and dad decided to cancel the trip altogether and have another one later, since mom's health wasn't too great either."

Article continues below advertisement
Katie didn't make it unknown that she was positively miffed the family trip was canceled because Fred and Sarah decided to have a baby together: "This greatly irked Katie as she was really looking forward to this trip and made some very unsubtle remarks that Fred and Sarah shouldn't be having children if they don't have money. This very clearly upset both of them."
Sometime after the trip was canceled, tragedy struck: "Unfortunately, due to several complications, the baby was stillborn. It has been a month, and my brother and SIL are understandably still devastated. Especially my SIL's mental health is not very well as of now.
Article continues below advertisement

OP continued:
"Yesterday, I hosted a little family dinner at my home, with sister, brother, SIL and our parents. Some time before dinner, SIL went to the bathroom, and meanwhile, my husband asked Fred if she was doing well. Before Fred could reply, Katie jumped in and said, 'Well, though the loss is very sad, think of this as a good thing. At least you don't have to worry about money anymore. As I said, you shouldn't be bringing kids into this world unless you are sure you can provide for them.'"
Article continues below advertisement
Yes, Katie honestly told a man whose child died that it's a good thing their baby died and they missed out on a chance to be parents because they couldn't afford to go on a trip, opting instead to save that money for their child instead.
"Fred went red-faced and said that they WOULD have been able to provide for their child. They may not have money for extra luxuries, but they would do everything for their child."

Article continues below advertisement
OP was shocked at Katie's reaction: "He was almost crying and purple with anger, so I quickly dragged Katie away to the kitchen and demanded what had possessed her to say something so insensitive. She got incredibly defensive and said that she had made a very practical observation and she was 100% correct. It was better to see straight than be clouded by emotions. By that time, Sarah had come out of the bathroom and was shocked to see Fred in tears."
"She kept on getting hysterical and asking what was wrong. I knew that Katie's presence would ruin things further, and I asked her to get out. She looked incredibly hurt and angry, but went out anyway. Fortunately, our parents were late and didn't have to see the whole spectacle. When they came home and found out what had happened, they were shocked and upset at Katie too, but mom thinks that perhaps I shouldn't have kicked Katie out like this. AITA?"
Article continues below advertisement
Throngs of commenters said that she was entirely right for kicking Katie out of her house for what she said, but perhaps the following comment by @Atty_Aveline sums up all the reasons why OP's sister was in the wrong and it all boils down to one word: it was cruel.
Article continues below advertisement
"Brutally honest people are interested more in brutality than in honesty. Sister is cruel. Purposefully and maliciously cruel. Sometimes truth is cruel and shouldn't be voiced....Also, OP, any family member who doesn't support you Kicking her out needs to hear this: in that moment, you had to choose between protecting two recently bereaved parents from further trauma and pain inflicted by their own family. Sister's embarrassment or hurt v. That level of pain? No contest.
Kick sister out or inflict more pain were the only options."
The Redditor even went so far as to say that there could be something seriously wrong with their sister since they're 24-years-old and should know better. "There's no excuse to do this. Is there a reason? IDK. Losing a vacation isn't a justifiable one. Is there something else going on with her that led her to lash out like this? It seems really, truly disproportionate to the disappointment."
Article continues below advertisement
What do you think? Is this a case of someone just being immature to the point of heartlessness? Do you feel like Katie needs to see someone for saying something so cruel? Or do you agree with Katie and believe she's making a valid point?