Fitness Influencer's Set Interrupted as Woman Swipes Weights From Her in Viral TikTok
A TikToker's viral video of someone grabbing her weights while she was still using them sparked a viral debate on gym ettiquette.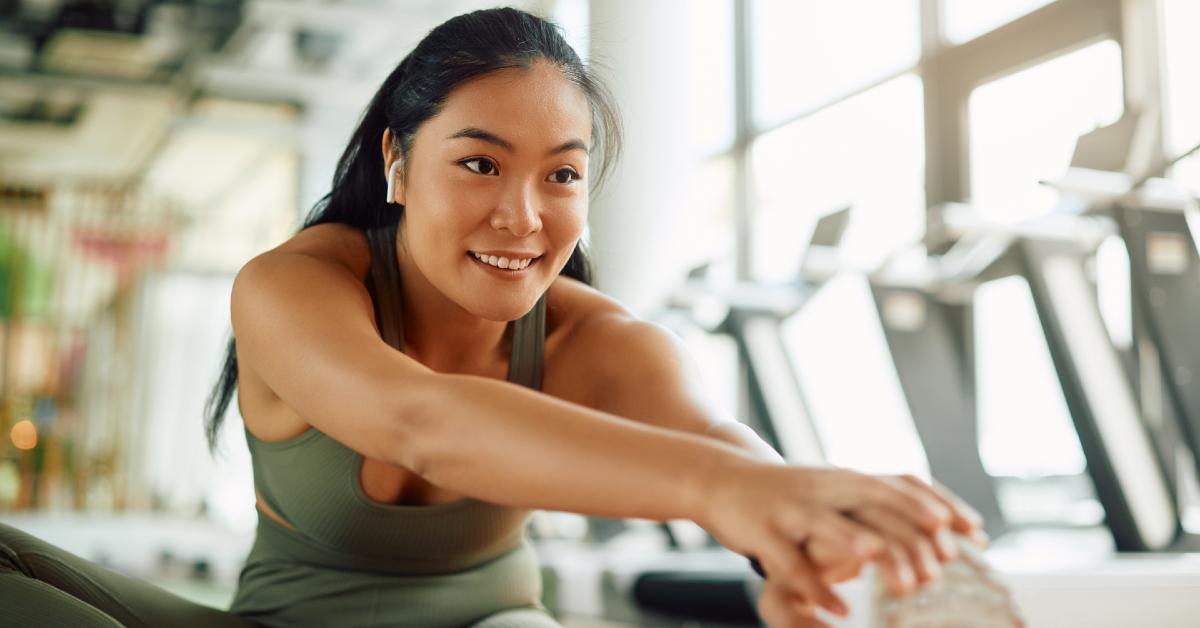 Whenever you're using a facility with shared equipment, there's always a certain etiquette and implicit set of rules for using/respecting/sharing said equipment.
Like gyms, for example. For instance, if there's a dearth of cardio machines and you've hopped onto an elliptical, treadmill, or Satan's own creation the infinite stair climber, then you should probably step off after 20 minutes or so to give someone else a chance at using them.
Article continues below advertisement
Weights usually come with their own set of rules, too. If someone is on a bench press and they've got a few more sets left, it's perfectly fine to ask someone how many more sets they have left and you can do one of two things. You can ask if it's OK for you to work in if you don't feel like waiting, or you could go and do another exercise if you'd rather have the whole station to yourself for whatever reason (maybe you get really gassy when you lift, no judgment).
However, what you most certainly don't do is snatch someone's weights away from them when they're in the middle of their exercises regardless of how many sets they have left. But that's what happened to fitness influence Kylen Suttner (@kylensuttner) in a viral TikTok clip she posted to her account.
Article continues below advertisement
In the short video, Kylen can be seen recording herself performing seated dumbbell bicep curls on a bench. She drops her weights to the floor when someone's hand comes out of nowhere and snatches one of the weights away.
Article continues below advertisement

Kylen then quickly turns around and says, "Oh sorry I was using that." The woman who took them away says to her, "I've been waiting for these for a really long time, you've had them forever."
Article continues below advertisement

Kylen then says, "I just have a couple more," to which the woman who took the weights away says, "You've had them long enough."
The TikToker then turns away and says, "okay..." before the video ends. She writes in a text overlay of the clip, "I am officially over public gyms."
Article continues below advertisement

Another TikToker, Rayy Syymone (@iamrayysyymone) stitched their response to Kylen's video, stating how taking someone's weights while at the gym is not kosher under any circumstances: "Excuse me? Girl!" she says in the clip.
Article continues below advertisement
"You never take someone's weights. Never. I don't care how long you've been waiting for them. In order for you to not get a dumbbell tossed at your head. You ask, ask, how many reps do you have left? I've been waiting for these tens for a while can you let me know when you're almost done?"
Article continues below advertisement

She continues, "But you do not come behind somebody and try to take their dumbbell. Girl? If that were me in 2018? Baby. Let's just say therapy did me good, because I got triggered," while she pantomimes winding up a punch to unload on the weight-nabber's mug.
Article continues below advertisement

She even posted another video of how a gym interaction between two people sharing a station should look like. In the clip, a guy who is super setting between working out his obliques and using an assisted pull-up machine has someone hop on the machine he was using.
Article continues below advertisement
The gym goer asks the guy if he wants to work in and they can share the machine together and he even asks the dude his name, and they dab each other up. "We need more of this," Rayy writes in a text overlay.