Polite Coffee Shop Workers Give Karen Full Refund and $10 Gift Card — It's Still Not Enough
A woman upset over the way in which her cup of coffee was prepared uploaded a video, showing off her plight — it backfired.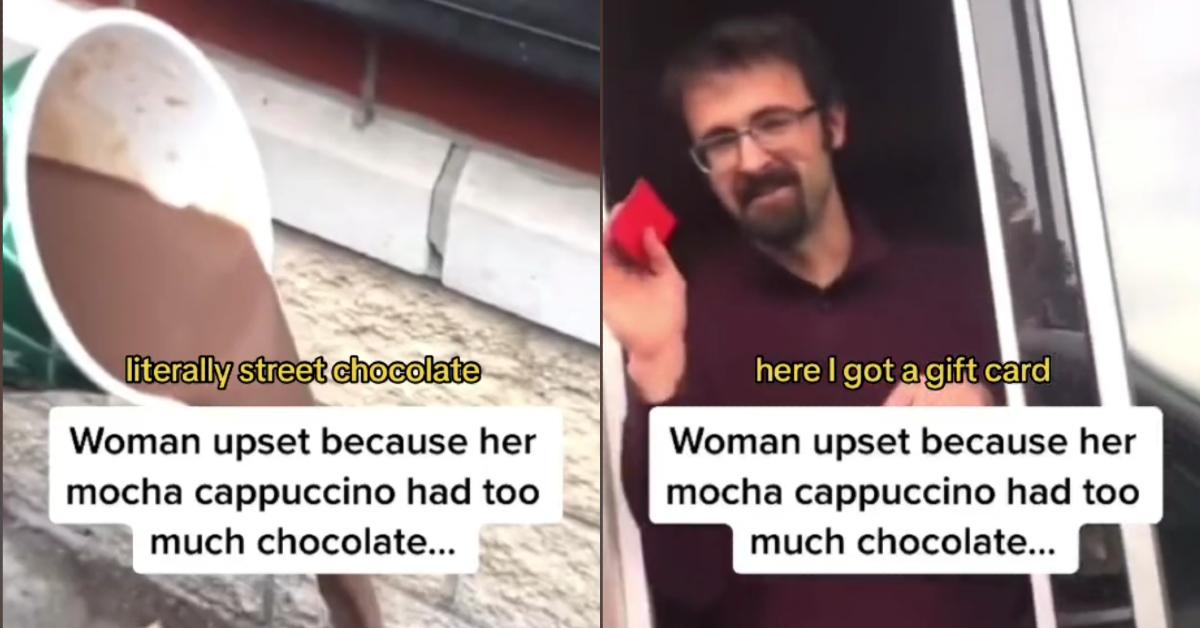 Article continues below advertisement
And then there are those who decide to use retail store employees as verbal and emotional punching bags. Unfortunately, there are plenty of shoppers who've exhibited behavior like this that has been uploaded online and disseminated all over social media.
They'll extend conversations and air out unrelated, long-suppressed grievances which have more than likely been compacted by lifetimes of bitterness and/or self-sabotaging their own dream lives, and now they have a target in which to unload all of those self-inflicted emotional wounds: the person serving them their coffee.
Article continues below advertisement
And there are throngs of TikTokers who believe that this "coffee Karen" is of the latter group of complaining consumers in a viral clip that's trending on the popular social media platform.
The video was uploaded to an account named "Karen" (@karendkm7m) which opens with an employee handing what appears to be an irate customer a gift card.
Article continues below advertisement
The woman in the video, however, pours out the Mocha coffee she received, highlighting how dissatisfied she is with the beverage.
"Here I got a gift card," the man says, smiling.
The customer replies: "Okay, I just wanna show you this is, I'm videotaping this because it's disgusting."
The woman begins pouring out the coffee, which looks like hot chocolate, right in front of the employee, onto the ground in front of him: "Literally straight chocolate."
A text overlay in the video reads: "Woman upset because her mocha cappuccino had too much chocolate."
Article continues below advertisement
She then shows off the chocolate syrup that's sticking to the bottom of the cup to the employee, who asks her if she didn't want milk in her drink. The woman replies: "a mocha cappuccino is not that," she says, getting into the polemics of what defines a mocha cappuccino with the worker.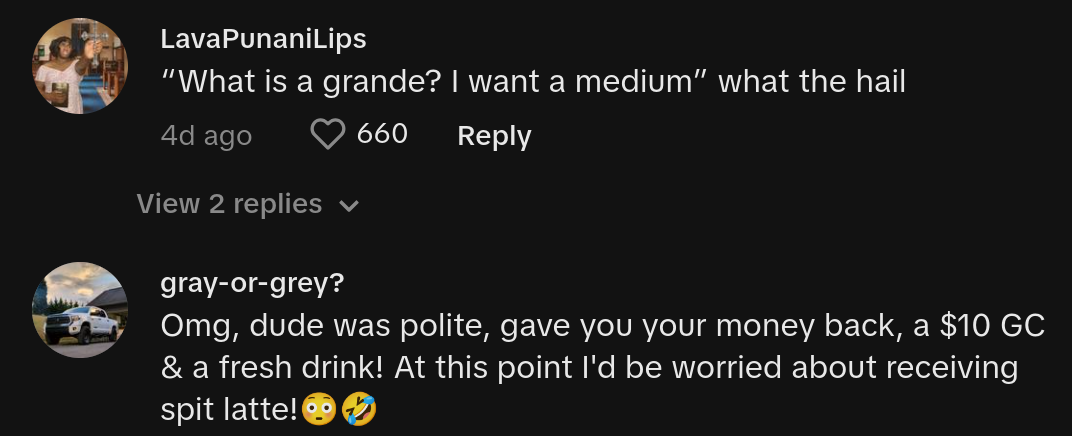 Article continues below advertisement
The man then asks her if she wants a frappuccino instead, to which the woman insists that she wanted a mocha cappuccino, but she'll take a frappuccino now.
He offers her the $10 gift card and she adds that she wants her money back for the drink too. "So is this $10 for my experience and my gas or...?"
The employee tells her it is and that he's going to refund her for her beverage, "You do realize that I've probably spent an hour right now..." the woman says, as the barista apologizes, telling her he's "very sorry" for her experience.
Article continues below advertisement
"You seem really sorry," she says.
The man takes cash out of the register, smiling as he hands it to the woman, he says that she's going to be "contacting corporate" for suffering the "worst experience [she's] ever had in [her] life."

Article continues below advertisement
The man tells her that they're going to get the woman "everything [she] need[s]" and that they're in the process of making her the frappuccino she's been waiting on.
The customer, who is recording the interaction, remarks that all of the employees seem to be laughing inside, "You see this?" she says in the clip as the employee goes back inside to fetch her drink.
"Apparently this is funny," the woman says as another employee hands her a freshly made beverage topped with whipped cream and chocolate syrup, "Oh my God that doesn't look like right either," the customer says.
Article continues below advertisement
"That doesn't look anything like it. That literally says chip on it," the shopper says.
"You want a frappuccino?" the female employee asks.
"That says java chip on it."
The worker smiles and rolls her eyes while bringing the coffee back into the store, shaking her head.

Article continues below advertisement
"Are you guys kidding?"
The worker, still smiling, looks back at the customer through the drive-thru window as the store workers appear to speak to one another inside of the store.
"Are you guys kidding? Oh my god. You're not even embarrassed. How are they not embarrassed of themselves," the customer says to herself as the video keeps recording.
Another employee then hands her a drink, however, she's not smiling: "Take a picture it will last longer," she says, as the video ends.
Article continues below advertisement
A number of TikTokers remarked that they were shocked by the customer's behavior: "New drink, refund, a $10 gift card and she's still complaining," one said.
Another wrote: "people are really like this & i will never understand it"

Someone else remarked that they admired the way that the employee handled their situation: "I hope corporate sees this and gives him a promotion for having to deal with people like this and handling it so well"