"You Better Text Your Man" — Woman Has Receipts of a Stranger's BF Cheating With Her Friend
In a viral video, a woman upheld the "girl code" by informing a stranger about her boyfriend and friend's actions. Here's what happened!
Many of us have heard the phrase, "If you see something, say something." The expression, first coined by New York City executive Allen Kay after the 2001 9/11 terrorist attacks, is a catchy way to encourage people to report the wrongdoings of others.
Article continues below advertisement
And these days, thanks to apps like TikTok, it has become easier to practice Allen Kay's words in real-time. One woman used her social media influence to help a stranger discover the truth about the mystery woman's man — who was apparently cheating on her with one of her friends!
Scroll down to see how the woman's noble act happened.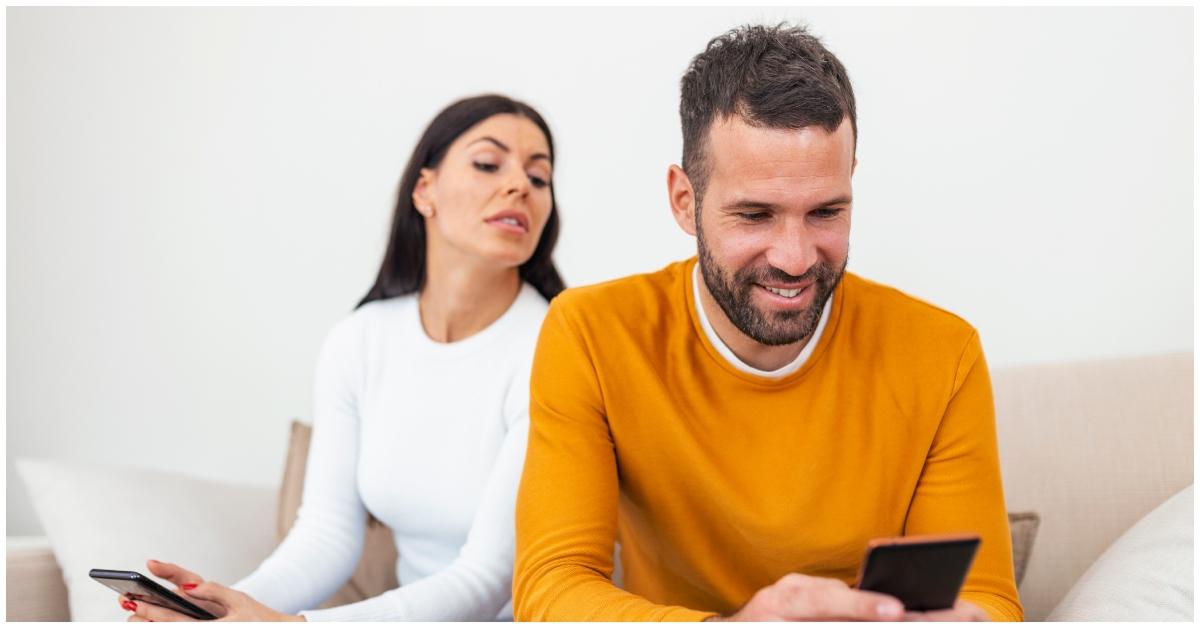 Article continues below advertisement
Woman catches a stranger's cheating boyfriend with a friend and warns her about it on TikTok.
In July 2023, TikToker Karenmel (@_itskarenmel) decided to treat herself to a refreshing drink from Starbucks with her "park boyfriend" (I'm not quite sure what that means, but that's beside the point). While enjoying her tasty frozen beverage, Karen shared that she was witnessing a real-life episode of Cheaters.
During her video, Karen warned a woman named "Teasha" that her boyfriend was cheating on her and was doing so with her friend. How does Karen know this, you ask? She said she heard the philanderers discussing their betrayal over a cup of Joe.
"She was like, 'Oh, that's your girlfriend.' And he was like, 'Well, that's your homegirl,'" Karen said in her TikTok, mocking the cheating boyfriend and friend. "And then she was like, 'Well, not for long.'"
Article continues below advertisement
Karen continued having the stranger's back by sharing distinct receipts so Teasha could know that her boyfriend and her friend were messing around. The TikToker shared the boyfriend and friend's car information, stating that one drives a "white Nissan Rogue," and the other was in a " grey Honda Accord." Karen felt the bonus tea was all Teasha needed to take action against her boo and soon-to-be former homegirl.
Article continues below advertisement
"I'm just trying to help you out," she stressed to Teasha at the end of the TikTok. "You better text your man and ask him where he's at!" Wherever Teasha is, hopefully she saw the video.
Article continues below advertisement
The TikToker's loyalty caused a global search for "Teasha" online.
After warning Teasha about her boyfriend and friend's secret rendezvous, Karen sparked a global search for the woman she protected in the video from commenters in Switzerland and other countries.
Amid comments from other TikTokers stating how "messy" Karen was for even bringing the drama to TikTok's attention, several commenters wanted to know who Teasha was and if she was planning to share her side of the unfortunate events.
"Teasha, WHERE ARE YOU?!" one user asked.
"TikTok, bring me back when you find Teasha," a second commenter begged.
Clearly, many TikTok users now feel invested in this story and want answers.
Article continues below advertisement
The comments also included other women named Teasha/Tiesha, who shared they were marked safe from being cheated on by their boyfriend and friend. Others also said they discovered Karen's story on other platforms like Twitter.
Article continues below advertisement
Following the inquiries about Teasha's whereabouts, Karen posted another video stating Teasha hasn't revealed her identity yet. The TikToker predicted the scorned woman is likely "embarrassed" about her circumstances and is handling her cheating boyfriend and friend privately.