"He Was Standing at the Foot of Our Bed" — Couple Wakes up to "Strange Man" in Their Bedroom
While sleeping, a woman and her fiancé discovered they weren't the only ones in their studio apartment. Find out how they confronted their intruder.
Unfortunately, it's challenging to feel safe in public spaces without the dread of worrying about other people's possibly unsafe intentions.
For many, the danger of mass shootings and other fatal occurrences makes it seem easier to stay home and avoid unnecessary chaos. But nowadays, even staying at home, presumably the safest place, can become just as dangerous as going outside.
Article continues below advertisement
One couple discovered this fact firsthand when they crossed paths with an unexpected visitor in their apartment. The couple shared on TikTok what happened when they confronted the unwelcomed guest.
Here's the full story!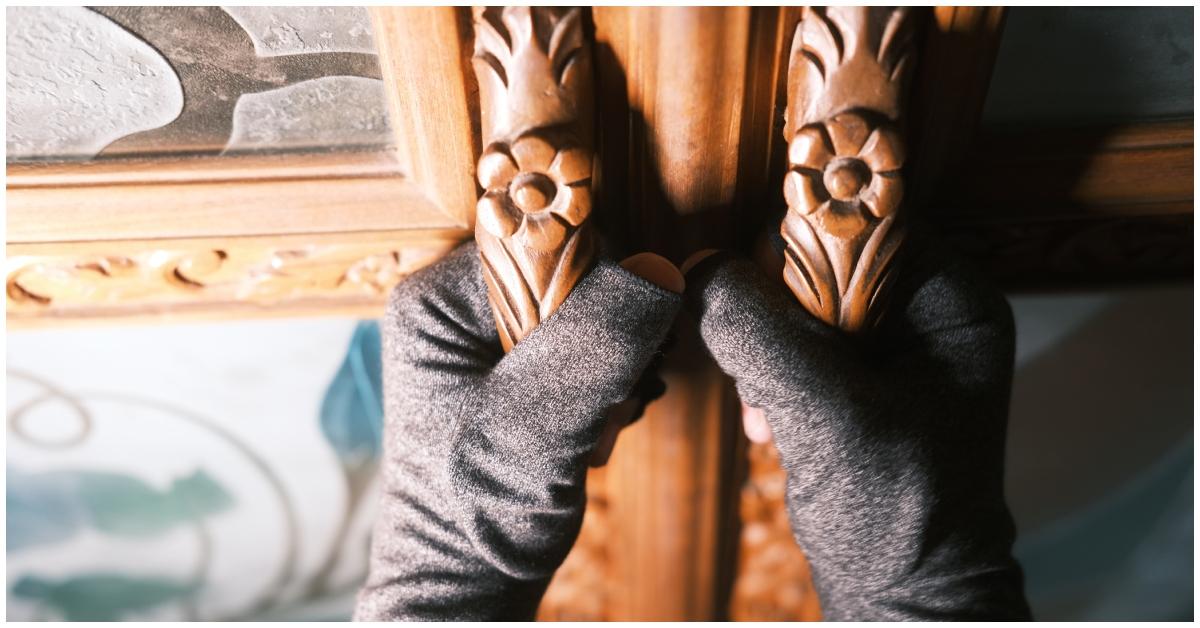 Article continues below advertisement
A woman recorded her fiancé threatening to "kill" a man who walked into their apartment.
In July 2023, a TikToker named Jenesis (@official.jenesiss) posted a 54-second video on her TikTok account. During the video, the Columbus, Ohio, native recorded a man wearing a jacket, polo shirt, and shorts. As she zoomed in on the man, he appeared tired, seemingly struggling to open his eyes. The man could also be heard mumbling under his breath while holding a backpack on one shoulder.
Jenesis's caption stated the "strange man" she recorded had broken into her and her fiancé's studio apartment. After he let himself in, the gentleman allegedly stood at the "foot" of the couple's bed and didn't make any noise until the couple found him near the bed at 4 am. Scary!!
Article continues below advertisement
Once Jenesis and her fiancé noticed what was happening, they immediately confronted the man and got him out of their apartment. While still recording, Jenesis turned the camera to her fiancé, who told the man he would "kill" him if he didn't leave and stated he wasn't "playing" with the stranger.
Article continues below advertisement
Following her fiancé's threat to the man, she panned the camera back to the intruder, who was now standing in their floor's hallway. Eventually, the couple called the police, and Jenesis kept the camera going as several officers approached the man and asked him if he lived in the building, to which the man replied, "Not yet." The police removed the man's backpack and opened it before the TikTok ended.
Article continues below advertisement
It seems that the couple's door may have been unlocked during the time of their invasion.
In addition to showing her and her fiancé's terrifying experience on TikTok, Jenesis advised her frightened followers not to go through the same experience. After confirming the man didn't "steal anything" or "harm" her or her fiancé, she mentioned several ways for others to take precautionary measures to avoid having a stranger enter their bedroom.
Article continues below advertisement
"PLEASE lock your doors, stay alert, and keep a weapon nearby at all times," Jenesis warned her audience. "You never know when someone crazy is watching you. He could've done anything to us as we slept, but it's only by grace we woke up and caught him before it was too late. Please take this as a warning."
Article continues below advertisement
The advice from the TikToker made many commenters who watched the video believe Jenesis and her fiancé may have forgotten to lock the door to the apartment, which would explain how the stranger got into their bedroom.
While Jenesis didn't confirm nor deny that's what happened, she said she believed their intruder was "mentally ill," as he stated "Joe Biden and Kamala Harris told him" to enter their apartment.