Bride Calls out "Horrible" Dress Shop After It Closes Without Refunding Current Customers
Finding the "perfect" wedding dress is stressful. One bride shared how her local shop tested her patience before closing its doors unexpectedly.
If you grew up thinking about your wedding day and planned on wearing a wedding dress, you've likely daydreamed about what the "perfect dress" would look like on your special day. What you probably didn't consider, however, is just how expensive the process can be.
It's no secret that brides-to-be pay hundreds, even thousands of dollars, for a gown they will wear once in their lives.
Article continues below advertisement
Due to the high costs, most brides who invest in their dresses expect to get what they paid for from the bridal salon they choose. But unfortunately, that's not the case for several 2023 future wives in Indiana.
In a TikTok video, one woman announced that a popular bridal salon in Indiana closed its doors while it had several dress orders in the works. Even worse, the bridal shop isn't giving out refunds to all of its customers!
Keep reading for the whole story.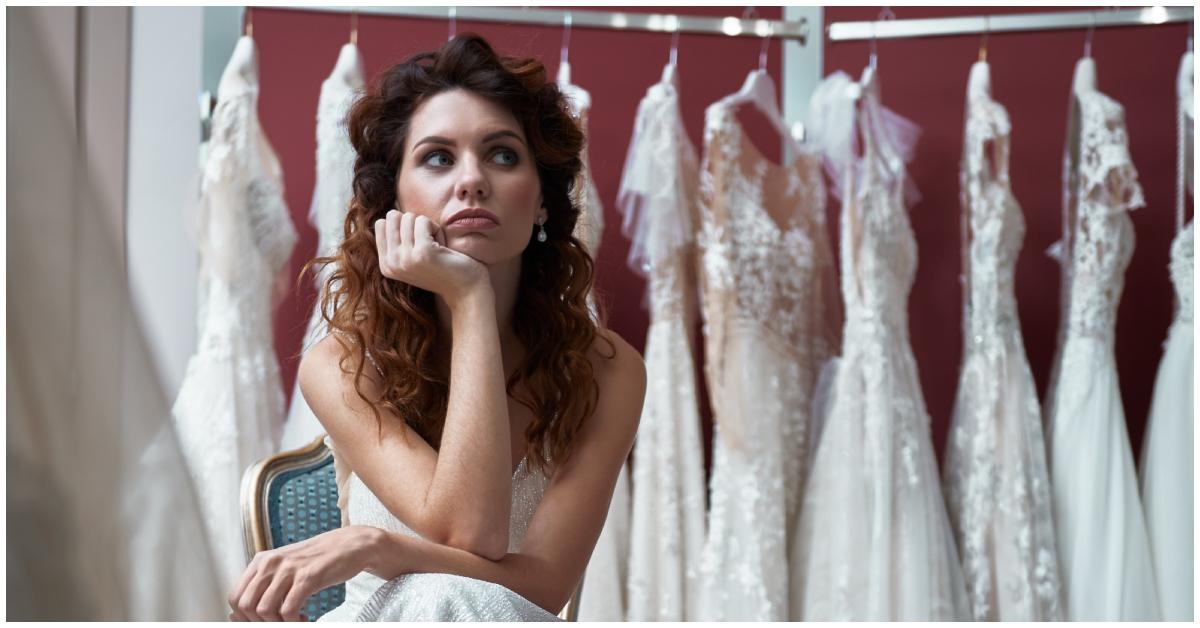 Article continues below advertisement
A woman recounted her "horrible and stressful experience" with a bridal salon that is now closed.
After discovering one of her local bridal boutiques was unexpectedly closing, Fort Wayne, Ind. native Amanda Caroline (@amandaschwartz730) shared the news with her over 10,000 TikTok followers. During the video, Amanda posted the retailer I Do Bridal Boutique's statement confirming they were closing its Fort Wayne location. The statement read that I Do was closing due to "obstacles in the wedding industry" they could not "overcome."
I Do also promised to make "every effort" they could to ensure that all of the brides who had dresses in their store had them delivered in time for their weddings. However, the boutique advised those who had a dress "on order" to "please review your credit card terms for possible refunds. The retailers added that brides who planned to alter their dresses with I Do would be contacted directly by the store.
Article continues below advertisement
Amanda also said she felt "so bad" for the brides affected by I Do's closing. However, she revealed she was actually "surprised" I Do didn't close sooner, especially after the "horrible and stressful experience" she endured with the company during her January 2020 nuptials.
Article continues below advertisement
The TikToker said the boutique she ordered a dress from almost didn't have her dress on time.
Amanda used the rest of her TikTok to discuss her unpleasant experience with I Do after winning a $500 gift card to the boutique at a bridal expo in January 2019. When she arrived at I Do to find a dress, she couldn't find one that fit the "snow queen" aesthetic she was trying to achieve for her winter wedding.
Article continues below advertisement
Eventually, Amanda bought a dress from I Do Boutique out of obligation since she already had a gift card at the boutique. However, she knew she still wanted to shop for dresses and kept her appointments with other bridal shops, including I Do's "sister store," Wendy's Bridal Boutique in Columbus, Ohio.
Article continues below advertisement
But when she tried to keep her appointment with Wendy's, the store canceled the appointment due to Amanda already buying a dress from I Do, which she found they discovered by contacting one another.
Amanda soon grew frustrated with I Do, though she found the dress of her dreams at the boutique. After selecting her dress, she said I Do began showing more "fishy" behavior, including giving her the run around on when she could expect her dress.
Article continues below advertisement
Several fellow brides shared similar experiences to Amanda's.
In the second part of her two-part horrifying dress experience, Amanda said I Do held her dress for months, first telling her it would be ready by the end of July, then the "beginning of August," and then finally stating it would arrive at "the end of August."
Article continues below advertisement
Once the end of August came, Amanda tracked the dress and discovered it was at her post office and was being held over the weekend. Eventually, she and her mother, who paid for the dress, picked it up after waiting for it for several months.
Although she had the dress, Amanda said she still had to take it through alterations, which took another "two months" before her wedding. Fortunately, she completed her alterations in time for her January 2020 wedding but said the story made her side-eye I Do moving forward.
Article continues below advertisement
Amanda ended her story by stating several other boutiques similar to I Do and its sister store, Wendy's, have closed within the last "five or six years." Underneath her comments, many fellow TikTok brides recounted their unpleasant experiences with I Do before the boutique announced its closing.
"I'm honestly not surprised they haven't closed their doors sooner," one TikTok commenter said about I Do Bridal Boutique. "They were having such a hard time getting gowns in when I married in 2019."
"Apparently, this is not the first time they did this," another commented.