Gird Your Stomachs Because This Woman Got a Completely Raw Burger From McDonald's
Is nothing sacred? McDonald's served this woman a completely raw burger. If we can't trust large corporations, then who can we trust?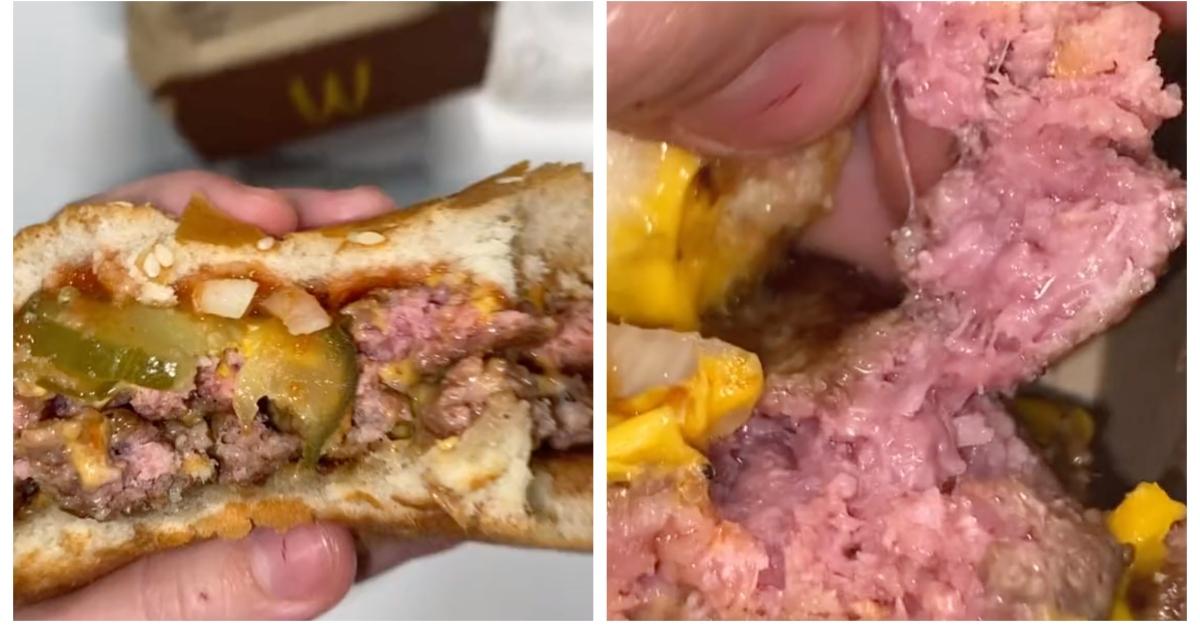 How can we not trust McDonald's, a corporation that has its own Wikipedia page devoted to the many legal cases brought against it. Am I to understand the company that once brewed coffee so hot it gave a woman third degree burns, might not have the public's best interests in mind? Say it ain't so.
Article continues below advertisement
As I struggle to understand how a company that made over $23 billion in 2022 could be cutting the occasional corners, I'll take comfort in the fact that at least the food isn't great. That's especially true for Kenya (@k.en.y.a) on TikTok, who was served a completely raw burger from her local McDonald's. I'm not lovin' it, and neither did she.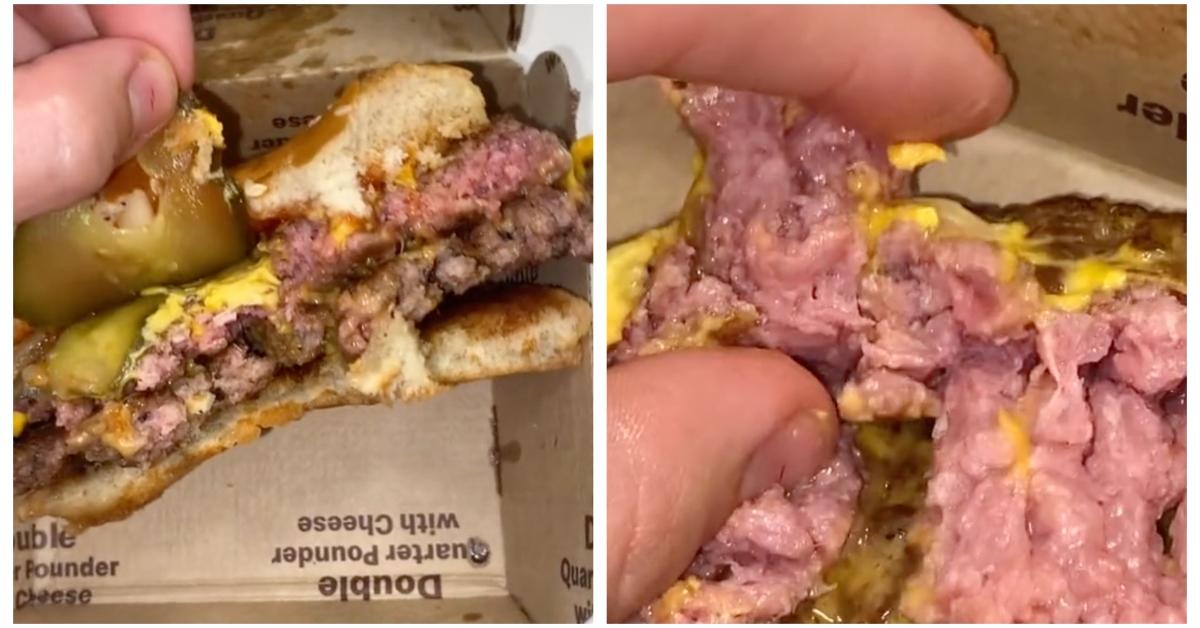 Article continues below advertisement
Hey baby, we don't like it raw.
I'm feeling for Kenya who really dug into her burger before realizing it might be digging into her later. "So, I think I took way too many bites of this," she declared while pulling apart her half-eaten cheeseburger. Obviously I don't know what I would do in this scenario, but I have to believe my mouth and my eyes would work together to warn me about uncooked meat.
I gasped along with Kenya as she pulled displayed meat that has never seen a single source of heat. It barely looks as if it was in the same room as a skillet. At the risk of grossing people out, that meat still had some moo left in it. Sorry for reminding people where your food comes from!
Article continues below advertisement
Like a deleted scene from Wayne's World, Kenya exclaims "No way!" while revealing more raw burger. "Way!" I whispered back to her, feeling slightly nauseous and suddenly less interested in my next meal.
Article continues below advertisement
"Bro, oh my God I'm gonna throw up," says Kenya, as the burger flesh runs between her fingers. I can't believe Wayne's World is once again applicable here but, here's what I would say if I was standing next to Kenya: "If you're gonna spew, spew into this," while handing her a tiny cup.
Article continues below advertisement
It's not safe to eat raw ground beef so stop calling this medium rare.
Many of the comments were from folks who referred to this very raw meat as "medium rare." I believe those people are thinking about a rare or medium rare steak, not ground beef, which is processed more than steak.
The CDC recommends that ground beef should be cooked to an internal temperature of 160 degrees Fahrenheit, which is determined using a thermometer. I highly doubt McDonald's is fastidiously checking the temperature of all its burgers. It's fast food after all.
Article continues below advertisement
The issue with uncooked ground beef stems from how often it's usually handled. In a restaurant, the burger really moves around a lot. According to the U.S. Department of Agriculture, bacteria can be found in "equipment, hands, and even in the air." There is a lot of opportunity for something to hitch a ride onto your meat.
Article continues below advertisement
This is not the first time McDonald's has sent out an uncooked burger.
A casual Google of the words "McDonald's" and "raw burger" yields far too many results. In June 2022, a customer was given a pile of goo masquerading as a burger at a McDonald's in Scotland, per the Daily Record. McDonald's was made aware of the incident and dispatched someone to check the "calibration of the restaurant's grills."
The Daily Meal reported an incident in September 2017 from a man in Merced, Calif. After biting into his raw Quarter Pounder, Christian Knight said he immediately "felt sick." Hours later, there was stuff coming out of both ends.
Kenya posted a follow-up TikTok where she insinuated there might be a lawsuit against McDonald's in her future. However, she was dancing around with her raw burger which suggests it didn't do much to her. Despite the company's massive legal issues Wikipedia page, no one has brought anything against them involving uncooked food. Sounds like a raw deal to me!