Woman Leaves Remote Job Zoom Call to Avoid Getting Fired — "Wait Till the End"
A woman went viral on TikTok for uploading footage of her final meeting with management who were getting ready to fire her.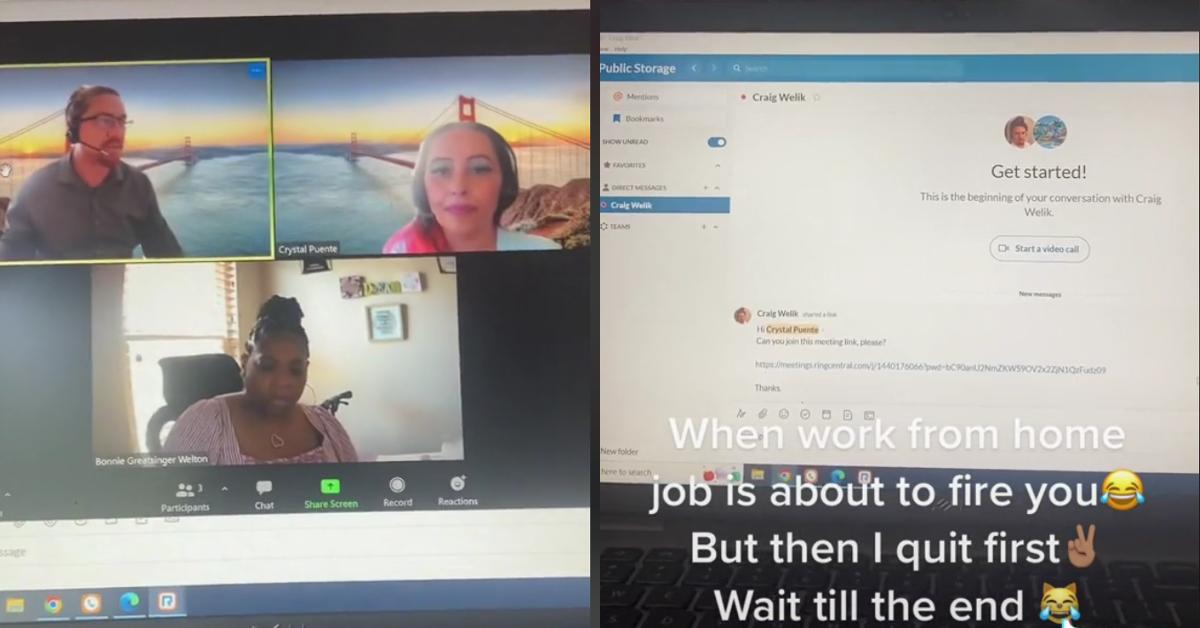 TikToker @soulfulofluv went viral on the popular social media platform after uploading a video of herself preemptively quitting a job she was about to get fired from. Her actions sparked a debate, with many viewers suggesting this move was probably not in her best interest.
Article continues below advertisement
The woman writes in a text overlay for the video, "When work from home job is about to fire you But then I quit first Wait till the end."
Many social media users have recorded themselves either quitting their jobs on the spot, or posting detailed videos explaining why they just can't do their jobs anymore.
Of course, there are also several TikTokers who've been fired from their jobs because they overshared on the app; for reasons ranging from sharing how much they're paid, to accidentally sharing sensitive "internal" information, like snippets of a conversation during a corporate Zoom call.
Article continues below advertisement
In the thirty eight second clip, we see three talking heads on a Zoom meeting. The man in the upper left hand corner who is wearing a headset appears to be speaking about @soulofluv's performance at work.
Article continues below advertisement

"I know you had a management counseling with Janelle on August 18, discussing sales performance quality assurance, had numerous and subsequent coachings with Gary Klein since then, but at this point we just have not seen any sustained improvements for our...in terms of our performance level."
Article continues below advertisement

From the tone of his voice, it seems pretty evident the speaker is gearing up to let the woman go. He continues, "Still averaging like the low sixty percent range, so at this point we've determined it's just not a good fit, so we're gonna-" and then the call ends.
Article continues below advertisement

"Goodbye," the woman recording the TikTok can be heard saying, "Gotta go, see ya!" In a follow up clip, she encouraged others to leave their jobs if they don't feel fulfilled by them. However, some TikTokers pointed out that, by "quitting" her job before she could get fired, she may have made a grave mistake.
Article continues below advertisement

That's because, if you quit of your own volition, in most instances you forfeit the right to collect unemployment benefits. Plus, if she worked at a company that offers a severance package, she would've presumably lost out on collecting that as well.
Article continues below advertisement

There were other folks who said that they've lost their own work from-work-home jobs over a video conference call (and it didn't feel so hot).
"I rode it out and let them fire me so I could get my severance, pto paid out and unemployment," wrote one commenter. "Ended up chillin for a year which was the best..."
Article continues below advertisement

"This isn't the dunk you think it is," another viewer said. However, some thought she should have left the call even sooner.
"I feel like you left the meeting too late lol," one wrote. "After he said no improvement I would've been like buh byaaa."
The TikToker revealed in the comments section that management attempted to call her several times afterwards, but she didn't give them a chance to finish their formal firing.
Article continues below advertisement

In another TikTok video, she clarified that, while she said that she "quit" her job on Zoom, she didn't hand in a formal resignation, so she was still officially fired.
All she did was just ignore correspondence from everyone until she was pushed out the door and taken off the payroll.
Article continues below advertisement

How do you think the TikToker handled it? Do you think her response was immature and indicative of the kind of performance she probably had at work? Or do you believe that this is an appropriate response if you're being terminated from a position, since you know you're not going to be working there any longer anyway?