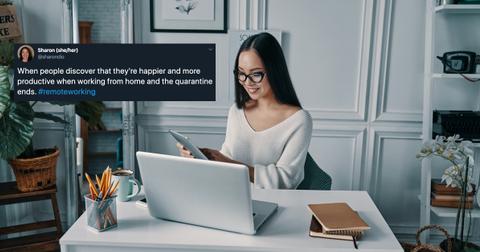 Memes About Working From Home During Coronapocalypse to Brighten up Your Virtual Office
By Lizzy Rosenberg

Updated
Amidst the current pandemic — which has been humorously deemed Coronapocalypse — several employers are having their employees work from home, to avoid catching or spreading the Coronavirus. However, since a virtual office is a strange and foreign concept for many, and because working at home can get excruciatingly lonely, we've compiled the best working from home memes out there. Enjoy, and happy quarantining!
This whole WFH experience will really put things into perspective.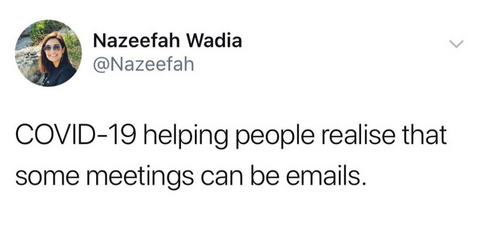 Nobody likes an unnecessary meeting, and since meetings don't happen while employees are working from home, hopefully this will help employers realize that some things really are better said in an email. Fingers crossed!
Some of us are truly thrilled about spending weekdays at home.
Seriously, this is GROUND-BREAKING.
And for some of us, it took a while to get to this point.
We don't want to say we faked an illness, but we were certainly getting close to doing so.
Now that you're eating at home, sad desk lunches cease to exist.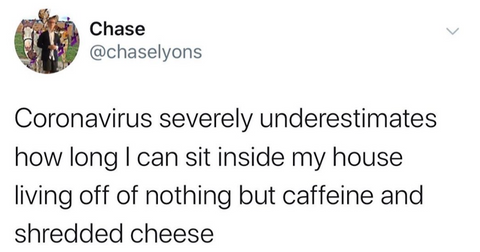 But instead of picking at that awful leftover salad or scarfing down bland turkey sandwich at your desk, you'll probably just be foraging for food and chugging coffee all day long.
Honestly, if we didn't work with the TV on, our apartments would be WAY too quiet.
Seriously, Dr. Phil isn't hindering our ability to work in any way at all! We swear!
But you'll soon realize that not getting dressed for work really changes you.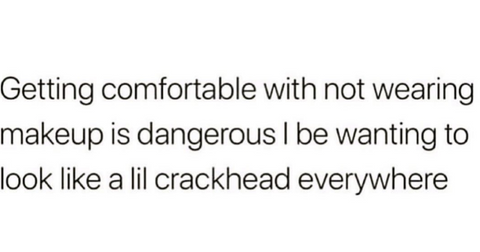 No makeup, no pants, no problem... this work from home situation is about to get really, really ratchet.
If you think about it, though, living life in leggings is truly marvelous.
We are changed people. Leggings and sweaters everyday! No pants on Friday! Sounds magical, if you ask us.
Instead, maybe you're using this opportunity to glow up.
When we get back to work, our skin will be clear, our hair will look amazing, and we will — for the first time ever — feel super well-rested. Watch out, guys and gals.
If we're not in the office, though, fair warning: our phones aren't in service.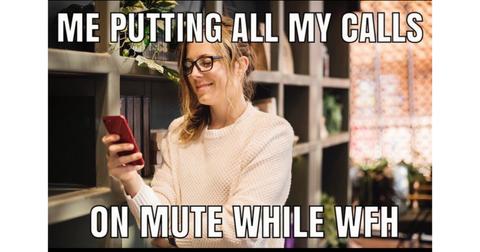 "Oh, sorry! That was my office line and I'm OOO."
Going back to work after all this is going to be undoubtedly painful.
We're going to have to commute, meal prep, and sit in an office for nine hours? It's only been a few days and we already can't imagine going back to that life.
In hindsight, though, working from home has its downsides (aka distractions).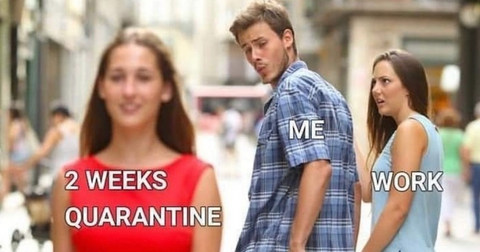 Having a dog, TV, and bed in the vicinity is definitely taking a toll on our quality of work, but hey, it's better than contracting COVID-19, right?
When having a meeting is legitimately necessary, it's going to be interesting.
There's always that one person who has absolutely no idea to do an online conference call. Damnit, Susan!
Lunch breaks are really just nap breaks at home.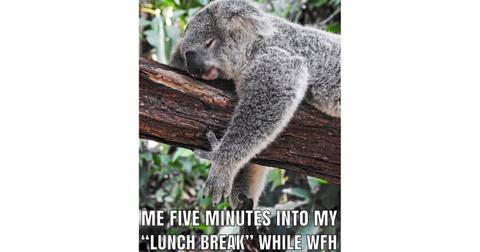 We have 30 minutes and a bed is here... do the math.
Your pup is your new work wife.
While your relationship with your work BFFs is a friendship like no other, there's no denying that being able to work alongside your pup is probably the greatest thing to come out of this crazy virus... even if he does seriously halt all productivity.
This next week is going to be simultaneously terrifying, hilarious, and really, really weird. So lighten things up with some memes! Send them to your co-workers on Slack! We swear, things will get better. But in the meantime, keep in mind that the best way to prevent contracting or spreading coronavirus is with thorough hand washing and social distancing.
If you feel you may be experiencing symptoms of coronavirus, which include persistent cough (usually dry), fever, shortness of breath, and fatigue, please call your doctor before going to get tested. For comprehensive resources and updates, visit the CDC website. If you are experiencing anxiety about the virus, seek out mental health support from your provider or visit NAMI.org.