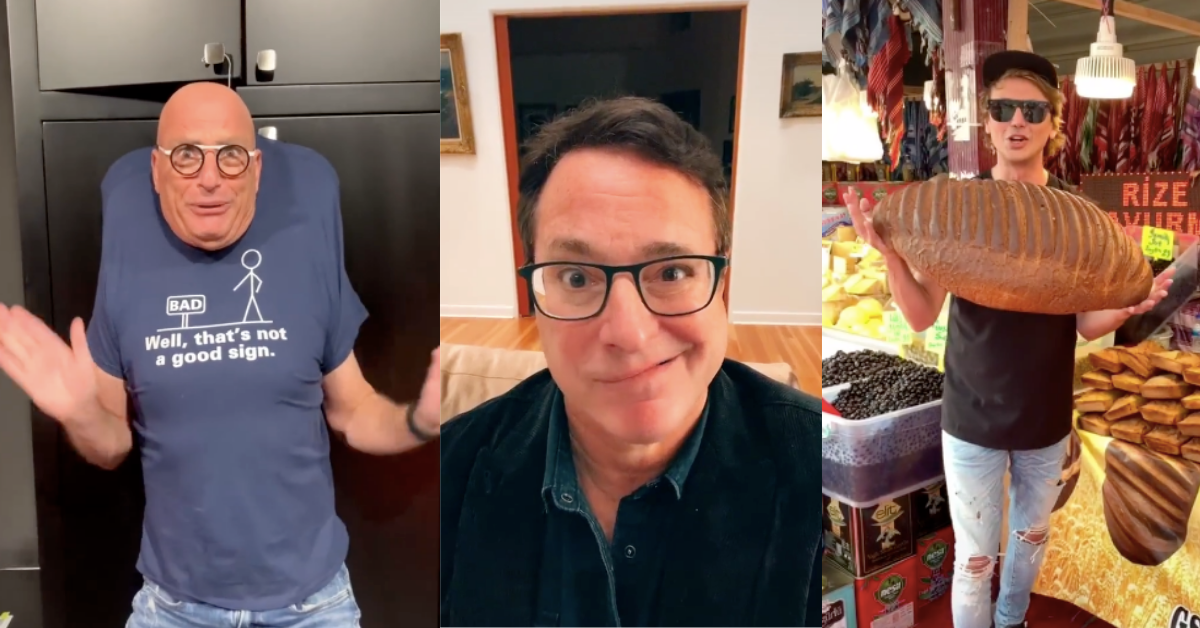 Avoid These Celebrities When You're Scrolling Through TikTok
TikTok has become the most popular app of the moment and was the No. 1 most downloaded app in 2019. The app is gaining steam, and there are no signs of its growth stopping. With all the eyes on the app and its user base growing exponentially day by day, it's no wonder that celebrities from other social media platforms, like YouTube, and even some A-list stars, have joined in on the fun of TikTok because, duh, they like attention.
Article continues below advertisement
And while some celebrities have been killing it on the app, bringing laughs and quality content, like Lizzo and The Jonas Brothers, there are some others who are just way too cringey for words. Sometimes, it's just better to stick to what you know, Bob Saget.
These are the worst celebrities on TikTok — avoid them as you scroll!
A lot of users take up an issue with celebrities coming onto TikTok and essentially "ruining" the app with unoriginal content and product promotion. At its core, that's not what TikTok is about. We've rounded up some of the worst celebrities on TikTok so you can steer clear while you're mindlessly scrolling.
Article continues below advertisement
David Dobrik
Now, before we get raked over the coals, David is fine in general! But we think that maybe he should stick to his stronger platforms, like YouTube! He's a perfectly positive presence in the internet world, but his TikTok content, for some reason, makes us cringe!
Article continues below advertisement
Jojo Siwa
If you can handle Jojo Siwa in any way, shape, or form, we salute you. We're pretty sure she is a 4-year-old girl trapped in a 16-year-old's body. Her high-energy persona is a lot.
Article continues below advertisement
Jonathan Cheban
Jonathan Cheban, also known as Foodgod, doesn't really know how TikTok works in general, treats the app like Vine, and is just overall not funny at all. We think it's best that he sticks to taking photos of his meals.
Article continues below advertisement
Charli XCX
We're not sure what is happening with Charli XCX's TikTok account, but it's pretty bizarre. Slamming your head over and over into the camera while EDM music blasts in the background is not exactly high-quality content.
Article continues below advertisement
Howie Mandel
We're not about to be ageist and say that there is no room for older people on TikTok. That's just not true and it's good to have a diverse age group on any social media platform! It adds variety to the app. That being said, Howie Mandel is on TikTok and it's just a mess.
Article continues below advertisement
Fall Out Boy
Are we going to ignore the fact that Pete Wentz called other people's TikTok videos "musicals"? Sometimes, when your publicist says that you should join a new social media app because it's becoming popular with the kids, you might want to rethink it. (Side note: Fall Out Boy drummer Andy Hurley did a TikTok on their account and it was pretty great.)
Article continues below advertisement
Bob Saget
Danny Tanner — what are you doing? Bob could have so much potential on the app if he put a little more effort into his performance. While lip-syncing to "Old Town Road," he barely syncs with the music and seems overall disinterested. Maybe he's just bored?