Double Threat: These Celebs Are Also Bonafide TikTok Stars
13 best celebrity TikTok accounts for those interested in seeing a more lighthearted side to these serious actors and musicians.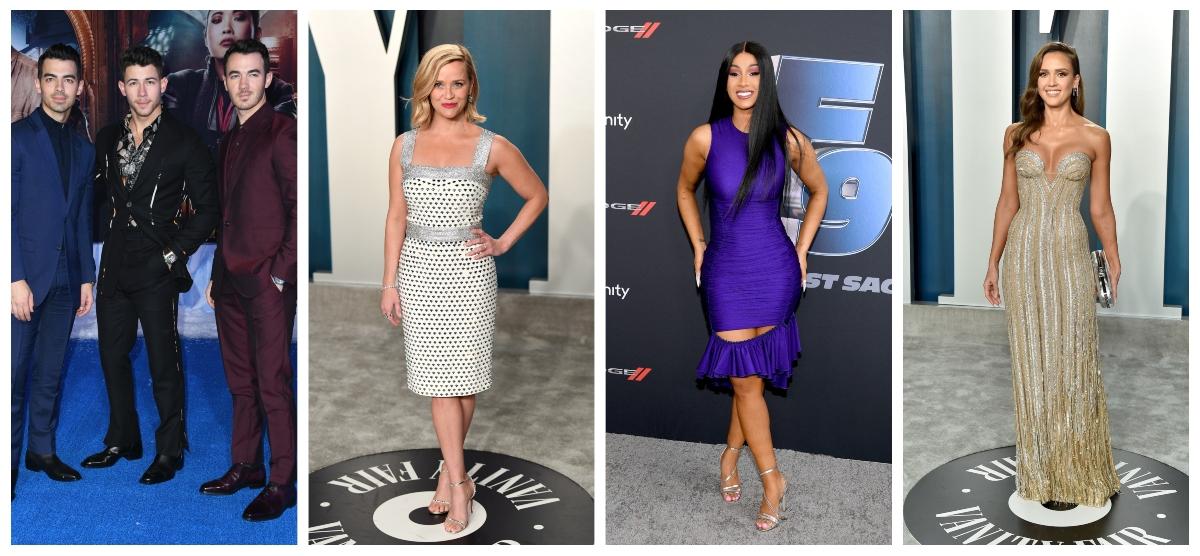 Since TikTok became the No. 1 most downloaded app in 2019, many A-list celebrities have joined in on the fun and made channels for themselves. Long gone are the days when top stars would shy away from social media in favor of their careers, as it's now almost a requirement for celebrities to engage with their fans on these apps.
Read on for the 13 best celebrity TikTok accounts that prove, in addition to being preeminent film or music powerhouses, that they're social media stars too.
Article continues below advertisement
1. Jonas Brothers
We truly didn't know how much we missed the Jonas Brothers until they made their comeback in 2019 after a six-year hiatus. They've dropped hits ever since, including "Sucker" and "What a Man Gotta Do," and they're at the top of their Instagram comments' game. When They joined TikTok after "Sucker" went to No. 1 on the Billboard Hot 100 and, like a fine wine, their content has only gotten better with time.
When they posted a parody video of the 2008 Disney Channel Original Movie Camp Rock, complete with Joe in an early Justin Bieber days-esque wig, it went viral.
2. Reese Witherspoon
Reese is a social media expert, with an Instagram page that features many appearances by her A-List friends and the firsthand scoop on her eponymous Book Club recs. Her TikTok page is just as amazing. After getting a crash course in what TikTok actually is from her cool teen son, Deacon Phillippe, Reese created her own channel and soon raked in the followers. Though she only has six posts, she's all about posting quality videos. Her most popular to date includes her unboxing Beyonce's infamous Ivy Park swag press box, and it does not disappoint. Reese is basically us when she's opening Beyonce's package (well, us if we ever received a gift from Queen Bey herself).
Article continues below advertisement
3. Jessica Alba
Nothing paralleled Jessica Alba's behind-the-scenes Oscars 2020 coverage on her TikTok page. She enlisted Sofia Vergara for a dance challenge (and it was the Modern Family star's first-ever TikTok) and, later in the night, she showcased Leslie Mann and Kelly Sawyer also doing a challenge. Jessica is one of the few stars on this list who engages with TikTok like its original stars — by using viral songs and the dance challenge of the week.
Plus, she also has videos of her adorable kids on the channel, which is worth a follow in and of itself.
Article continues below advertisement
4. Cardi B
The rapper hasn't posted a ton of videos on her TikTok, but the ones she has embody her personality perfectly. In addition to having a slowed-down remix of "Motorsport," she also engaged in a wrap (yes, with wrapping paper) battle with her husband, Offset, during the holidays. A few of her posts have been sponsored, which means she's still doing all she can to make Money Moves.
Article continues below advertisement
5. Miley Cyrus
If you want to see what the singer is up to on TikTok, then you'll probably want to wait until you're home because some of her content is NSFW. (The above video is safe for work, though.)
Miley introduced her relationship with Australian singer Cody Simpson to the world via TikTok (and by shoving her hand down his pants, no less) and she's still just being Miley in her other videos too.
Article continues below advertisement
6. Lizzo
It's 2020 and people basically can't get enough of Lizzo. From her songs to her body positive rhetoric, the singer is a must-follow for those who have found themselves dancing along to "Truth Hurts" at least once. She promotes her music on the channel, with her songs serving as the background to hilarious content, and she also participates in Dance Challenges, which gets her a ton of views on her videos.
Lizzo also shows off the fruits of her labor on her TikTok page, with vacation videos that would make anyone jealous.
Article continues below advertisement
7. Justin Bieber
So Justin may have mainly made his TikTok channel so he could promote his single "Yummy," but for someone who has spent much of the last few years out of the public eye, we'll take it. The catchy song is in the background of all but one of Justin's 11 videos, so don't bother following if you don't like the song.
Plus, "Yummy" became a popular backtrack for many viral TikTok videos, so his decision to start a channel more than paid off.
Article continues below advertisement
8. Amy Schumer
We'd expect nothing less than a hysterical TikTok page from comedian Amy Schumer, and she delivered. She created a channel when she was pregnant with son Gene and hedged haters by saying "I can't pass up the chance to be called fat on a new social media." She chronicled her pregnancy woes and then showed off how adorable her son is on her TikTok.
Article continues below advertisement
9. Jimmy Fallon
Jimmy's channel is technically for The Tonight Show, but it's perfect for anyone who finds themselves watching YouTube clips of his guests and those who crush the Musical Genre Challenge. TikTok compresses these videos down to a very-watchable few seconds, meaning you can find out how Ariana combined a goth sound with Kendrick Lamar's "Humble" in under 20 seconds.
Article continues below advertisement
10. Keke Palmer
Known for her viral story on Steve about how Rose definitely had room on the door for Jack in Titanic and her "Sorry to this man" interview, Keke Palmer brings that same level of funny on her TikTok channel. She also had her Strahan, Sara, and Keke co-stars join her in a TikTok challenge, which showed off a fun behind the scenes moment for the three (which hopefully means Michael Strahan is having a better time than he did when he was on Live! With Kelly and Michael.
Article continues below advertisement
11. Dwayne "The Rock" Johnson
When he's not starring in an action film, hosting, doing his intense all-day workouts, or chronicling his cheat days, The Rock is a TikTok star. The Jumanji actor showcases his bromance with Kevin Hart and inside looks at his latest work ventures.
Article continues below advertisement
12. Meghan Trainor
Like Justin Bieber, Meghan is definitely promoting her songs on the app, but she also has a lot of non-music-related content on TikTok. Her husband Daryl Sabara, and older brother are both frequent fixtures in her videos. Plus, she did a post-Wisdom Teeth removal video, which shows her dedication to the app.
Article continues below advertisement
13. Britney Spears
Britney's social media presence has long been a topic of conversation for fans, and she shows off more of her home life on her TikTok page. Her TikTok can also serve as #fitsperation since she often demonstrates her intense workout routines on her short videos. Leave Britney alone? We'd rather be looking at her TikTok.