WWE Fans Are Stoked to See That Sylvain Grenier Is Back With the Promotion in a New Capacity
Canadian superstar Sylvain Grenier's name is being tossed around a lot recently, as it appears that he's re-signed with the WWE in a new role.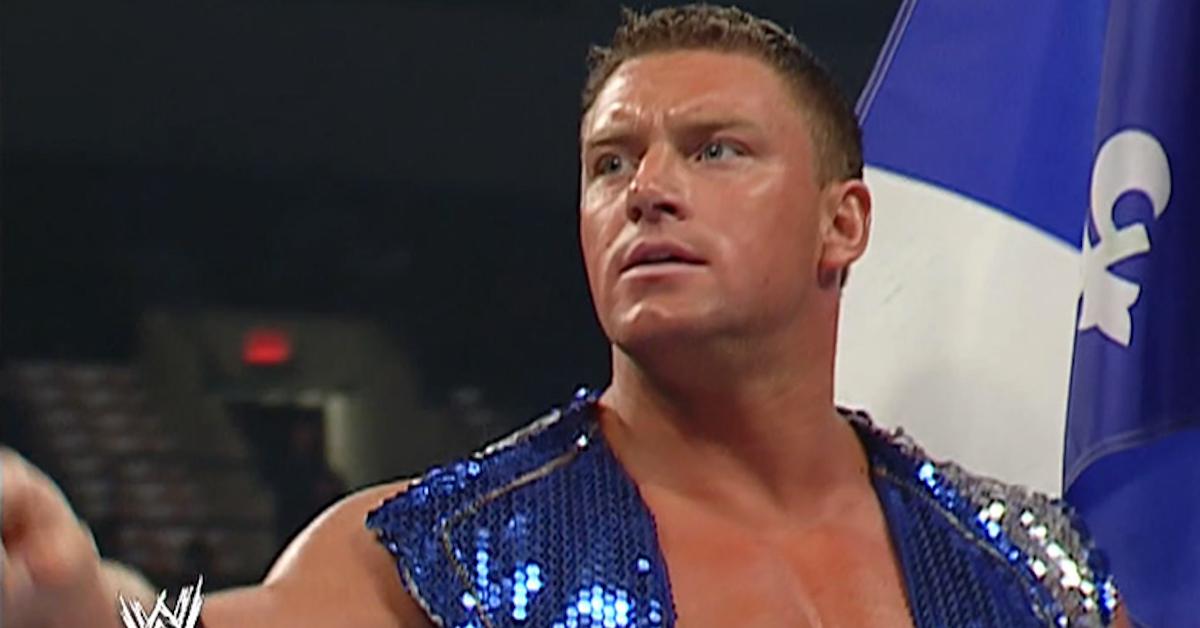 Between 2003 and 2007, Sylvain Grenier was part of the popular and successful tag-time group La Resistance in the WWE — winning the tandem titles a whopping four times. He did so once with Rene Dupree and three other times with Rob Conway. After he was released with the organization, he ended up becoming a French language commentator for TNA Impact! wrestling, while still making appearances on the independent circuit.
Article continues below advertisement
What's Sylvain Grenier doing with the WWE now?
As it turns out, Grenier was actually hired as a backstage agent for the promotion, and spoke with TVASports.ca about the experience. Sylvain explained his new position began last week at RAW in Kentucky, "For the moment, I'm in training. But eventually, I will be assigned to the red team or the blue team, RAW or SmackDown. I'm going to do a TV show a week, every PPV and once a month, I'm going to tour house shows." Sylvan told the outlet.
Apparently, the wrestler's return to the organization started way back in April of 2019, while Sylvain met up with Kevin Dunn of WWE to ask if he could use some old pictures of himself in the squared circle back in the day for usage on his fitness show. In that meeting, Dunn had informed Sylvain that the WWE was looking for agents and after some back and forth, Sylvain was getting flown out on the company's behalf for the debut of SmackDown on Fox.
Article continues below advertisement
Jazzy Gabert's contract is ending, though.
While the re-introduction of a former WWE employee has just occurred with Sylvain, it seems that one of the company's prospects, NXT Diva Jazzy Gabert, announced that she will become a free agent after her contract with the WWE expires. Where will she end up? Well, I'm pretty sure that the AEW is more than willing to pony up some cash for the 6-foot-1 German wrestler.
Article continues below advertisement
The "Alpha Female" was also a powerlifter and mixed martial artist before finally settling on the world of Sports Entertainment. In addition to becoming a breakout star for NXT, Jazzy also wrestled for World Wonder Ring Stardom and Impact Wrestling.
Speaking of mixed martial artists, it seems like a lot more of them are getting into the WWE. Most recently it was Cain Velasquez. But perhaps the most popular of them all was a trailblazing women's MMA fighter, who went by the "Rowdy" moniker.
Article continues below advertisement
Ronda Rousey's WWE Salary
Despite having a rather short stint in the WWE (only 232 days) Ronda Rousey capitalized on her fame and was able to make a decent amount of money — at least a $1.5 million salary, which doesn't include profit shares of her branded merchandise. Her base reported salary is fairly high for a WWE superstar, the second highest paid women's wrestler on the roster, Charlotte Flair, made a cool $550,000.
John Cena leads the pack with some $10 million in WWE earnings in 2018 alone and he's followed by Brock Lesnar, who earned $6.5 million, which isn't bad when you consider his on-again, off-again status with the organization. That makes him the highest paid MMA star to ever transition to the world of professional wrestling, but there's probably another fighter who could smash that record if he ever decided to cross over.
Article continues below advertisement
Will Conor McGregor ever come to the WWE?
Before his return to the UFC cage at 170 pounds against Donald Cerrone, there was a lot of speculation as to what Conor was going to do. Some thought that he might go to the WWE after tapping to a neck crank against Khabib Nurmagomedov. That didn't happen. Others thought that if he lost to Donald and didn't make a splash in his return, it wouldn't be long until Vince picked up the phone and gave him a ring.
Article continues below advertisement
However Conor's UFC return was absolutely explosive. He needed only 40 seconds to put a creative shellacking on Donald Cerrone with some vicious shoulder strikes and a wonderful left high kick set up that left the veteran stunned and turtling up. So it appears Conor won't be joining the WWE's fold anytime soon.
It seems that it's best for the pro wrestling business as a whole, however, if those dedicated to the wrasslin' game for the long-term get promoted/hired in it.
Which is probably why the WWE's bringing back Sylvain Grenier as a backstage agent where he can work as a liaison between wrestlers and higher-level management. He'll also take part in helping to train some of the more green superstars, paving the way for the next generation of folks on posters that kids'll be plastering all over their walls.