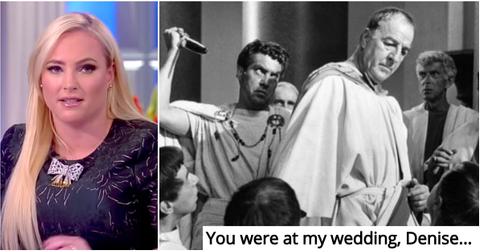 How "You Were at My Wedding, Denise" Became Everyone's Favorite New Meme
By Amber Garrett

Updated
A comment from Meghan McCain in response to a drag on Twitter has launched everyone's favorite new meme: "You were at my wedding, Denise."
If you have been on a Twitter diet for the past couple days, you might have missed the insult that launched the instantly quotable retort from the 34-year-old The View host. Here's a brief explainer on how this clapback came to be, plus the best memes spawned from the hilarious interaction.
D.C. McAllister tweets a pointed barb about The View and its hosts.
On March 25, Denise C. McAllister, a contributor to conservative outlets like The Federalist, Real Clear Politics, and Fox News, tweeted out a link to a story about The View — and, more specifically, Meghan's role as the conservative voice on the panel — posted to a pro-Trump commentary site called ILoveMyFreedom.org.
Understandably, Meghan didn't take kindly to Denise's characterization of the panel as "a roundtable of delusional mental midgets." And, to add insult to injury, it seems the two women have a personal history, as evidenced by Meghan's now viral response.

Denise later clarified that her comment was not directed at Meghan but rather her cohosts. 
"I think the photo on the story made it look like this was personally directed at you, Meghan. My comment was directed at The View and the mental midgets who surround you," she explained. "I don't even know how you do it daily and my hat is off to you for standing strong in the midst of crazy."
Meghan seems to be comfortable with her tweet becoming the new "Bye, Felicia" as many have deemed it. "You were at my wedding, Denise..." can be everyone's clap back to everyone, everywhere, forever," she wrote. "My gift to the internet. Thank you for the support."
Denise understandably is less amused.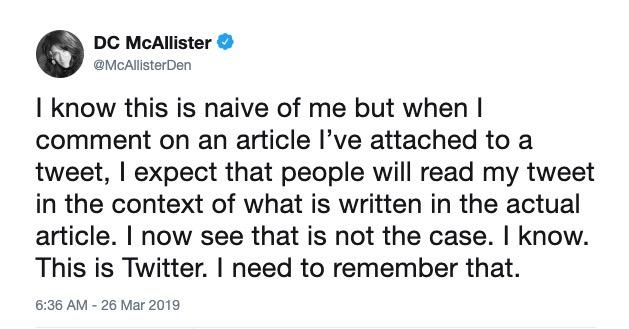 "I know this is naive of me but when I comment on an article I've attached to a tweet, I expect that people will read my tweet in the context of what is written in the actual article," she wrote. "I now see that is not the case. I Know. This is Twitter. I need to remember that."
Honestly, I find it weird that Denise, an online journalist, is just learning this. There have been multiple articles citing the statistic that close to 60 percent of people will share or comment on a story having read nothing more than the headline. But I digress.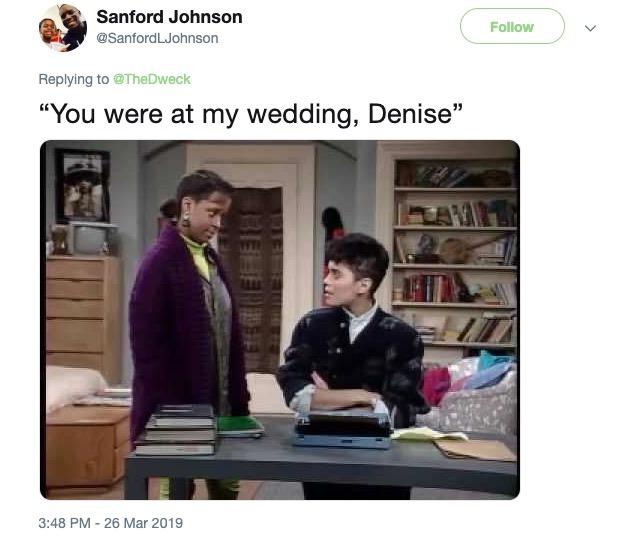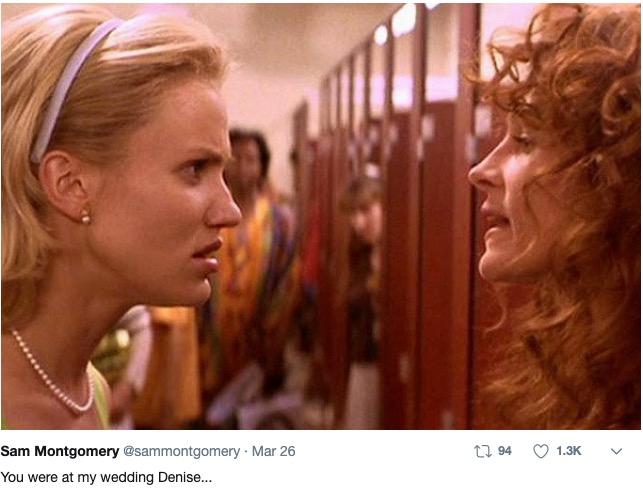 One person pointed out that the quote could replace the caption for a ton of New Yorker cartoons. Really, try it and tell me it doesn't work with the overwhelming majority of the one-panel comics.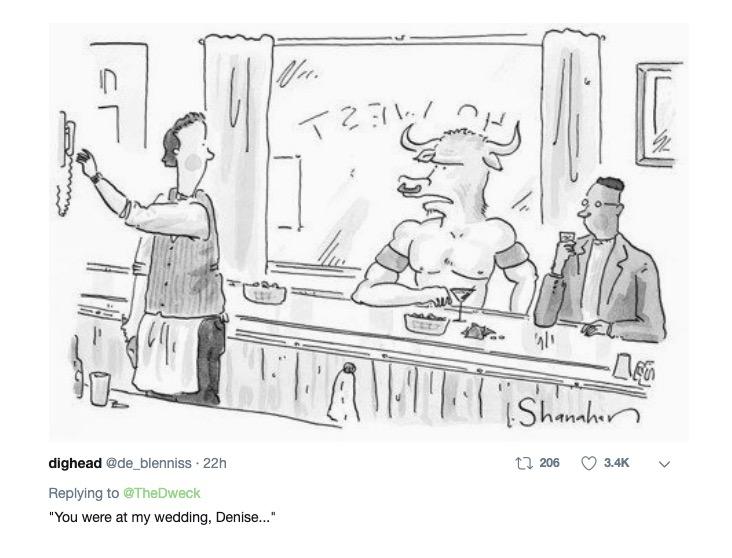 So there you have it — your new favorite tagline explained. Use it freely for the Denises in your life.