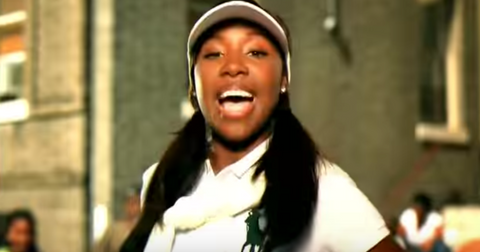 Young B, Who Originally Sang "Chicken Noodle Soup," Is Still Making New Music Today
By Gina Vaynshteyn

Updated
As if having "Chicken Noodle Soup" stuck in our heads all day long wasn't enough, J-Hope started the "Chicken Noodle Soup Challenge" (aka, the #CNSChallenge) on TikTok, where he performs his chicken arm-flapping dance move and encourages fans to post their own versions. Is "Chicken Noodle Soup" the official song of fall? If so, we are totally okay with that. But did you know that "Chicken Noodle Soup" is a remake? 
Who are the original "Chicken Noodle Soup" creators, Webstar and Young B?
"Chicken Noodle Soup" by Webstar and Young B (featuring AG aka The Voice of Harlem) came out in 2006 and it was just as catchy then as it is now.  DJ Webstar's real name is Troy Ryan, and he's 32 years old. He released three albums, Webstar Presents: Caught in the Web (2006), Uptown Harlem (2008), and The Rooftop (2009). The rapper and producer hasn't dropped new music in awhile.
Young B, who's basically the star of the original "Chicken Noodle Soup," is 28 years old now and her full name is Bianca Bonnie Dupree. She was born in Harlem, New York, and attended NYU. In 2015, Bianca Bonnie was cast in VH1's Love & Hip Hop: New York, and stayed on as a regular in Season 7 and 8. Judging from her Instagram, Young B (although she goes by Bianca Bonnie these days) is still performing. On March 13, 2019, she headlined for the UNDR RVTD tour in New York.
Back in 2015, Bianca Bonnie sued her ex-promoter for trying to get 50 percent of her earnings from Love & Hip Hop. According to The Daily News, Bianca broke off contact with her ex-promoter Arthur Smith five years prior to the VH1 show airing. The feud escalated to the point where the producers for Love & Hope Hop told her if she didn't settle with Smith, they'd have to drop her from her lead spot. It's unclear whether (or how) the battle was ever resolved.
Bianca Bonnie still puts out new music, which you can listen to on Spotify. Her last full album, 10 Plus, came out in 2018, but she most recently released a single called "Celebration" (with DJ Did, featuring Reko) in July. 
Just FYI, Bianca Bonnie is a *really* talented rapper. Hopefully, with all the renewed interest in "Chicken Noodle Soup," Bianca Bonnie can snag some of the spotlight.
Have fun trying to get both versions of "Chicken Noodle Soup" out of your head this weekend!