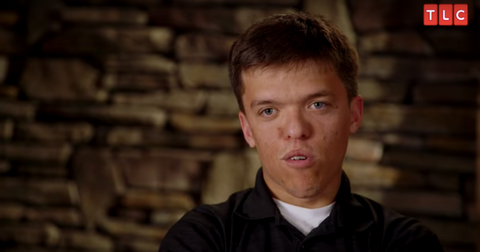 Does 'Little People, Big World' Star, Zach Roloff, Need Back Surgery?
By Katie Garrity

Updated
TLC's Little People, Big World has 19 seasons under its belt and another one premiering March 2020. Through the years, we've seen the Roloff family go through so much and grow up before our eyes.
We've seen the patriarch of the Roloff family, Matt, go through troubled times with a DUI. We've seen Matt and Amy also go through a divorce and all the drama that followed. And we've seen their son, Zach Roloff, grow up, fall in love, and have a family of his own. We've also watched as he has gone through some pretty serious health issues, including problems with his back that may require surgery.
Zach Roloff has been a fan favorite on 'Little People, Big World' for years.
Throughout all the trials and tribulations of the Roloff family, Zach has remained a fan favorite for many Little People, Big World viewers. Zach married his wife, Tori, and the couple has two children together — 3-year-old Jackson, and 4-month-old Lilah.
Zach suffers from achondroplasia, which is a bone growth disorder that causes disproportionate dwarfism. Dwarfism is defined as a condition of short stature upon reaching adulthood. Achondroplasia is the most common type of disproportionate dwarfism and is common in men and women as well.
Zach Roloff has endured many health issues in his life.
According to In Touch Weekly, Zach told his wife, Tori, that he once had to have a leg straightening procedure performed on him when he was a kid. "I had to have leg straightening, so I had two casts on. Then I had to go back into surgery sophomore year of high school, they added screws to the leg," he said.
It seems that his past health issues have paved the way for more issues recently. The reality star shared on an episode that he was experiencing a lot of back and leg pain. He told his wife, "There's like a tightness to my thighs, there's a weakness in my knees. Something's not going right."
He was later diagnosed with a degenerative disc disease that is causing the spinal canal to narrow. Zach explained that the condition is quite common for those with achondroplasia to develop but that average-sized people only get it when they're older.
Surgery is likely the next step for Zach Roloff when he's ready.
With the diagnosis, it looks like back or spine surgery may be the next step for Zach, which has Tori worried. "I am scared. That's the worst-case scenario in my head for him to have surgery. I'm trying really hard not to panic," Tori said during the episode.
Zach was also caught off guard by the news, stating, "Two months, three months ago, I was in a soccer tournament, and now I have arthritis in my back? What's going on here?"
Zach seems to be managing the diagnosis for the time being.
At this point, Zach seems to be getting the help he needs for his back and putting off the idea of back surgery for now. He has also stated that he may still be in denial about it.
He posted to Instagram, "So if you've been following the story on LPBW, I had a back injury back in October (herniated disc) and this past week after months of physical therapy (thanks to @atipt Hillsboro and my pt Kaitlin) I was able to get back on the field and play."
Catch the new season of Little People, Big World on Tuesdays at 9 p.m. on TLC.