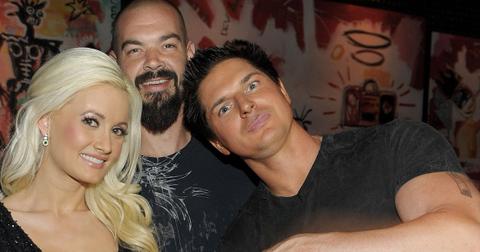 Is Ghost Adventures' Zak Bagans Dating Playmate Holly Madison?
By Distractify Staff

Updated
Investigating paranormal occurrences has become a 24-7 gig for Ghost Adventures' Zak Bagans over the years. The 43-year-old often takes work home with him — literally — especially after purchasing a haunted house and experiencing spirits attaching themselves to him, according to his own accounts. And it seems focusing so much on his job hasn't left a whole lot of room for romance. While Zak Bagans does not have a wife and kids, we do have some insights into his romantic life.
Article continues below advertisement
Zak Bagans doesn't have a wife, but he has been rumored to be dating Holly Madison.
The pair had met years before, but they reconnected in May 2019 when Holly came to visit Zak's Haunted Museum in Las Vegas. TMZ got confirmation in June that the two were an item, but anyone who follows Zak on Instagram probably already knew that when he shared this cute caricature of a ghost Holly literally stealing his heart.
Article continues below advertisement
Prior to dating Zak, the 40-year-old former star of Girls Next Door was married to Pasquale Rotella until February 2019. They share two kids together who are fairly young, so it's possible Holly tries to keep her personal life as down-low as possible for their benefit, because she has posted relatively little about Zak.
Nevertheless, in December, they still seemed to be going strong, when Holly commended on a post of him, "Ur cute BB." It seems she has since deleted the comment, though. Does that mean they're over?
Article continues below advertisement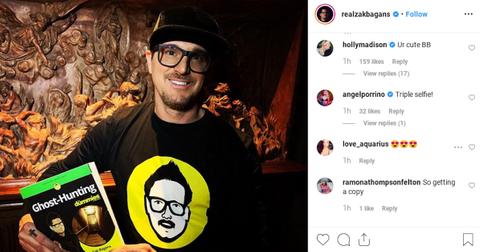 It's possible Holly and Zak are no longer an item. However, Holly still does leave one clue that she and Zak may still be involved. Her IG bio lists among her occupations "Future ghost 👻," which feels like an obvious nod to Zak's line of work and that adorable picture of her apparition stealing his heart.
The other love in Zak's life is his dog, Gracie, who is far more likely to pop up on his Instagram or Twitter than anyone he's dating.
Article continues below advertisement
Another past love of Zak's, Christine Dolce, tragically passed away in 2017.
Prior to linking up with Holly, not much is known about Zak's previous romances, though he was involved for some time with Christine Dolce, who was at one time known as the Queen of MySpace and was basically one of the first social media influencers. Sadly, Christine, who was known also known as "Forbidden," struggled with substance abuse and died of liver failure in February 2017.
Article continues below advertisement
While their relationship had long since ended, Zak still expressed his sorrow over news of her passing, saying, "She will be missed, may she RIP."
It's safe to say Zak's first and biggest love is hunting ghosts. He has been connected to the paranormal since he was 2 years old, he told Las Vegas Magazine in 2017, and his earliest memories involve spirits and creatures talking to him. "It's not just a career, it's my life, my passion; it's what I love to do," he said. "It's fun going on investigations, and helping people—it's an adventure."