The Funniest Zoom Fails to Happen During Quarantine
With online classes and virtual meetings becoming the new norm, these WFH Zoom fails will make you laugh and cringe at the same time.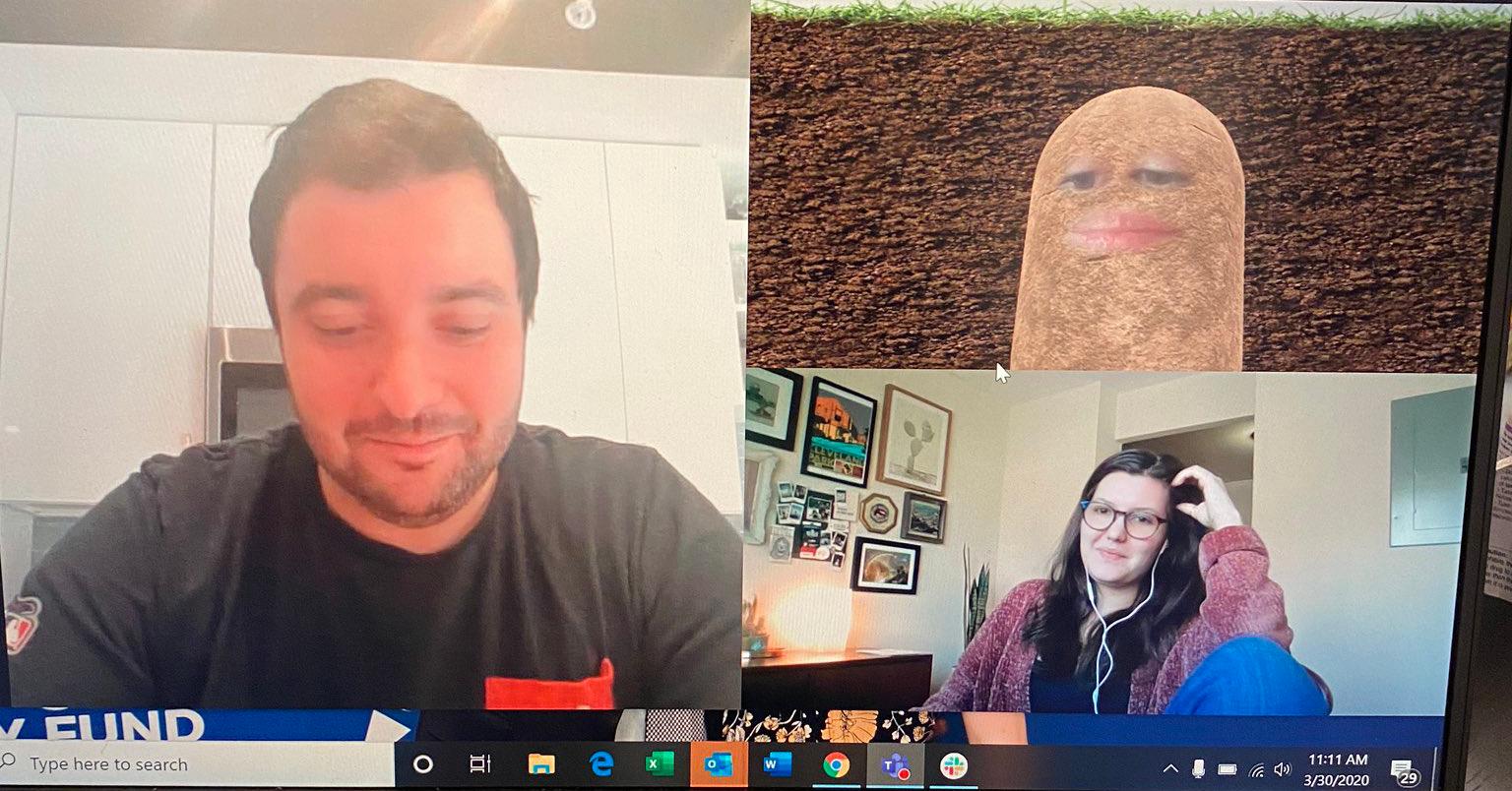 With most of the country going digital amid the COVID-19 pandemic, the video conferencing service Zoom has become an everyday staple for office workers and students. Between online meetings and digital classes, Zoom fails are abundant right now — and they're all equally sad and hilarious.
Here are some of the funniest Zoom fails that have happened since social distancing guidelines were put in place.
Article continues below advertisement
Getting dumped over Zoom is worse than in person.

In case the quarantine wasn't enough to worry about, imagine getting dumped over a Zoom call while in quarantine.
Buzzfeed writer Julia Moser shared her story with the outlet, explaining that a guy she had started dating just before social distancing guidelines were put in place gently broke things off with her over a Zoom call — because "the quality was a little better than FaceTime."
"It also feels pretty s--tty to be in your childhood bedroom when you get a "Hey are you free to talk later?" text, and then you make the call, only to have your dad yell something incomprehensible at you from downstairs and you have to yell back, "I'm in the middle of something, Dad!" and that something is being dumped," she wrote. "It didn't help that the internet connection wasn't great so we kept freezing, and I said, 'we're breaking up' and we were!"
Article continues below advertisement
But getting dumped while in an online class is probably worse.
This is why you should always make sure your microphone is muted — and maybe move your breakup conversations to the chat if you feel the need to dump your significant other during the middle of a lesson.
We're also not clear why anyone would pick a class, let alone an online one, to pick a fight with their boyfriend, but to each their own.
Article continues below advertisement
For the love of God, please wear pants on your calls.
One of the really cool things about all meetings and classes being held digitally is that pants are optional! But just because you can forego clothes, doesn't mean you should.
Of course, this isn't the first time something like this has happened. Our only advice is if you're not going to listen to us, at least make sure you turn your camera off before getting up.
Article continues below advertisement
Make sure you're not going to be interrupted while on a call.
Sometimes, even if you do everything to appear professional in the comfort of your home, the people you live with will be the ones to ruin it for you.
Again, maybe during business hours, just wear pants? Even if you don't have a Zoom meeting scheduled.
Article continues below advertisement
Poor Jennifer.
How can we forget poor Jennifer, who forgot to turn her camera off when she decided to take a bathroom break during a conference call. Unfortunately, she realized a little too late that her camera was still on — and then someone posted it on the internet for everyone to laugh at. Poor Jennifer.
Article continues below advertisement
Close your tabs before sharing your screen.
John Peng Zheng, a business analytics professor at the University of Miami, was fired after a video went viral that showed one of his bookmarked tabs to be "Busty College Girls Fu..." The video was taken during one of the professor's Zoom classes.
Per The Miami Hurricane, a student in the class took a video zooming in on the tab, which he then posted to TikTok. After the video accrued more than 800,000 views, University of Miami administrators requested that the student take it down.
Article continues below advertisement
The professor taught several more classes before he was fired from the university. Though the original viral video has been taken down, screenshots have continued to get attention online.
Even if your tabs consist of "funny cat videos" and queries about when this will all be over, it's always just a good idea to close them out before you share your screen.
Article continues below advertisement
The best way to prevent contracting or spreading the coronavirus is with thorough hand washing and social distancing. If you feel you may be experiencing symptoms of the coronavirus, which include persistent cough (usually dry), fever, shortness of breath, and fatigue, please call your doctor before going to get tested. For comprehensive resources and updates, visit the CDC website. If you are experiencing anxiety about the virus, seek out mental health support from your provider or visit NAMI.org.