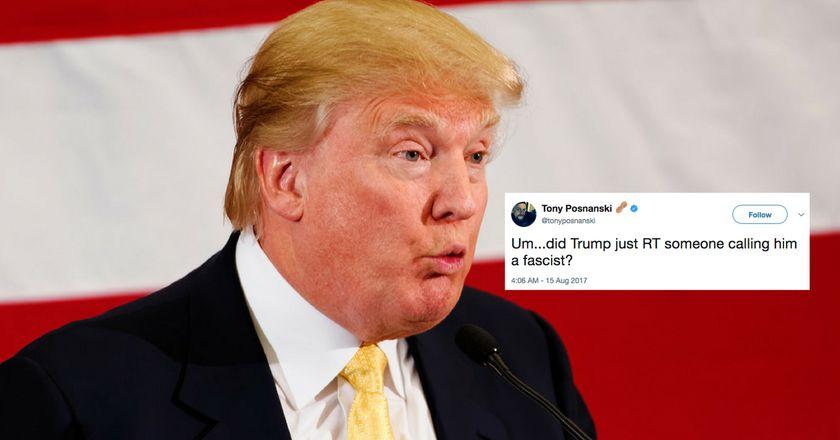 Trump Accidentally Retweets Tweet Calling Him A Fascist, And People Can't Stop Laughing
By Brian Skellenger
Well, Donald Trump had an interesting day on Twitter this past Tuesday.
In the morning, he retweeted a tweet that called him a "fascist," presumably by accident, as the retweet was later deleted. Or maybe it was a little miniature Easter he was working for all of his die-hard fans and followers who pay close attention to his Twitter account. Or maybe it was a Freudian slip.
Anyway, the screenshots screenshots ended up going viral, because the President of the United States basically admitting they're a Fascist is big news.
Some wondered if Trump even knows what "fascist" means, perhaps it's a compliment? Maybe being a Fascist is a good thing? (it's not).
The hero whose tweet was retweeted was stunned that the President pretty much agreed with him.
Sadly, it wasn't the only questionable decision Trump made on Twitter in recent hours. The man pretty much does something every single day that would've gotten any other President impeached or forced into resignation. Can you imagine the kind of blowback Barack Obama would've received if he did a 1/100th of the things that Donald Trump did? It just goes to show that brain-dead morons who've decided to stick by someone no matter what they do don't care about judging someone on their character or the work they're actually doing, but the comforting lies that they tell themselves in order to keep the fabric of the world they've created intact. Well you can't change truth, there's no such thing as alternative facts: Donald Trump is a blowhard idiot and you're stupid for thinking anything different.
And users were quickly to compile a list.
We probably know where this is headed.
Another stellar day for President Trump.