Woman Sends Vicious Texts to Date Who Wouldn't Pay for Her $100 Dinner
A woman went off on her date via text for expecting her to pay for her part of the meal after she ordered one of the most expensive things on the menu at their restaurant.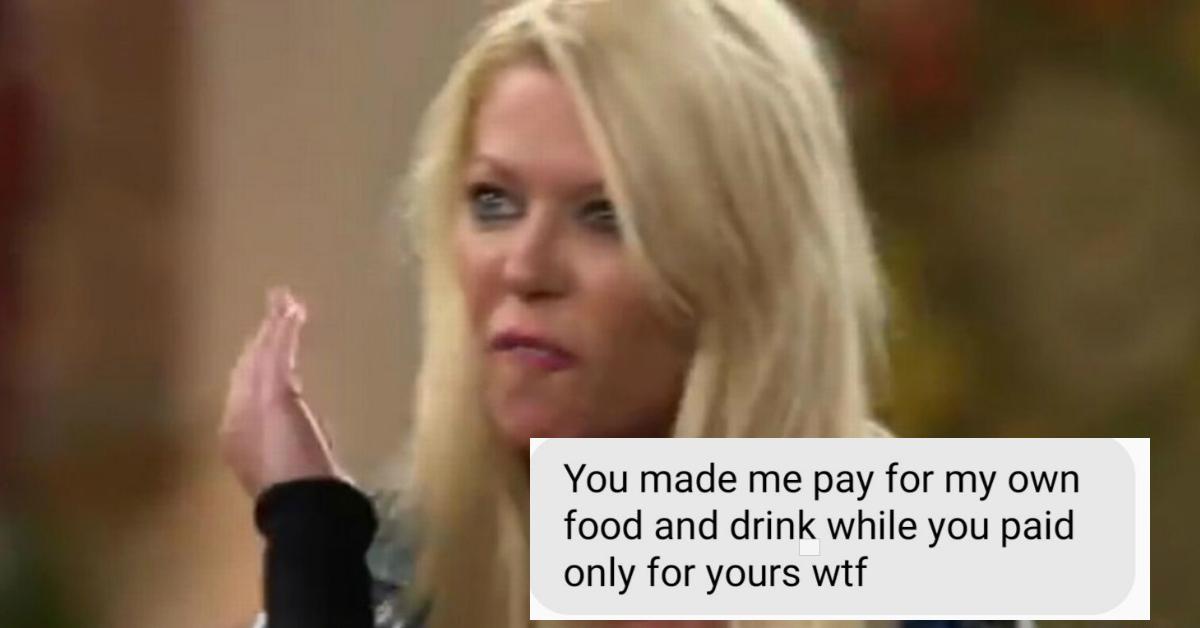 Traditional gender roles, whether people like them or not, still play a big part in modern romance. Dealing with them isn't always easy: I've had my fair share of Larry David-esque moments when, back when I was dating, people got upset that I held the door open for them or assisted them with putting on their coat. I mean, I like it when someone holds a coat up for me in the rare occasion it happens, so I still don't know what the big deal is, but I digress.
Article continues below advertisement
One big gripe I hear from a lot of my guy friends who are still dating is that it gets to be pretty pricey. I tell them just wait until you're married (bah-dum-tiss), as they groan whenever a potential date suggests a spot that has three or more dollar signs on Yelp.
When I suggest "going Dutch," they all pretty much vigorously shake their head and say that it's impossible — that, while a lot of dating "protocols" have changed, the dude is still expected to pay for the meal no matter what.
I don't know how true that is — like I said, I'm married and pay for everything — but what I do know is what happened to this Reddit user when he tried going out on a second date with a woman after splitting the bill.
Article continues below advertisement
The story is this: CuteBananaMuffin got invited out to eat by this woman. When they get to the restaurant, he orders a sensibly-priced meal that came out to about $22.27 total. With a decent tip for his portion, our boy's responsible for about $27. Not bad. His date, on the other hand, got lobster and very pricey wine. Her meal totaled a whopping $140, and he wasn't inclined to pay it. So he had her pay for her bit, which obviously rustled her jimmies.
Article continues below advertisement
It'd be one thing if she was angry that he said, "hey let's go out to eat, it's on me," but as BananaMuffin points out, it was she who invited him out to eat, not the other way around. She didn't appreciate that and went off on him in a series of texts that go from, "I'm mad because I didn't expect to spend money," to "I'm the kind of person who uses homophobic insults to put down people who anger me."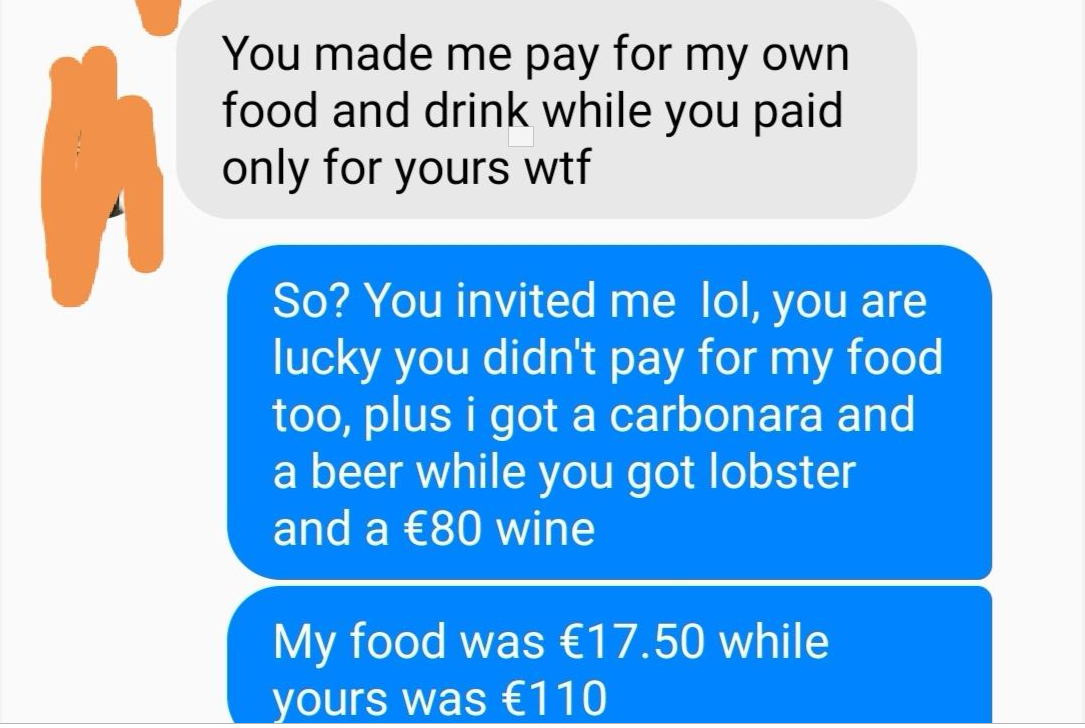 Article continues below advertisement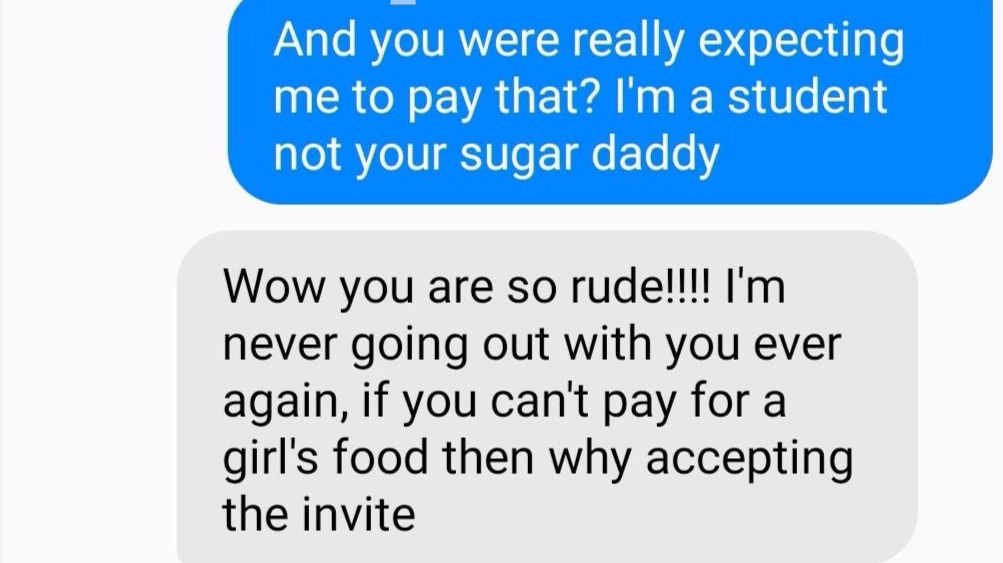 She can't believe he'd accept her offer to go out on a date without expecting to pay, and then ignores the fact he's a college student and not her "sugar daddy." She's more offended he used that term and, since he can't be a gentleman (because a gentleman always pays for a woman's food), that he must be gay. As if being gay is the opposite of being a gentleman?
Article continues below advertisement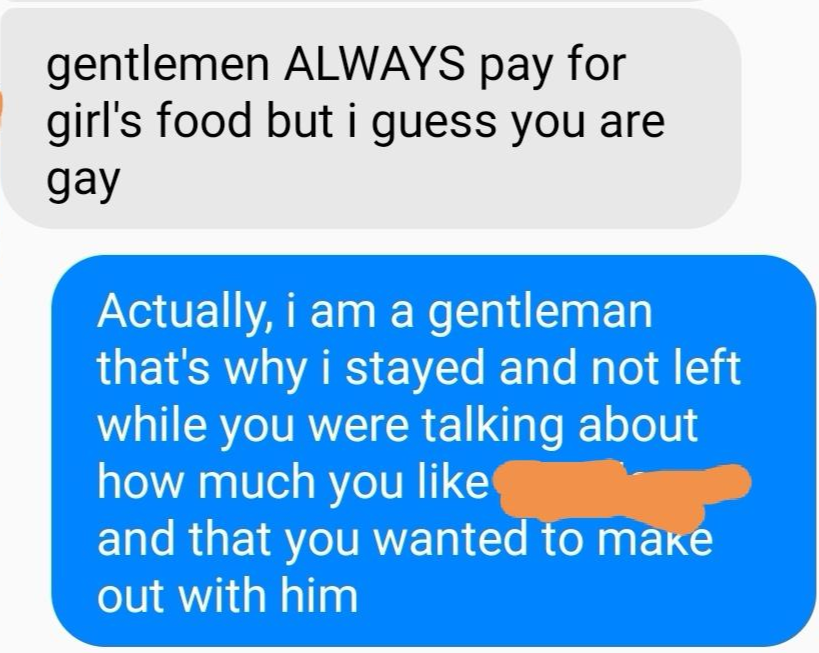 Ignoring the gay comment, the guy on the receiving end of the bill-hate also pointed out the fact that his date discussed wanting to make out with another guy throughout their dinner. While it's kinda crazy to expect someone to fall in love on a first date, it's not a good move to mention how attracted you are to people who aren't your companion for the evening.
Article continues below advertisement
Once it was readily apparent these two were never going to see each other again, things devolved quickly. She accused him of just trying to go out with her to get laid, and then he responded with the middle-schoolest trick in the book: a joke about having to pay for sex. Can you guess the amount he said it'd take? Hint: it was less than her dinner. Way less.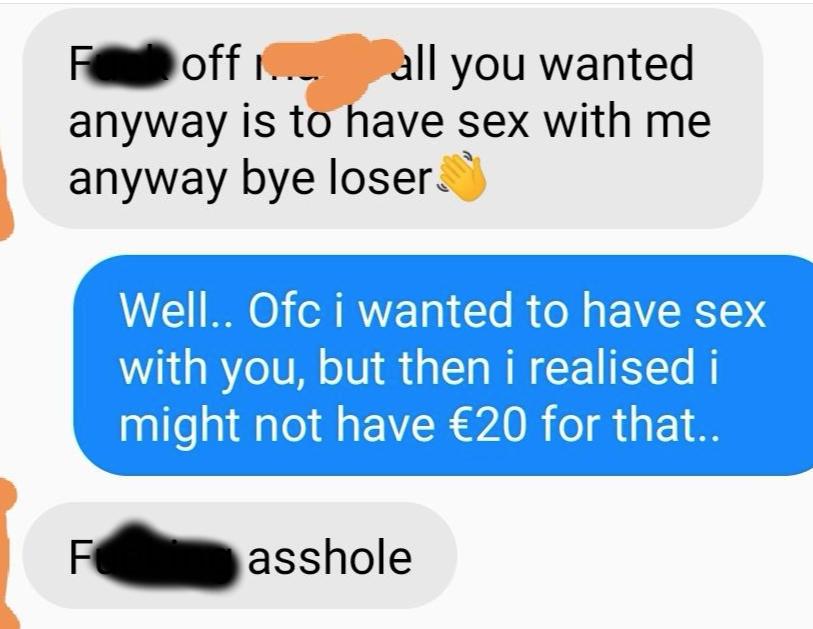 Article continues below advertisement
Oh, and he also texts her this weird photo of Stalin making a heart with his hands for good measure.
It's obvious that some Reddit posts play up the Meninist idea of justified female hatred get a lot of attention, but what do you think of this little tale? Is there more to the story? Or do the screencapped texts give us all the information we need to know?
I just think it's kinda crazy to order that much for dinner and expect someone to pay for it, even if they offered to take you out. How gauche.