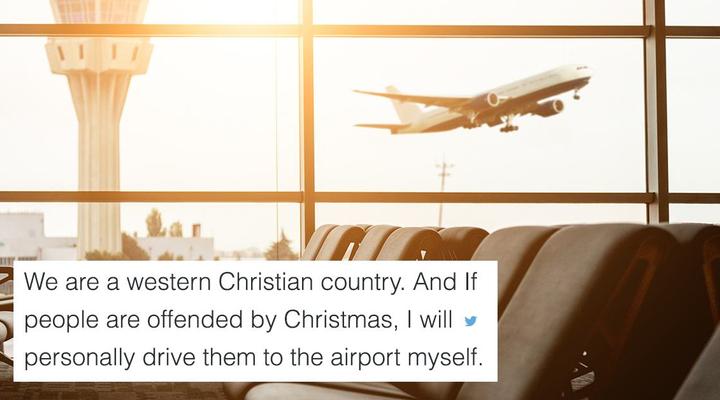 Guy Offers To Drive Anyone 'Offended By Christmas' To Airport And Instantly Regrets It
By Mark Pygas
Twitter user Anish, who describes himself as a "patriotic conservatarian and civic nationalist," from the United Kingdom, took to Twitter on Saturday to offer anyone "offended by Christmas" a ride to the airport so they could leave the country and not ruin the holiday with their Grinchness. The two tweets, which have since been made private, quickly went viral — but not in the way you might expect.
His tweets read:
"I know this is early, Merry Christmas to all. We are a western Christian country. If this country loses its identity the rest is meaningless."
"And if people are offended by Christmas, I will personally drive them to the airport myself."
Twitter users were quick to take Anish up on his offer because — let's be honest — airport parking is way too expensive.
Another user didn't say that he was offended by Christmas but that he does actually hate it and is "off to Copenhagen on Thursday - Gatwick, around 2 pm, so pick me up around 12 yeah? Thanks." Someone else wanted to know, "Hi @anishukip, is this the one I tweet for free airport pickups? Do you do early mornings to Edinburgh airport? Offended by xmas etc. Thx."
Even J.K. Rowling (yes, the author of the "Harry Potter" series) got in on the action by sharing a collection of the most hilarious responses.
Unfortunately for these people, Anish seems to have gotten so many requests that he made his account private. So they'll have to pay for airport parking.
It turns out people were also hoping he'd buy their plane tickets, too. Hey, broke individuals can dream, can't we?