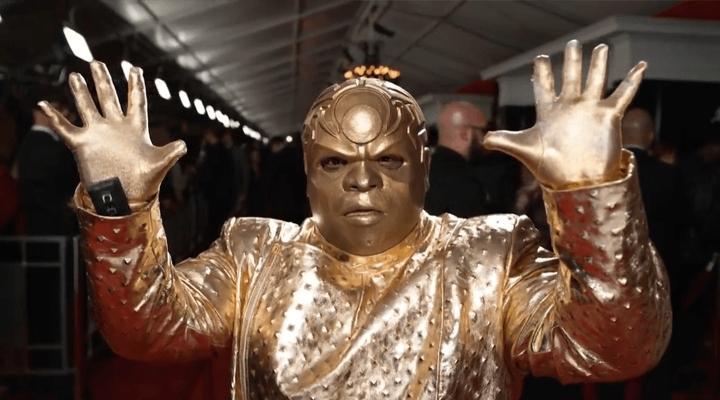 CeeLo Is Now Internet's Newest Meme After Showing Up To The Grammys Dipped In Gold
By Omar Rimawi
Men generally have the upper hand in basically all factors of life, but one place they get short shrift is fashion. Let's face it, women's fashion offers way more fun and a lot more ground for creativity. But CeeLo Green is changing all that. In fact, I'd argue nobody at this year's Grammys had more fun and creativity go into their outfit than the Gnarls Barkley singer, who came ready to outshine every gramaphone statue they handed out that night. Dressed in head-to-toe gold with his skin also gilded, the "Crazy" singer was not to be outshone by anyone.
Naturally, the internet being how the internet is, there were some hilarious responses to CeeLo Gold and his glittering appearance.
Award shows are held to a really high standard nowadays. Having a handful of the greatest entertainers the world has to offer perform just doesn't cut it anymore.
Evidently, CeeLo Green was on the same wavelength as the rest of us. He showed up dressed in gold from head to toe, and set the bar high for anyone else hoping to be turned into a meme before the Grammys were over.
In case you missed it, this was the red meat thrown into the cage that housed everyone on the internet.
Once everyone got a look at his costume, things went from 0-100 real quick.
Other people showed up in over the top outfits, but they may as well have come in with jeans and a hoodie. For example, Girl Crush, who I just learned was a person because my fingers aren't as close to society's pulse as they once were, came in dressed as a ball pit. At the very least, she deserves an honorable mention.
But even though he didn't win any awards, he definitely won fans' attention and will forever be immortalized online in a plethora of dank memes.